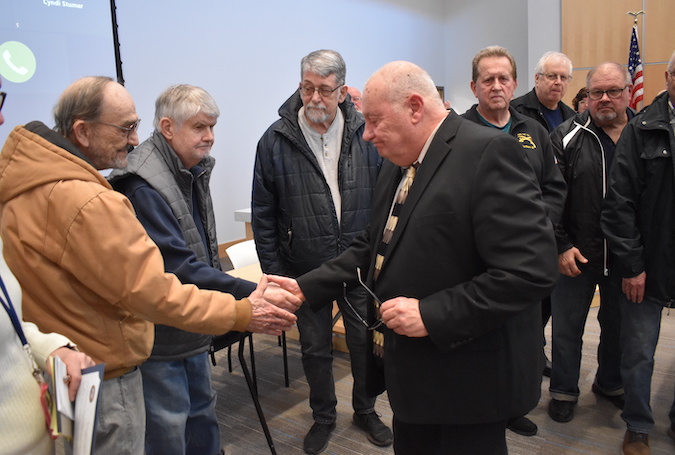 Photos by Tom Rivers
ALBION – Orleans County Legislator Fred Miller shakes hands with peter Huth, second from left, and Ronald Poss, left, after Miller read a proclamation during Tuesday's Orleans County Legislature  declaring March 29, 2023 as "Vietnam War Veterans Day."
The day recognizes the 50th anniversary since the departure of the last American troops from Vietnam.
County legislators urged the community to honor the service of the Vietnam War veterans, who often weren't treated well in their return home.
Governor Kathy Hochul today also issued a proclamation declaring March 29, 2023 "Vietnam Veterans Day."
"Vietnam Veterans deserve the utmost respect and recognition for their immense service to our state and nation," Governor Hochul said. "In New York, we work each day to ensure that their duty and sacrifice is commended and remembered, and it is my honor to celebrate New York's 207,000 Vietnam Veterans on this Vietnam Veterans Day."
An estimated 207,000 Vietnam War Veterans currently live in New York State, and 4,119 New Yorkers died during the war in defense of this nation and the values for which it stands. Their names are among the 58,276 names listed on the Vietnam Memorial Wall in Washington, D.C.