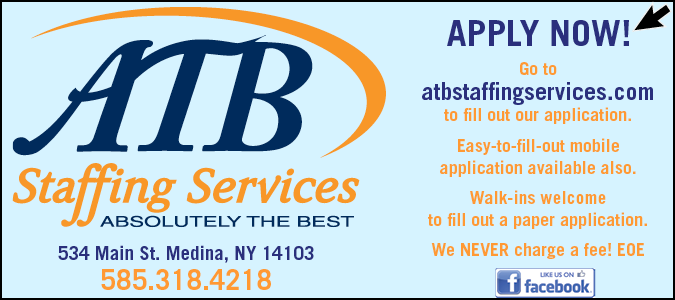 To purchase an employment listing, click here.
---
Albion Correctional Facility
is seeking candidates for the following full-time positions:
Nurse 2
Plant Utilities Assistant
Recreation Program Leader 1
Offender Rehabilitation Coordinator 
– Alcohol and Substance Abuse Treatment
Benefits Include: Paid Holidays, Sick/Vacation/Personal Time, NYS Retirement, Dental/Vision, Cost-Sharing Health Insurance Plans, Deferred Compensation Plan 
For job descriptions and qualifications:
https://careermobilityoffice.cs.ny.gov/cmo/gotit/
For further information: Personnel @ 585-589-5511
2040-48 0513

---
Orleans/Niagara BOCES
Now Accepting Applications For: CTE Curriculum and Instruction Specialist • Mental Health Services Counselor • English Teacher • Physical Therapist (Substitute) • Driver Education Instructor (Part-time) (Summer) • Summer School General Special Education Teachers • Summer School Teacher Aides and Personal Care Aides • Adult Education Certified Nurse Assistant Instructor (Part-time) • Adult Education Health Occupations Instructor (Part-time) • Adult Education Home Health Aide Instructor (Part-time) • Adult Education LPN Lab & Clinical Instructor (Part-time) • Adult Education Literacy Instructor (Part-time) • Adult Education Teacher Aide/Literacy (Full-time) • Building Maintenance Worker • Summer Seasonal Maintenance Workers • Keyboard Specialist (Typist) • Secretary II • Teacher Aides/Personal Care Aides • Substitute Teachers, Teacher Aides, and Nurses
Please visit our web site employment page at www.onboces.org. 
Retirees welcome to apply. EOE
2040-51 0513

---
Genesee Community College
has an opening for a Secretary for Medina Campus Center.  
The minimum qualifications include graduation from high school or possession of a high school equivalency diploma recognized by the NYS Department of Education, and either: a) graduation from a regionally accredited or NYS registered two year college with an Associate's Degree in Secretarial Science or related field, and one year of full-time, paid clerical experience which shall have included typing, or b) completion of a minimum of 65 semester credit hours from a regionally accredited or NYS registered college or university, including a minimum of 24 semester credit hours in Office Technology and one year of full-time paid clerical experience which shall have included typing, c) three years of full-time, paid clerical experience, which shall have involved typing, or d) any equivalent combination. 
This is a provisional, civil service position with Genesee County. The deadline to sign up for the upcoming exam has already passed. The results of the exam could affect the length of the provisional appointment. The candidate must be a resident of Genesee, Erie, Livingston, Monroe, Niagara, Orleans or Wyoming County.
Deadline for applications is May 29, 2022. For additional details and to apply on-line, visit www.genesee.edu/employment/. Please include a cover letter, resume and contact information for four references. GCC is an Affirmative Action/Equal Opportunity Employer, committed to fostering diversity in its faculty, staff, and student body, and strongly encourages applications from the entire spectrum of a diverse community.
2040-55 0513

---
Bidleman
4048 Oak Orchard Road, Albion, NY 14411
Automotive Sales Consultants
Please Read First: Bidleman Chevrolet is a very progressive dealership and has evolved with the rapidly changing auto industry. We have been selling automobiles virtually for 4 years and continue to adapt and excel. We pay for top talent. We have over 100 used vehicles in stock and we have 3 vehicle brands to sell. We have a 4.8 star rating on Google reviews. Join a fast-growing dealership family and take your career to the next level. 
No Experience Required!
Ist Year Earning Potential Between $55K to $75K!
Top Sales Consultants Earn $100K+!

Great Benefits!
Medical, Dental, Vision, 401(k), PTO
Career Advancment
Non-Commission Salary Based Pay Plans Plus Bonuses 
Over 100 Used Cars In Stock and More New and Used Cars on the way!
15 minutes from Brockport and Batavia
30 minutes from Lockport
2040-58 0513

---
Orleans County Farm Service Agency
Job Vacancy Announcement
The United States Department of Agriculture, Farm Service Agency in Orleans County New York is hiring one (1) individual to serve as Program Technician. 
This is a Permanent, Full Time, USDA position, located in Albion, NY. As a Program Technician, the individual is responsible for assisting in the administration of federal farm programs related to commodities, price support loans, dairy, conservation, disaster, and livestock programs. 
This position requires knowledge of office activities and functions and the ability to communicate with and effectively work with people. A general knowledge of agriculture and basic computer skills are helpful. All candidates must be US citizens, pass a security background check, be at least a high school graduate (or equivalent) and must be at least 18 years old. All federal employees must be fully vaccinated against COVID-19. 
Salary depends on education and experience. 
Great career opportunity working for the Federal Government. 11 paid holidays, 13 paid vacation days and 13 paid sick days per year. 401 K (Thrift Savings Plan). Federal Health Insurance coverage, Pension. Work hours Monday – Friday 8:00am to 4:30pm. 
The application closing date is MAY 26, 2022. 
To review the full details of this job and information on how to apply please visit USAJOBS.GOV. 
Applications MUST be completed on-line at USAJOBS.GOV. The link to the job is: https://www.usajobs.gov/GetJob/ViewDetails/653232500 
The job announcement number is FSACO-11493158-22-NY-RW. Contact Larry Meyer by email at larry.meyer@usda.gov or call 585-589-5320 ext 2 if you have any questions about this employment opportunity. 
The Orleans County FSA office is located at 446 West Ave Albion NY.
The USDA FSA is an equal opportunity employer.
2040-72 0513

---
• CDL A Drivers •
Full-time and part-time applicants welcome.
EARN $63-92K full-time!
Seeking drivers with DOT physical & Class A CDL.
Mixture of local and regional runs. 1-pick/1-drop truckload within the northeast.
Apply in person at: Elder Trucking
1754 Waterport Rd., Waterport, NY 14571
Call 585.682.4282 or email: ElderTrucking@gmail.com
Performance based pay. Full-time benefits.
2033-73 0527

---
WE ARE HIRING!
The Athletics Department at SUNY Brockport is comprised of 23 sports and is accepting applications to establish a pool of candidates to fill possible openings for the part-time position of BUS DRIVER. 
For more information and to apply visit jobs.hr.brockport.edu
1691-20 0603
---
HEAD START EMPLOYMENT OPPORTUNITY
EARLY HEAD START/CHILD CARE PARTNERSHIP PROGRAM
Family Community Partnership/ERSEA Specialist: FT 40 hrs/wk, 52 wks/yr.  
Along with other specialist, responsible for:
• Eligibility, Recruitment, Selection, Enrollment and Attendance of 58 children in  the  program
• Plans, monitors and assures families are provided all services according to Office of Head Start program regulation.
• Promotes family engagement in agency family services, program opportunities and expectations related to local match(in-kind)
• Assesses need and works closely with community agencies to link families with services including subsidy payments for childcare.
• Provides Families with goal setting, referrals, information and assistance in obtaining/maintaining self-sufficiency
• Works closely with Day Care Partners and other EHSCCP staff to carry-out all program expectations 
• Assures Health requirements are met and recorded for all children. 
• Monitors and follows- up on attendance.
• Assists parents in obtaining or reinstating employment and related benefits
• Works closely with family to assure transition to Head Start or other childcare placement
Successful candidates must have:  Bachelor's degree in Social Work or related field.  Demonstrated experience working with low-income and community agencies.  Proven experience in supervision of others, effective communication, and organizational skills.  Proficient in PC systems and MS Office products.  Reliable daily means of personal transportation and a valid NYS Driver's License with acceptable driving record. Must be able to pass all background checks required by federal and state regulations.  Vaccinated for COVID. Previous experience with Head Start Program, and/or Child Care in New York State is preferred.
For further description and information go to our website:
www.caoginc.org
Respond by May 23, 2022 to: 
409 E. State Street
Albion, NY 14411 
hr@caoginc.org • EEO/AAP
2039-76 0520

---
NOW HIRING!
Part/full time employment 
CDLs preferred, must have a valid drivers license.
Pay based on experience.
Please call 585-589-6021 and speak to Lindsey for more information.
Mr. Septic
130 West Ave.,  Albion, NY 14411
585-589-6021
2038-47 0520

---
SUMMER POSITIONS AVAILABLE AT ARC GLOW!
• Lawn Crew
• Janitorial
• Day Hab
• Community Prevoc 
The hours could be up to 37.50 hours per week depending on worksite.  You can make money for school, college, get job and life experience, make new friends and have a great time working in our various programs supporting our individuals!

Apply online at http://arcglow.org/careers
1691-16 0520
---
Join Our Team!
NOW HIRING
1st Shift Full Time Permanent Positions with Excellent Benefits!
– Machine Operators: Baggers, Fastback, Scale Units
– Repack Associate: Packing, Production Assistance & General Labor
– Forklift Drivers: CDL also a plus
– Sanitation/ Relief Operators
Excellent Benefits: 401k, Health, Vision, Dental Insurance, PTO & Holiday Pay
Email: jobs@holli-pac.com or Apply Within
Holli-Pac
16677 State Route 31, Holley, NY 14470
2039-63 0520

---
WEATHERIZATION TECHNICIAN
Community Action of Orleans & Genesee's Weatherization Assistance Program has a position available for a Full-time Weatherization Technician. Knowledge of Carpentry, Electrical experience, Doors, Windows and Insulation Installation is required.  Must have a valid and clean New York State driver's license and have reliable transportation.  Must be dependable and like working outdoors.  Please, no phone calls.
Pick up application at Community Action of Orleans & Genesee: 
5073 Clinton St., Rd., Batavia or 
409 East State Street, Albion. 
Applications must be received by:
May 23, 2022
Community Action of Orleans & Genesee is an Equal Opportunity Employer as well as a substance free work place.  Applicant must be fully vaccinated as per NYS vaccine mandate.
2039-74 0520

---
HELP WANTED
J-Co Can & Bottle Return
Seeking Part-Time & Full-time employees 
Applications available at:
206 Hamilton St., Albion
& 718 S Main St., Medina
2039-82 0520

---
Intergrow Open Positions
Box Machine Operator 
The box machine operator will be responsible for erecting boxes and making sure box production needs are met, as well as cleaning and maintaining the equipment and troubleshooting any issues.
Flow Pack Line Operator
The flow pack line operator will be responsible for safe and proper operations of the flow packing lines, completing orders, and over see that employees on flow pack line consistently have product and materials. 
Skills and Abilities:
– Work under pressure, multi-task, and reprioritize tasks on an on-going basis
– Stand for an extended period of time
– Communicate effectively
– Communicate in Spanish is not required, but is an asset
– Bend, stretch, twist, and lift up to 25lbs
Starting wage $15.66/hr. (rate increase after successfully completing probationary period)   Comprehensive Benefits Package Available!
Apply online at www.intergrowgreenhouses.com
or In person at 2428 Oak Orchard Rd., Albion, NY 14411
2039-96 0513

---
NOW ACCEPTING APPLICATIONS
for the 2022 building season in our state of the art manufacturing facility.
Several openings in wall panel and truss assembly departments.
Construction/framing/ forklift/ lumber yard exp. preferred. 
Manufacturing / Assembly line exp. a plus. 
Must be detail orientated, motivated, dependable, and able to lift 50# 
Competitive pay, Benefits, 401k, etc. 
APPLY IN PERSON or SUBMIT RESUME with salary requirements to: HR@Bardenhomes.com
Barden Building Systems, 103 Kelly Ave, Middleport, NY 14105. Fax: 716-735-3752.
1777-17 del 0527

---
Best Rentals Inc.
HELP WANTED
Portable-toilet route driver & delivery driver
Full time & part time. Serving local & western N.Y.
CDL license preferred. Starting $18-22/hr. D.O.E.
Call Tim 585.738.5381
146-125 TFN

---
PLANT OPERATOR
We are pleased to announce that we are expanding our operations.
Western New York Energy is currently seeking motivated and dedicated team members who are eager to learn new processes and advance their careers.
• Starting pay is $22 per hour.
• Excellent benefits – health and dental insurance, matching 401(k), life insurance, wellness benefits.
• Requirements: NYS driver's license, high school diploma/GED, ability to climb stairs and ladders.
Western New York Energy
Apply in person 4141 Bates Rd, Medina, NY or
email resume to: jobs@wnyenergy.com
179-35 TFN
---
Looking for a new job? APPLY NOW!
2nd-shift Fork Lift Driver
Medina area • Temp to Hire • Hours 2:30p-11p • Experience a must
Must be accurate; Fast paced environment • Pay Rate $20.56
Production Assistants
Medina area • Temp to Hire • Several Immediate Openings on all shifts! • Pay Rate $15.00-$15.90
Production Assistants
Lyndonville area- 1st & 2nd shift • Schedule rotates from 4 -10 hrs days to 5- 10 hour days M-Th & M-F
1st shift starts at $18.00 • 2nd shift starts at $18.40
Machine Operators
Gasport • 2nd-  & 3rd-shift openings • 2pm-10pm & 10pm-6am
Pay Rate starts @ $14.25-$14.35
Prod. Asst. Barker Openings
2 openings 1st shift- M-F, 6a- 4p • SEVERAL openings 2nd shift- M-F, 3:45p- approx 2a
Pay Rates $15/$15.50
Machine Operator
SNAPPY IS GROWING! IMMEDIATE OPENINGS!
Medina area • Temp-to-hire! • Excellent company! • Full benefits effective immediately upon permanent hire!(401k, Health Insurance, PTO & Holiday Pay)
$15.50/hr pay increase to $16.00 upon permanent hire • Must be able to read a ruler!
2nd shift Bulk Operator/Batcher • will train on 1st shift then move to 2nd • 1st shift 7a-3:30p & 2nd shift 2p-10:30p
Pay rate $21.50/$21.90
Go to www.atbstaffingservices.com to fill out our application. Walk-ins welcome to fill out a paper application.
We NEVER charge a fee! EOE
ATB Staffing Services
534 Main St., Medina, NY 14103
585.318.4218
0513

---
Automotive Sales
Orleans Ford in Medina, N.Y. is looking for a goal-driven individual for our team. Our consultants average between 180 and 250 vehicles sold per year. Come join our winning team. Experience a plus, but not necessary. We offer salary plus bonus, 401k, health care benefits, and a great work environment.
Please send resume and contact information to vincec@orleansford.com, or call 585-798-4316.
Orleans Ford
1405 S. Main St.
Medina NY 14103
74256 TFN

---
Western New York Energy
Maintenance Office Assistant
Western New York Energy is expanding and looking for a Maintenance Assistant to fill a position vacated due to internal promotion.
Duties may include but are not limited to: create and manage purchase orders and work orders in maintenance software system, manage spare parts inventory for the entire plant, perform physical inventory counts periodically, report and reconcile monthly parts activity, research parts history.  Additional duties are based on skill and company needs.
Candidate should have: excellent communication skills, both written and oral, attention to detail, ability to work independently with minimal supervision, internal motivation to do well, a genuine curiosity and desire to learn about and be a part of the Western New York Energy team and the ethanol industry.
Requirements: High school diploma/GED, overall computer skills, experience with Microsoft Office
Competitive salary (based on experience) and excellent benefits: health and dental insurance, matching 401(k), life insurance, wellness benefits, PTO and paid holidays.
Apply in person 4141 Bates Rd, Medina, NY or email resume to: jobs@wnyenergy.com
2030-115 TFN
---
Truck Driver
Local Truck (Dump) Driver. Full or Part Time. Must have CDL A or B. Call Colton 585.797.7546

---
LPN: HOME CARE. Every other Saturday & Sunday, 2-10pm and per diem. 585.283.5288

---
NEED IN-HOME NURSES, LPN. 7am-3pm & 3pm-11pm. $23.20/hr. Albion, NY. 585.748.8638

---
HELP WANTED
TRUCK DRIVERS: CDL with A or B license. May apply at 585.507.5397 for appointment or email: pccoffice45@gmail.com

---
CDL Driver Needed
Class A – CDL Driver Wanted. Pay based on experience. Call 585.682.4435 or send resumes to: Staceyjurs@yahoo.com

---
MASONRY HELPER NEEDED. Reliable Transportation a must. If interested call P-A-Z MASONRY 585.230.2708

---
HELP WANTED
Licensed Hair Stylist, Nail Tech, Massage Therapist. Contact Edee, CELEBRITY DAY SPA. 585.798.5307 or 585.737.0713

---
WANTED
PERSONAL CARE AIDE for lady w/MS. No heavy lifting. Needed per diem. Paid out of pocket. 585.589.6233