To purchase an employment listing, click here.
---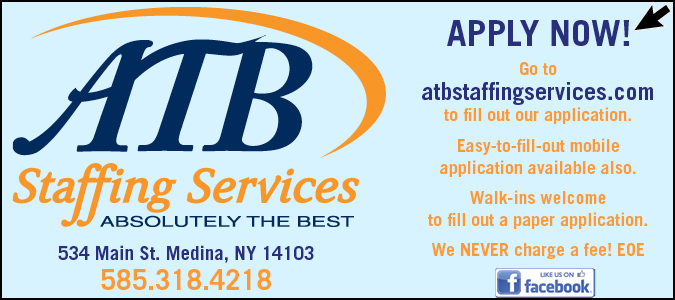 ---
Home Health Aide
Hospice of Orleans, Inc. is seeking a full-time home health aide to provide exceptional care to our patients in our beautiful, eight-bed Martin-Linsin Hospice Residence in Albion, N.Y. If you are a skilled, compassionate and dedicated HHA (or an experienced CNA willing to attend paid CNA to HHA Transitions Training) looking to provide focused care with a maximum of eight patients in conjunction with a team of outstanding professionals, please send your resume and cover letter to Hospice of Orleans, Inc., PO Box 489, Albion NY 14411, or via email to kspychalski@hospiceoforleans.org along with your completed application found on our website at www.hospiceoforleans.org. IRA, paid time off, health and dental insurance offered.

77527
---
Deputy Town Clerk – Town of Ridgeway Office
Open to Town of Ridgeway residents only

Each applicant must have the following:
• High school diploma or GED
• Clerical experience in a public office setting
• Dependable transportation
• Efficient at complex clerical duties
• Capable of administrative support
• Serve as secretary to the Town Clerk
• Capable of sustaining general supervision of an administrator which will lead to applying
independent judgment to any task/assignment
Position offers a competitive wage, excellent benefits, and a pleasant work environment. Hours are Monday – Friday, 9 a.m. – 4:30 p.m., including a one-hour unpaid lunch. Interested applicants may apply in person or by mail at 410 West Ave., Medina NY 14103, or by email to kkaiser@townridgeway.org. No phone calls, please. Your application will include your resume and a completed list of references with contact information. All applications must be received by January 31, 2019.

77536
---
Now Hiring!
Imagine Staffing – Apply today!

Open Interviews
Monday through Friday, 9-11 a.m. and 1-3:30 p.m.
543B Main Street
Medina NY 14103
(585) 228-9913 • (585) 228-5559
Appointments appreciated, but not necessary. Bring 2 forms of ID and resumé with you. EEO Employer – Veterans are encouraged to apply! Apply online today! Former employees are encouraged to contact us about new opportunities. Don't be shy!

Yancey's Fancy
Seeking production, sanitation and packaging for 1st and 2nd shifts. Must have manufacturing experience. Temp-to-hire plus OT!
Akron
Companies looking for production, assemblers and packagers for 2nd and 3rd shifts.
West side of Rochester
Seeking material handlers, maintenance tech and mold maker. Excellent compensation and benefit package!
Chapin Manufacturing
In Batavia. Needs production/assemblers, all 3 shifts available. Temp-to-hire, possible OT.
Brunner International
Seeking 2nd and 3rd shift production associates, excellent benefits and perks!
Call Krista at 585-228-9913, or email kfiegel@imaginestaffing.net. Imagine never charges our candidates a fee!

Baxter
Hiring for 1st shift, 5:30 a.m. to 4 p.m. Monday – Thursday
Entry-level and experienced manufacturing openings! This is a very clean facility, with a climate-controlled environment and a casual dress code. Call Marcy at 585-228-5559, or email mboyce@imaginestaffing.net.

77570
---
Head Start Lead Teacher
Kendall UPK
Part-time/Temporary (through June 30, 2019)
10:45 a.m. – 3:45 p.m., Monday – Friday
$18-$20 per hour. No benefits.

Major Responsibilities:
• Responsible for planning and carrying out preschool/UPK session with Head Start curriculum
• Guides teacher and teacher assistant, facilitates constructive adult-child interaction, and is responsible for classroom environment, documentation, and compliance with federal and state regulations

Required Minimum Qualifications:
• Must have bachelor's degree in early childhood education with NYS certification in birth-grade 2, or be working on certification
• One year of experience in preschool/day care setting
• Agency approved driver status and vehicle required
• Clearance through NYS Central Registry for Child Abuse and Maltreatment, NYS Justice System for the Protection of People with Special Needs, Department of Justice fingerprinting, and NYS physical for day care licensing (conducted at time of hire).

Desired Qualifications:
• One year of experience in supervising staff
Applications being accepted and interviews held on an ongoing basis until position is filled.
Send resume to hr@caoginc.org
Community Action of Orleans & Genesee
409 E. State St.
Albion NY 14411

77545
---
Currently Hiring! Apply Now!
ATB Staffing Services – Absolutely The Best
Apply Now!

Packagers
Temp-to-hire • Medina area
1st shift (6 a.m. – 2:30 p.m.)
2nd shift (2-10:30 p.m.)
3rd shift (10 p.m. – 6:30 a.m.)
Pay rates $11.61-12.26
Temporary Accounting Assistant/Receptionist
Albion area
Full-time temporary, with possible opportunity to become permanent part-time. Must be professional and reliable, and must have experience with accounts payables and receivables. For more details, please call our office.
Machine Operator
Medina area • Temp-to-hire
$12.00/hr. • Must be able to read a ruler
Excellent benefits package available, effective upon permanent hire
Machinist
Medina area • 1st shift
Experience with grinders, lathes and mills
Pay rate based on experience: $14-$21+
Go to www.atbstaffingservices.com to fill out our application. Easy-to-fill-out mobile application available also. Walk-ins welcome to fill out a paper application at 534 Main St., Medina NY 14103. We NEVER charge a fee!
585.318.4218
EOE

77564
---
CNAs
The Villages of Orleans Health & Rehabilitation Center
Come join our team of caring professionals! We are a 120-bed facility in rural Albion, N.Y., hiring for 1st and 2nd shifts.
• Competitive wage for CNAs certified 5+ years
• Shift differential
• Competitive benefit package
• FT and PT positions available
Interested? Call Deb Donnelly, DON at 585-589-3247, or stop in and see us at:
The Villages of Orleans
14012 Route 31
Albion NY 14411
We look forward to meeting you!

77509
---
Cleaner Wanted
Ridgeway Volunteer Fire Company
Call 585-735-6016 for bid information.
All bids due by Feb. 5.

77465
---
GM Technicians Needed!
Spurr Dealerships, located at 6325-31 Brockport-Spencerport Road, Brockport, would like to welcome Wayne Barwald as Director of Service and Parts Departments at Spurr Chevrolet-Buick-GMC and Spurr Subaru! Wayne brings 35 years of service experience working as Service Director at Durfee and Doan Chevrolet in Spencerport! Wayne is an ASE Master Certified Technician and brings a reputation of superior level in customer satisfaction to the dealership! Are you looking to make a change with your current employer? Are you a team player seeking top dollar for your level of experience? Sick of the "big box" shops and looking for a family owned dealership with more work than we can handle right now? We are looking for A, B, and C Techs! We offer 401k with match, top wages in the market, and no drama!
Contact Wayne Barwald at 391-6519, or email wayne.barwald@spurrdealerships.com.

77239
---
Automotive Sales
Orleans Ford in Medina, N.Y. is looking for a goal-driven individual for our team. Our consultants average between 180 and 250 vehicles sold per year. Come join our winning team. Experience a plus, but not necessary. We offer salary plus bonus, 401k, health care benefits, and a great work environment.
Please send resume and contact information to saml@orleansford.com, or call 585-798-4316.
Orleans Ford
1405 S. Main St.
Medina NY 14103
74256
---
CERTIFIED MEDICAL ASSISTANT: Experienced, for family physician office. Medent, NYSIIS, clinical and clerical duties. Mon-Fri and rotating Sat. CNA's need not apply. Send resume to 3916 Long Bridge Road, Albion, NY 14411.
---
HELP WANTED
PART-TIME EXECUTIVE DIRECTOR. Quickbooks experience preferred. Reply to: PO Box 501 Medina, NY 14103
---
HELP WANTED: PART-TIME OFFICE. Strong computer and communication skills required. 8-16 hrs./week. 9am-5pm. Send current resume to: P.O. Box 187, Albion.
---
MEDICAL OFFICE MANAGER: Full-time, family practice. Medent, NYSIIS, ISTOP, HR, WC, DOT, accounts payable, credentialing, working with vendors. Must be able to work independently and oversee a staff of 4. Rate commensurate with experience. Send resume to 3916 Long Bridge Road, Albion, NY 14411.
---
HELP WANTED: YARD WORK, general clean-up. Saturdays 12-5pm. $10/hr. Barre Center. Call 585.589.5650.
---
HELP WANTED
Per diem PCA. Must be able to work every other weekend. Flexibility a must. Will train. Apply in person only @ The Willows, 459 E. Oak Orchard St., Medina.
---
MEDICAL CODING/BILLING: To work on site at family physician office. Medent software. Must have excellent computer skills, work independently, research and follow up on old claims. Experienced. Wide variety of diagnoses/procedures/insurances. Full-time. Send resume to 3916 Long Bridge Road, Albion, NY 14411.
---
---