To purchase an employment listing, click here.
---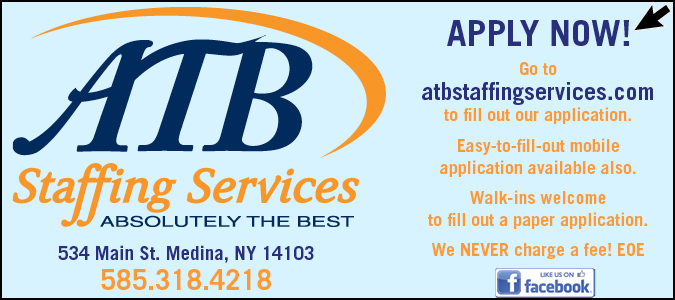 Food Service Workers Needed
Earn While Your Children Learn
All 3 buildings.
ALBION CENTRAL SCHOOL
If interested, call 585-589.2075
Or email  maevonne.luckman@sodexo.com
175-69 0924
---
Substitutes Needed
Lyndonville CSD
• Substitute Teachers – Certified and Non-Certified
• Substitute Teacher Aides/Assistants
• Substitute Cleaners
• Substitute Bus Drivers
Please see https://www.lyndonvillecsd.org/o/lcsd/page/employment–213 or call 585-765-3102
for additional information and application instructions. EOE
173-105 0924
---
Help Wanted
Tree Service. Must have driver's license. Start $17/hr. Paid on-the-job training.
Experienced preferred, but not necessary. EOE. 
Call or Text Tom 585-353-6927
174-118 0924
---
COMMUNITY ACTION HEAD START
Employment Opportunity (Albion)
FAMILY ADVOCATE • 35 HOURS PER WEEK
• Works with FCP Specialist to maintain recruitment, enrollment and attendance requirements
• Facilitates & tracks children's physicals, lab work, dental exams & treatment
• Maintains all documentation, reports and statistics
• Provides case management & crisis intervention for families
• Guides families in setting and achieving personal goals
• Helps to initiate and sustain parent engagement
• Links families to community resources
• Works as a team member with classroom, site, and leadership team in case management
• Makes home visits to families and provides transportation when needed
REQUIRED MINIMUM QUALIFICATIONS: One year of relevant Human Service experience. AAS in Human Services or related field.
Candidates who will, within 18 months of hire, obtain an AAS or higher in Human Services or related field may be considered. Graduate of or currently enrolled in (min. 32 credit hours completed) AS/AAS/BS/BA Human Services or related program. Successful candidates must be cleared through NYS and federal background checks and pass NYS physical for day care licensing. Agency approved driver status and vehicle required.
Further information available at: www.caoginc.org
Submit Resume & Cover Letter to:
Human Resources & Payroll Administrator
409 East State St.
Albion, NY 14411
Respond by: Mon., Oct. 4. EEO/AAP
174-95 0923
---
SERVICE TECHNICIANS
Orleans Ford is looking for full-time A, B & C level Service Technicians to add to our growing business. Pay to start at $15/hr and increases based on experience. Flat Rate and hourly available. Must have a valid driver's license, NYS Inspectors license, and tools. We offer holidays, vacations, health insurance, and 401K.
To interview, apply in person during regular business hours, email jpreston@orleansford.com or call (585) 798-4316 and ask for Jamie.
Orleans Ford
(585) 798-4316 | 1405 S. Main St., Medina, NY 14103
172-124 0924
---
PLANT OPERATOR
Western New York Energy is currently seeking motivated and dedicated team members who are eager to learn new processes and advance their careers.
• Starting pay is $22 per hour.
• Excellent benefits – health and dental insurance, matching 401(k), life insurance, wellness benefits.
• Requirements: NYS driver's license, high school diploma/GED, ability to climb stairs and ladders.
Western New York Energy
Apply in person 4141 Bates Rd, Medina, NY or
email resume to: jobs@wnyenergy.com
174-57 1022
---
Discover the Rewards of a career in Direct Support
• Helping others every day
• Building a career
• Paid training & tuition
• Making a difference
SAVE THE DATE
Explore rewarding options at our 
Direct Support Job Fair
Thu., Sept. 23 • 11a – 2p
Arc Community Center
38 Woodrow Rd., Batavia
Call 585-343-1123 for questions
wwww.arcgo.org/employment-opportunities
Thu., Sept. 23 • 9a – 4p

Arc Administrative Offices
18 Main St., Mount Morris
Call 585-658-2828 for questions
Arc GLOW – a chapter of The Arc NY
174-59 0917
---
Brockport Auxiliary Service Corporation
located on the SUNY Brockport Campus, is seeking qualified applicants to join our award-winning dining team.
Dining Positions Available
Competitive wages+ $150 stay bonus!
Dependable individuals who enjoy food service, a college environment, and delivering outstanding customer service APPLY NOW for one of the following positions: 
Full-time & Part-time Floater

Job perks include: health insurance (FT only), 401(k) (FT only), free meal with every shift, free on-campus parking, 20% discount at Barnes & Noble store on campus, paid time off, rewards and recognition programs, Employee Assistance Program, flexible schedules, uniform allowance, opportunity for winter break and summers off (follows academic calendar), paid-training and promotion opportunities, and other voluntary benefits.
Apply at basc1.org/jobs           EOE
166-167 0924
---
HEAD START Bus Driver Positions Available
COME BE PART OF A GREAT TEAM!
PART-TIME + SUBSTITUTE
COMPETITIVE BENEFITS PACKAGE
Major Responsibilities
• Safe transportation and assistance of children to and from program in small school bus.   
 Required Qualifications
• A clean CDL license with passenger and school bus endorsement
• Meet all rules and regulations required for DOT and NYS Office of Child and Family Services.
• GED or high school diploma.
• Position subject to pre-employment and random drug/alcohol testing
For further description and qualifications go to our website: www.caoginc.org
Respond by Sept. 30 with cover letter or resumé to:
Human Resources & Payroll Administrator
409 E. State Street, Albion, NY  14411
Or stop in any location for an application!
EEO/AAP
174-90 0924
---
Orleans/Niagara BOCES
Now Accepting Applications For: 
Behavior Consultant • Business Education Teacher (Substitute) • Culinary Arts Instructor • Music Teacher • Special Education Teachers •Speech-Language Pathologists (Full-time and Substitutes) • Driver Education Instructor • Adult Education Building Trades Instructor (Part-time) • Adult Education Certified Nurse Assistant Instructor (Part-time) • Adult Education Electricity Instructor (Part-time) • Adult Education English to Speakers of Other Languages Instructors (Part-time) • Adult Education Home Health Aide Instructor (Part-time) • Adult Education HVAC Instructor (Part-time) • Adult Education Literacy Instructors (Full-time) • Adult Education LPN Lab and Clinical Instructor (Part-time) • Adult Education LPN Instructor (Substitute) • Adult Education Machine Tool and CNC Instructor (Part-time) • Adult Education Teacher Aide/Literacy (Full-time) • School Nurses • Account Clerk Typists • Keyboard Specialists (Typist) • Secretary I • Teacher Aides/Personal Care Aides • Home/Hospital Teachers (Tutors) (Part-time) • Substitute Teachers • Substitute Teacher Aides and Nurses
Please visit our web site employment page at www.onboces.org. 
Retirees welcome to apply. EOE
175-94 0924
---
ALBION CENTRAL SCHOOL DISTRICT
EMPLOYMENT OPPORTUNITY
ONE SCHOOL CLEANER
Qualifications: High School Diploma or Equivalent; able to perform routine cleaning tasks and other related work as required. Non-Competitive, Civil Service Appointment.
Applications are available at the Albion Central School District Office,
324 East Avenue, Albion, NY 14411 – contact Cindy Ishmael at (585) 589-2055 
Application Deadline: Sept. 27, 2021. EOE
174-93 0925
---
The Towns of Ridgeway, Shelby and Yates, and the Village of Lyndonville are seeking applications for a
full-time Code Enforcement Officer (CEO)
position to start January 1, 2022. The CEO will be in charge of the administration and enforcement of the NY State Uniform Fire Prevention and Building Code (the Uniform Code) and the State Energy Conservation Construction Code (the Energy Code).
Minimum Qualifications:
High School Diploma or Equivalency, and
1. Two (2) years experience in construction; 
2. Associates Degree in engineering; or
3. Combination of experience, training and education.
4. NYS Drivers License and personal vehicle
Applicants should have the ability to listen carefully, to communicate clearly, and to relate to others on a personal and professional level. Critical thinking and problem-solving skills are essential.
The successful candidate will be required to attend 6-weeks of training and earn a NY State certification as a CEO within the first 18-months of employment.
Interested applicants should pick up an application at any of the Towns or Village Halls.
All applications must be submitted no later than Sept. 30, 2021.
1769-23 del 0929
---
H.H. Dobbins Inc. is one of New York state's leading agricultural companies. Located in Lyndonville, NY, we are a grower, packer and shipper of fresh apples, pears, cherries, and peaches. We are committed to excellence and being mindful of what is best for our growers, customers, and associates. We are looking for talented and committed individuals to join our growing company.
Apple Packers pack apples into bags, trays, and boxes according to variety and size. Several positions- 1st shift and require some overtime according to production needs.
Forklift Drivers 3 Positions- packing house RESPONSIBILITIES Ability to pull packed product from racking by size/variety and complete paperwork. Ability to load and unload trucks in a safe and efficient manner.
3 Positions- outside/yard- These 3 positions are approx. 8-12 weeks for harvest. RESPONSIBILITIES Ability to unload full bins of apples from flatbed trucks in a quick, safe manner. Complete paperwork for returning empty bins to apple growers. Stack empty/full bins according to apple variety/grower.
Forklift QUALIFICATIONS Experience driving propane/electric forklifts. Withstand cooler temperatures-32 degrees. Able to work safely in a fast-paced environment with constant change. Attention to detail with the ability to count. Forklift positions are 1st shift and require some overtime according to production needs.
Website: unitedapplesales.com Click on the employment link
Apply at: H.H. Dobbins Inc, 99 West Avenue, Lyndonville, NY 14098 Send resume to: sseefeldt@wnyapples.com An equal opportunity employer
del 1001
---
Don't pass up on these Amazing
 

opportunities and more! Apply Now!

Machine Operator
SNAPPY IS GROWING! IMMEDIATE OPENINGS!
Medina area • Temp-to-hire! • Excellent company! • Full benefits effective immediately upon permanent hire!(401k, Health Insurance, PTO & Holiday Pay) • $14.35/hr pay increase to $14.85 upon permanent hire • Must be able to read a ruler!

Machine Operator/Packer
Temp to Hire • Gasport Area • Openings on all 3 shifts • Pay rates $14.00-$14.35

Production Assistants
Medina area • Temp to Hire • Several Immediate Openings on all shifts! • Pay Rate $15.00-$15.90

Go to www.atbstaffingservices.com to fill out our application. Walk-ins welcome to fill out a paper application.
We NEVER charge a fee! EOE

ATB Staffing Services
534 Main St., Medina, NY 14103
585.318.4218

0917
---
CHILDCARE
IMMEDIATE POSITION available for part time DAYCARE ASSISTANT.
Afternoons Monday/Friday needed. Call Toddler's Inn Daycare for more information. 585.798.2669

1683-22 del 1003
---
Home Health Aide
Seeking an experienced, compassionate, home health aid to care for home bound handicapped woman in a wheel chair. She is cognitively alert with no mental impairments and fun to work for.
Duties Include:
1. Cooking, cleaning, general chores
2. Personal care – toileting, bathing etc. She is not able to walk or stand and uses a Serasteady lift. Training on how to use the lift will be provided and is easy to use and saves the caregiver from injury
3. Grocery shopping and general errands.
You must be dependable, reliable and kind. Weekends are occasionally required but are alternating amongst the caregivers. Pay is commensurate with experience and is a combination of pay through a home healthcare agency and private pay direct from the family.

1671-23 del 1010
---
CDL A DRIVERS WANTED
Potential for $53,000+ for Local
Located near Medina, NY Shelby Transportation is now hiring a full-time driver: For round trip, local runs in the Western and Central New York areas (home every night). Tank endorsement a plus. On farm/agricultural tractor trailer driving experience strongly preferred.
Minimum of 3+ yrs. recent experience preferred for both positions. Good MVR, No DUI/DWI. Excellent benefit and 401k package.
Send resume or apply in person at:
4141 Bates Rd.,Medina, NY 14103
Excellent Benefits Package available. Email: jobs@shelbytrans.com
169-81 TFN
---
Automotive Sales
Orleans Ford in Medina, N.Y. is looking for a goal-driven individual for our team. Our consultants average between 180 and 250 vehicles sold per year. Come join our winning team. Experience a plus, but not necessary. We offer salary plus bonus, 401k, health care benefits, and a great work environment.
Please send resume and contact information to vincec@orleansford.com, or call 585-798-4316.
Orleans Ford
1405 S. Main St.
Medina NY 14103
74256 TFN
---
HELP WANTED: All phases of new home construction and remodeling.Sub Contractors Wanted.  Hughson Construction, 585.330.8326
---
Truck Driver
Local Truck (Dump) Driver. Full or Part Time. Must have CDL A or B. Call Colton 585.797.7546
---
HELP WANTED
J-Co Can & Bottle Return. Seeking Part & Full-time employees. Applications available at 206 Hamilton St., Albion & 718 S. Main St., Medina
---
PERSONAL CARE AIDES: *New Competitive Wages*. Shifts: 7am-3pm, 3pm-11pm and 11pm-7am. Must work every other weekend & some holidays. No experience needed, will provide on the job training. Must be able to work with elderly. Positions are part time with the opportunity of becoming full time. No phone calls. Applications available at Cloverhill Adult Residence, 355 S Main St., Albion, NY 14411.
---
Now Hiring
SEEKING PART/FULL-TIME HELP. Painting, cleaning, wood splitting, lawn care. Please apply at: 130 West Ave., Albion. 585.589.7478
---
*New Competitive Wages*. COOK: 7am-3pm. Some cooking experience preferred but will provide training. Must be able to work every other weekend & some holidays. HOUSEKEEPING: 8am-4pm. No experience needed, will provide training. Must work some holidays. All positions are part time with the opportunity of becoming full time. No phone calls. Applications available at Cloverhill Adult Residence, 355 S Main St., Albion, NY 14411.
---
NEED LPN's
In-Home Nurses, $23.20/hr. 7a-3p & 3p-11p. Albion, New York. 585.748.8638
---
Cashier, C/S Rep., Stock Handler, Custodial, Lt. Maintenance Positions Available! Applicants must be 21 yrs. old, VALID Driver's License. Must be eager to work in a fast-paced environment. Some heavy lifting involved. Full time/Part time/ seasonal positions available. Sundays/Holidays a must! The Wine and Liquor Outlet, 5900 S. Transit Rd., Lockport, NY 14094. Apply in person. Call for details 716.434.4700
---
CDL A Drivers
Full/ Part Time Truck Drivers Wanted. $50-$75k (unlimited potential). Health/Dental insurance, Simple IRA retirement plan, Life insurance, Flexible schedule. Elder Trucking, Waterport, NY. 585.682.4282 or email ElderTrucking@gmail.com
---
Extra Cash
Looking for Part Time Drivers. 1-2 trips to PA per week. Must have Class A CDL & DOT Physical. Contact Elder Trucking, 1754 Waterport Rd. Waterport, NY 14571. 585.682.4282, ElderTrucking@gmail.com
---
WANTED: Dishwasher, flexible hours; Good pay. Must be dependable. Apply Victoria- Village Inn. 585-589-9151
---
OPEN ROUTES
Looking for responsible people to deliver the LAKE COUNTRY PENNYSAVER in the villages of ALBION and MIDDLEPORT. Must be available weekends and be dependable. Please send email to: circulation@lakecountrymedia.com
---
CLEANING HELP for fishing lodge. Change beds, clean baths, vacuum, no laundry. Pay per unit cleaned, good opportunity for cash tips. Busiest in Oct., Nov., less thru winter, spring. Must be available late morning, mid-day some weekdays/weekends. Carlton area. Call 585.682.4546, leave message.
---
HELP WANTED
Part Time FLORAL DESIGNER. Applications can be picked up at Bloom's Flower Shop or requested by email at bloomsfl@gmail.com