To purchase an employment listing, click here.
---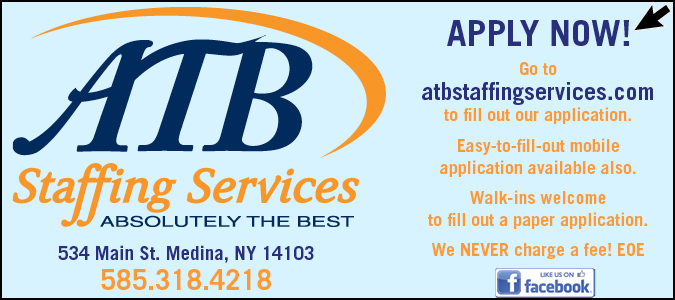 ---
Sales and Leasing Consultant
Hartway Motors
Growing GM dealer looking for motivated sales and leasing consultant to join our team. No Sundays. Computer-oriented. Will train the right person.
Our company has grown 30% in the last 12 months. We will pay competitive base salary, plus commission, medical and 401k. Forty-hour work week.
Send resume to John Poler: polerjohn@yahoo.com, or call 585-798-2400.

74410
---
Truck Driver Wanted – CDL A License
Shelby Transportation, LLC, a subsidiary of Western New York Energy, LLC, located near Medina, N.Y., is now hiring a driver for round-trip, regional runs to support corn oil sales from our ethanol plant. On farm/agricultural tractor trailer driving experience strongly preferred. Home 2 to 3 nights a week. Must have Tank endorsement, no Hazmat. Must have a minimum of 3+ years' recent experience. Good MVR, no DUI/DWI. Excellent benefits package available.
Send resume by email, mail, or apply in person.
jobs@shelbytrans.com
4141 Bates Road • PO Box 191 • Medina NY 14103

80389
---
Security Guard
Orleans Community Health
Will provide hospital security services during the evening and nighttime hours. To maintain a safe environment for patients and staff. To be knowledgeable and effective in the management of aggressive patients, visitors and employees. To assist with other assigned duties on an as-needed basis.
High school diploma or GED. Licensed NYS security guard, or obtain a security guard license within a ten (10) month period from the date of hire while working at the facility.
Send resume to:
Human Resources
200 Ohio St.
Medina NY 14103
Email: tmcadoo@medinamemorial.org
Fax: 585-798-8486
www.orleanscommunityhealth.org

81059
---
Help Wanted at Kendall Central School District
Part-Time Clerk Position
15 hours per week. Knowledge of Office Suite applications, payroll, general accounting knowledge preferred. To begin as soon as possible.
Starting salary: $12.50/hour. Must have fingerprinting clearance.
Deadline to apply: 2/7/2020

School Monitor
At Junior Senior High School
Starting salary: $12/hour. Must have fingerprinting clearance.
Deadline to apply: 2/7/2020
To apply to either position, send cover letter, resume, and professional letters of reference to:
Julie Christensen
Kendall CSD
1932 Kendall Road
Kendall NY 14476
Or, send by email to jchristensen@kendallschools.org

81074
---
We Want YOU! Apply Now!
ATB Staffing Services – Absolutely The Best!

2nd-Shift Manufacturing Sanitation
Corfu area • Hours 4 p.m. – done
Must have experience in food manufacturing sanitation
Pay rate: $15, increases to $17 if hired permanently

Production
Barker area • Various openings
Straight production as well as split duties involving fork lift and batcher responsibilities
1st and 2nd shift opportunities • Pay rates $12.25-$13.25

Production/Packaging Associates
1st shift • Experience in food manufacturing strongly preferred
Temp-to-hire • Clean environment
Mandatory overtime • Corfu area
Pay rate: $13, increases to $14 if hired permanently

Machine Operator
Medina area. Temp-to-hire. Great opportunity! Full benefits package effective immediately upon permanent hire. $12.00/hr., increases to $12.50 upon permanent hire, based on 90-day review up to $13.00. Must be able to read a ruler.
Go to www.atbstaffingservices.com to fill out our application. Easy-to-fill-out mobile application available also. Walk-ins welcome to fill out a paper application at 534 Main St., Medina NY 14103. We NEVER charge a fee!
585.318.4218
EOE

81060
---
Pianist and/or Organist Wanted
Part time pianist and/or organist needed for Faith United Methodist Church in Barker, N.Y. Salary based on experience. Please email resume to barkerfaith.jan@gmail.com.

6375
---
Open Interviews
CRFS – Setting the standard since 2002

Thu., Feb. 6 • 10 a.m. – 3 p.m.
231 East Ave., Albion
Contact Mike Quinlan at 585.331.9820 for details.

81075
---
Automotive Sales
Orleans Ford in Medina, N.Y. is looking for a goal-driven individual for our team. Our consultants average between 180 and 250 vehicles sold per year. Come join our winning team. Experience a plus, but not necessary. We offer salary plus bonus, 401k, health care benefits, and a great work environment.
Please send resume and contact information to saml@orleansford.com, or call 585-798-4316.
Orleans Ford
1405 S. Main St.
Medina NY 14103
74256
---
New Year – New Start
Imagine Staffing – Don't wait! Apply today!
We are hiring for Erie, Niagara and Orleans counties.
Check out our website: imaginestaffing.net

Several New Jobs for Growing Companies
• Manufacturer of tractor trailer doors located in Akron, N.Y. hiring for assemblers and production workers. Pay to $18+.
• Yancey's Fancy looking for packaging, sanitation and batching employees. Lots of OT!
• Solar manufacturing company looking for 300+ candidates. Pay to $16+ depending on shift. 7 a.m. – 7 p.m. and 7 p.m. – 7 a.m., 3 days one week, 4 the following. Excellent opportunity for growth!
All positions are temp-to-hire.
Call Krista at 716-425-8239, or email kfiegel@imaginestaffing.net.

Daily Open Interviews
9-11 a.m. and 1-3:30 p.m.
543B Main St.
Medina NY 14103
Apply online at ima.avionte.com
We LOVE working with our veterans!
EEOC Employer

Baxter
Currently expanding due to market demand
Tech II starting at $14
Pay increase after 90 days!
Call Marcy at 585-228-5559

81058
---
Immediate Openings
Kelly Services is proud to be recruiting for Saint-Gobain in North America, located in Albion, N.Y.
Machine operators and packaging associates. $12.80-$16.78.
To apply, call Kelly Services at 585-768-4380. Do not apply directly at Saint-Gobain.

81021
---
Part-Time Casework Assistant
Genesee Community College has a grant-funded opening for a part-time casework assistant
(19.5 hours per week).
This position is responsible for assisting the casework facilitator with their case load and acting as an administrative support person. They will generally work in tandem with the casework facilitator to help facilitate services, provide follow-up and referrals, and process necessary documents. An associate degree in human services, education, or related field and a minimum of one year of experience working with youth and their families is required. Preference given to experience within an educational setting. Must have reliable transportation.
For more details and to apply online, visit www.genesee.edu/employment/. Deadline for applications is Feb. 2, 2020. Please include a cover letter, resume, and contact information for four references.
GCC is an Equal Opportunity Employer, committed to fostering diversity in its faculty, staff, and student body, and strongly encourages applications from the entire spectrum of a diverse community.

81002
---
Universal Preschool Teacher
The Orleans County branch of the GLOW YMCA is looking for a dynamic individual to fill the part-time position of a full-day 3-year-old Universal Preschool teacher in the Lyndonville Central School District. The GLOW YMCA wants all interested applicants to know they are seeking a diverse workforce and are actively recruiting candidates in accordance with diversity, inclusion and equal opportunity policies. Under the general direction of the Executive Director, the Universal Preschool teacher is responsible for planning and managing a developmentally appropriate preschool classroom. The Universal Preschool teacher also supervises the assistant teachers assigned to their room.

Qualifications
Current certification by the New York State Education Department as a Birth to Grade 2 or to Grade 6 teacher • At least 19 years of age • Valid New York State driver's license • A bachelor's degree in early childhood education or a related field; or a teaching license or certificate valid for services in the childhood grades, and a written plan to obtain a certification valid for service in the early childhood grades within five years • CPR, first aid, AED certifications and child abuse prevention training within 30 days of hire date • Minimum of 6 months' previous experience working with preschool age children • Previous experience working with children in a developmental setting preferred • Ability to plan, organize and implement age-appropriate / developmentally-appropriate program activities • Previous experience with diverse populations • Ability to develop positive, authentic relationships with people from different backgrounds.

Principal Responsibilities
Planning, implementing and supervising a developmentally and academically appropriate curriculum for the assigned program • Develop and maintain weekly and monthly calendar of activities for display to parents • Maintain daily schedules of activities, etc. • Maintain an organized, clean and safe learning and recreational environment for all program areas • Develop and consistently maintain appropriate and professional communication with parents • Provide input into written evaluations as requested • Establish and train staff, children and parents on emergency procedures in compliance with OCFS regulations • Manage and control inventory of equipment and supplies, in accordance with budget • Ensure all applicable OCFS regulations are followed, including but not limited to ratios, child abuse reporting and emergency procedures • Maintain all required records and logs • Maintain cleanliness of facility as a member of Clean Team and all other duties, as requested.

To apply
Please apply at https://glowymca.isolvedhire.com/jobs/113277.html
Or, email Greg Reed at greed@glowymca.org

81013
---
Registered Nurse
Hospice of Orleans, Inc. is seeking a skilled and compassionate RN to join our team of outstanding professionals. This is an incredible opportunity to provide focused care to a maximum of 8 patients in conjunction with a dedicated and talented team of health care professionals. Our staff-to-patient ratio is unparalleled and offers the RN the ability to provide exceptional care to our patients in our beautiful, eight-bed, Martin-Linsin Hospice Residence in Albion, N.Y. This full-time position works three 12-hour shifts per week (7:00 p.m. – 7:00 a.m.). The RN will also be offered the opportunity to cover on-call hours for our home care program, if desired, but not required. Weekend and holiday availability is required. Hospice experience is a plus, but not required. NYS RN nursing license is required.
Please send your resume and cover letter to Hospice of Orleans, Inc., Attn: Kellie Spychalski, CEO, PO Box 489, Albion NY 14411, along with your completed application found on our website at www.hospiceoforleans.org.

80976
---
Seasonal Help Wanted at Circle R Farm Market
Market will be opening in May. Taking applications now for our farm market/ice cream stand and food truck. One must be willing to work weekends!
For an application, please come to the office at 1512 Kent Road, Kent.
Or, send resumes to Staceyjurs@yahoo.com.

80959
---
Help Wanted for Lynn-Ette & Sons, Inc.
Detailer/light bodywork/light painting and maintenance of equipment.
For an application, please come to the office at 1512 Kent Road, Kent.
Or, send resumes to Staceyjurs@yahoo.com.

80958
---
Part Time Receptionist
Help wanted for part time receptionist for busy medical practice.

Requirements:
• Experience: 1-2 years' customer service-related experience (experience in a medical office environment will be preferred)
• Ability to build positive relationships with high level of interpersonal skills and interact in positive manner
• Strong written and verbal communication skills
• Ability to prioritize tasks according to importance in a fast paced environment
• Multitasking capability without compromising on quality
• Must be proficient in handling office equipment, including computers, printers, photocopy machines, etc.
• Dependable, punctual, and able to work in flexible working hours
Please send resume, references and salary requirements to medinamedicaloffice2@gmail.com.

6331
---
LPN NEEDED. ALBION. In-home nurse. $23.20/hr. 7am-3pm & 3pm-11pm. 585.748.8638
---
HELP WANTED
REDEMPTION CENTER WORK. Pay based on experience. Please call 585.589.7478
---
HELP WANTED: Must be reliable, able to work every other weekend. PCA Part time, 7a-3p, 3p-11p. COOK Part time, 3p-7:30p, 7a-3p. Apply in person ONLY at The Willows, 459 E. Oak Orchard St., Medina. No phone calls. Must be able to pass background check.
---
Driver Wanted
Must have clean license. Pick up & deliver Porta Johns. $15-$18/hour. Call 585.356.2759.
---
Personal Care Aide Wanted. Medina. Must be available at 7:30am. 6-day work week. Reliable transportation & good work references required. Basic Personal Care Aide Responsibilities. 585.205.1730.
---
HELP WANTED
REDEMPTION CENTER WORK. Pay based on experience. Please call 585.589.7478
---
---