To purchase an employment listing, click here.
---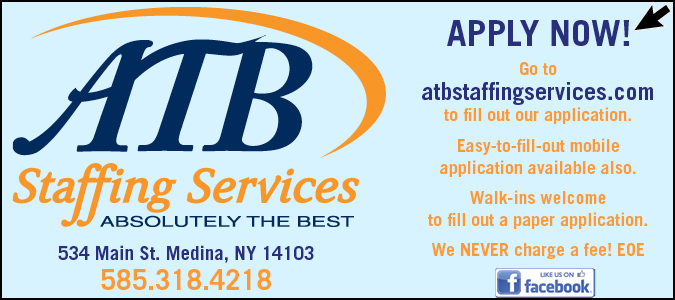 ---
Make More Money!
A, B, C, full time. Bidleman Chevrolet is in need of a full-time technician, with NYS inspection license, tools, and valid driver's license. We offer several benefits, including a competitive wage. We will beat your current pay!
Please apply in person, or email resumé to Sam LaNasa at saml@bidlemanchevy.com.
(585) 589-7056
4048 Oak Orchard Road, Albion NY 14411
78766
---
Experienced Carpenter
Immediate opening
Windows • Doors • Siding • Roofing • Basic carpentry skills
Call Jim Babcock Construction for interview: (585) 755-1095

78765
---
Help Wanted
The Village of Medina has open positions for a full-time laborer and a seasonal laborer. Applications may be picked up at the Village Clerk's Office, 119 Park Ave., Medina NY 14103. These positions do have a residency requirement.

78775
---
Looking for a Job? Stop in Today!
Imagine Staffing – Call us today to hear about all of the exciting new opportunities Imagine Staffing has to offer!

Current Openings:
• Production
• Assembly
• Grinders
• Finishers
• General Laborer
• Welders (MIG/TIG)
• Machine Operators
• Biologist and Chemist Lab Technicians
• Warehouse
• Forklift

Positions Located In:
• Akron
• Lockport
• Corfu
• Clarence
• Albion
• Batavia
• Rochester
Contact Krista at 585-228-9913, kfiegel@imaginestaffing.net
Marcy at 585-228-5559, mboyce@imaginestaffing.net
Apply online today!

Open Interviews:
Monday through Friday, 9-11 a.m. and 1-3:30 p.m.
543B Main Street
Medina NY 14103
Must have reliable transportation. Bring 2 forms of ID and resumé with you.
EEO Employer – Veterans are encouraged to apply. Imagine Staffing never charges a fee!

78753
---
Bus Driver Positions Available
Community Action of Orleans & Genesee
Come be part of a great team! Full-time and substitute. Competitive benefits package.

Major Responsibilities
Safe transportation and assistance of passengers (children and adults) to and from school and/or appointments

Required Qualifications
• A clean CDL license with passenger and school bus endorsement
• Meet all rules and regulations required for DOT and NYS Office of Child and Family Services
• GED or high school diploma
• Position subject to pre-employment and random drug/alcohol testing
For further description and qualifications, go to our website.
Respond with cover letter or resumé to:
Human Resources & Payroll Administrator
409 E. State St.
Albion NY 14411
hr@caoginc.org
Or stop in for an application!
EEO/AAP

78751
---
Summer Employment
Camp Rainbow • Lyndonville, N.Y.
• Experienced lifeguard
• Camp cook
Must be able to work June 27 – July 3 and July 8 – August 9
78759
---
Your Way to a Rewarding Career
Lifetime Assistance, Inc.
Are you interested in having a meaningful and rewarding job in the Brockport, Hamlin and
Rochester areas? Come and see us on Open Interviews Day.

Thu., May 23 • 3 p.m.- 7 p.m.
The Lodge on the Canal
133 State St., Brockport NY 14420
Available positions include: LPN, RN, Driver, and Direct Care in Residential and Day program.
Our employees enjoy flexible schedules, excellent benefits, paid training, tuition reimbursement, generous paid time off and a supportive work environment.
Please visit our website to apply or learn more about our Agency and our mission.
585-426-4120
EOE: Lifetime Assistance is committed to understanding and valuing the differences of our employees and the individuals we serve. We are committed to creating a culture that promotes mutual respect, acceptance, and cooperation among individuals of diverse backgrounds. It is expected that all employees share this commitment.

78725
---
Perfect for a Summer Job!
ATB Staffing Services – Check out our temp openings!

Temporary Teacher's Aide
Medina area • M-F, 8 a.m. – 5 p.m.
Candidate must have teaching/social services background, assisting students in classroom setting. Could become FT based on performance. Pay rate $15+ based on interview and experience.

Temporary Welcome Center Monitor
1st- and 2nd-shift • Medina area
Temporary position expected to last 1-2 months. Two openings: one on 1st shift (8 a.m. – 5 p.m.) and one on 2nd shift (3 p.m. – 12 a.m.). Must have excellent customer communication skills, general computer knowledge, ability to handle high traffic. Pay rate $13.00.

Part-Time Office Assistant
Medina area • M-F 11:30 a.m. – 4:30 p.m.
Must be reliable. Assisting with payroll, attendance, order entry, reception, and basic office duties. Must have Microsoft Office, to include Excel • Pay rate $14.00.

Machinist
Full time • Temp-to-hire • Medina area
Working in Wire EDM Department • 1st shift M-F, 7 a.m. – 3:30 p.m.
Must have knowledge of CNC and/or programming

Part-Time Accounting Assistant/ Receptionist
Albion area • $14/hr., approximately 15-20 hours/week
Must be professional and reliable • Must have A/P and A/R experience

Disassembler
Albion area • Temp-to-hire
Pay rate $11.10 • M-F, 8 a.m. – 4:30 p.m.
Disassembling and sorting scrap recyclables
Go to www.atbstaffingservices.com to fill out our application. Easy-to-fill-out mobile application available also. Walk-ins welcome to fill out a paper application at 534 Main St., Medina NY 14103. We NEVER charge a fee!
585.318.4218
EOE

78752
---
Machine Operators & Assemblers
Kelly Services has immediate openings in Orleans and Genesee counties.
$12.00-$16.78 • All shifts
Call Kelly Services to apply: 585-768-4380

78758
---
Automotive Sales
Bidleman Chevrolet in Albion, N.Y. is looking for a goal-driven individual for our team. Our consultants average between 180 and 250 vehicles sold per year. Come join our winning team. Experience a plus, but not necessary. We offer salary plus bonus, 401k, health-care benefits, and a great work environment.
Please apply in person, or email resumé to Sam LaNasa at saml@bidlemanchevy.com.
(585) 589-7056
4048 Oak Orchard Road
Albion NY 14411

78644
---
Hospice RN Case Manager
We're growing! Hospice of Orleans, Inc. is seeking a skilled and compassionate registered nurse to join our team of outstanding professionals as a Hospice RN Case Manager. This is an incredible opportunity to provide focused nursing care to a maximum of 12-14 home care hospice patients in conjunction with a dedicated and talented team of health care professionals. This full-time position will work 32 hours (four days) per week, 8:30 a.m. – 5:00 p.m., with paid scheduled on-call responsibilities shared among our team. Weekend and holiday availability is required for on-call rotation. Hospice or home care experience is preferred, but not required. Health insurance, other insurances, IRA, vacation, 10 paid holidays, and sick/personal time are offered. NYS RN nursing license is also required.
Please send your resume and cover letter to Hospice of Orleans, Inc., Attn: Kellie Spychalski, CEO, PO Box 489, Albion NY 14411, along with your completed application found on our website.

78652
---
Cleaner
The Village of Albion is seeking candidates to fill the position of cleaner. The position will pay minimum wage and will be for ten hours a week.
Applications may be picked up at the Clerk's Office, 35 E. Bank St., Albion, 8 a.m. to 4 p.m., Monday through Friday.
Linda K. Babcock • Village of Albion • Clerk-Treasurer

78702
---
Financial Accountant
Western New York Energy
Performs daily, monthly, annual accounting duties enabling WNYE to present financial statements compliant with US GAAP and accurate annual NYS and federal tax returns.
Duties may include, but are not limited to, preparation of financial statements, various cash and profit projections, assistance in analysis of plant efficiencies, accounting for fixed assets and maintenance parts, inventory calculations and reconciliations, some billing and transactional activities, participation in year-end independent audit, and preparation of schedules for tax returns.
Candidate should have: B.S in accounting or related course study, intermediate knowledge in Excel, thorough understanding of proper internal controls, ability to handle the company's sensitive information in a highly confidential manner, commitment to accuracy and attention to detail, a genuine curiosity and desire to learn about and be a part of the Western New York Energy team and the ethanol industry, effective and professional communication both internally and externally.
Competitive salary (based on experience) and excellent benefits.
Send resumes to jobs@wnyenergy.com.

78642
---
Hiring Roofers and Laborers
• Full time
• Willing to train
• NYS driver's license a plus
Call our office: 716-433-2451

78047
---
Automotive Sales
Orleans Ford in Medina, N.Y. is looking for a goal-driven individual for our team. Our consultants average between 180 and 250 vehicles sold per year. Come join our winning team. Experience a plus, but not necessary. We offer salary plus bonus, 401k, health care benefits, and a great work environment.
Please send resume and contact information to saml@orleansford.com, or call 585-798-4316.
Orleans Ford
1405 S. Main St.
Medina NY 14103
74256
---
Plant Operator
Western New York Energy
Starts at $17.95 per hour. Performs routine production operations. Must be able to climb stairs and ladders. Must have a valid NYS driver's license. Must have a high school diploma/GED. Benefits include excellent health and dental insurance (70%-100% company paid), $50,000 company paid life insurance, matching 401k plan, paid time off, wellness benefits.
Apply:
4141 Bates Road/P.O. Box 191
Medina NY 14103
jobs@wnyenergy.com

76092
---
Employment Opportunities
Lyndonville Central School District
• Cleaner – FT 2:30 to 11 p.m.
• Substitute Teachers
• Substitute Registered Nurses
• Bus Aide
• Substitute Bus Drivers – paid training
See www.lyndonvillecsd.org/employment–213 for more information and application instructions.

78617
---
HELP WANTED
EXPERIENCED CARPENTERS and LABORERS. CALL 585.719.5764
---
Positions Open!!!
Interested in Working for Mizkan America Inc.? View Open Positions for all US Locations. Visit our Career Center and Apply! www.mizkan.com
---
PERSONAL CARE AIDE: Part-time 3pm-11pm. No experience needed, will train. Must work every other weekend and some holidays. MAINTENANCE: Part-time. Must have some knowledge of mechanical, electrical & plumbing. Grounds upkeep during summer & winter months. Applications available at Cloverhill Adult Residence, 355 S. Main St., Albion.
---
Colonna's
SEEKING FULL-TIME HELP. Painting, cleaning, wood splitting, maintenance. Please apply at: 130 West Ave., Albion. 585.589.7478
---
LPN HOME CARE NURSE NEEDED. Variable hours discussed at interview. $21.96/hour. Call 585.589.0576
---
AUTO MECHANIC WANTED. East Ave. Motors. Call 585.590.0836
---
Help Wanted
FARM EQUIPMENT OPERATOR WANTED. Pay & benefits based on experience. Applications available at A & J Kirby Farms, 14684 Ridge Rd., Albion, NY.
---
BE IN BUSINESS for yourself but not by yourself. Opening for Real Estate Sales Agent. Commission-based. Full or part-time. Call to learn how to change your future to a prosperous one. Early Sunrise Realty LLC. 585.638.0020
---
WANTED TO HIRE
Driver for 6-wheel dump truck. Requires a Class B driver's license, $15/hr. Call Richard 585.749.8403
---
ROUTES OPEN
Wanted: RELIABLE driving carriers to deliver the Lake Country Pennysaver in the Medina area. Email circulation@lakecountrymedia.com.
---
NURSES HELPER NEEDED. Hours discussed at interview. Rate of pay $13.00. Call 585.589.0576
---
HELP WANTED: Automotive Tech. Drivers license, NYS Inspectors license & tools a must. Computer knowledge & ASE certification helpful. Apply @ Keding Automotive Service – 309 East Ave., Albion.
---
---