To purchase an employment listing, click here.
---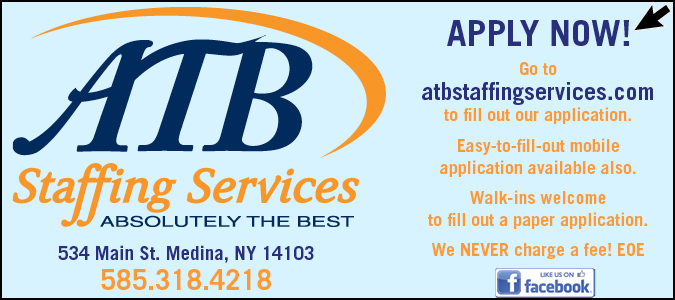 ---
CDL A Drivers
Seeking drivers age 25+ w/3+ years of verifiable experience, DOT physical, & clean Class A CDL. Mixture of local (home nightly) and regional (1 night in truck) runs. Business is almost entirely 1-pick/1-drop truckload within the northeast.
Apply in person at:
Elder Trucking
1754 Waterport Rd., Waterport, NY 14571
Call 585.682.4282 or email ElderTrucking@wildblue.net.
Refrigerated experience & knowledge of grocery warehouse & food processing plant locations helpful. Performance based pay. Benefits negotiable.
76019 – 1030
---
Cafeteria Monitors-Lyndonville CSD
Monday through Friday, 10:10am to 1:10pm. Fingerprint clearance through NYS Education Dept. is required. Pay is $12.70 per hour.
Direct questions to 585-765-3102. Submit Orleans County Civil Service Application and letter of interest to:
Human Resources Office
Lyndonville Central School District
PO Box 540
Lyndonville, NY 14098
link to posting and application: https://www.lyndonvillecsd.org/o/lcsd/page/employment–213
Applications accepted until positions are filled. EOE
81812 1023
---
Plant Operator
Starts at $17.50 per hour. Performs routine production operations. Must be able to climb stairs and ladders. Have a valid NYS driver's license. Have a high school diploma/GED. Benefits include excellent health and dental insurance (70%-100% company paid), $50,000 company paid life insurance, matching 401k plan, paid time off, wellness benefits.
Apply:
4141 Bates Road
PO Box 191
Medina NY 14103
jobs@wnyenergy.com
82381 TFN
---
Truck Driver Wanted
• Steady work
• Great pay
• Local storage shed manufacturer
• Clean work environment
• Includes doing installations and service work
Call Caleb at Heritage Structures: 585-735-2003
81866 TFN
---
Automotive Sales
Orleans Ford in Medina, N.Y. is looking for a goal-driven individual for our team. Our consultants average between 180 and 250 vehicles sold per year. Come join our winning team. Experience a plus, but not necessary. We offer salary plus bonus, 401k, health care benefits, and a great work environment.
Please send resume and contact information to saml@orleansford.com, or call 585-798-4316.
Orleans Ford
1405 S. Main St.
Medina NY 14103
74256 TFN
---
CDL A Drivers Wanted
Potential for $53,000+ for Local
Located near Medina, N.Y.
Shelby Transportation is now hiring a full-time driver for round trip, local runs in the Western and Central New York areas (home every night). Tank endorsement a plus. On-farm/agricultural tractor trailer driving experience strongly preferred. Minimum of 3 years' recent experience preferred for both positions. Good MVR, No DUI/DWI. Excellent benefit and 401k package.
Send resume or apply in person at:
4141 Bates Road
Medina NY 14103
82426 TFN
---
Fantastic Job Opportunities!
Field Service Technician
Based out of Lockport • Requires 2 years college or vocational training in Electronics • Must be willing to travel- 50%-60% on the road servicing clients • 3 months training local • Once perm would increase to salary position with company car, travel expenses benefits, etc. Pay Rate through 3 month training period is $15/hr.

Packagers
Medina Area • ALL SHIFTS! • Temp to Hire • Drug Screen/Background check • Pay rate starts at $13.50 + $2/hr incentive pay! And shift differential! • Mandatory Overtime

Production Associates
Barker area • Several immediate openings! 1st shift-6am-4pm • Pay Rate $14.00

Machinist/Welder-Fabricator
Medina area • Temp-to-Hire • Experience Required
Pay rate based on experience & interview, $15-$20+ • Benefits package upon permanent hire
We will be scheduling in office appointments again. One person at a time and masks will be required at interview. Please call to schedule an appointment. Thank you!
Go to www.atbstaffingservices.com to fill out our application. We NEVER charge a fee! EOE
ATB Staffing Services • 534 W. Main St., Medina, NY 1413 • 585.318.4218
82841 1023
---
Laboratory Technician
Western New York Energy
Job Description
Performs physical, chemical and biological tests in support of plant operations and quality control. Operates and maintains scientific equipment, including Ph meters, spectrophotometers, analytical balances, GC, HPLC, centrifuges and hydrometers. Calculates, measures and prepares reagents and solutions for plant and laboratory use. Helps maintain and order lab inventory. Assists in training operations personnel. Person skills: must have good written and verbal skills. Good candidates will have a solid mathematical capability, a strong interest in science, and a willingness to learn.
Requirements
Candidates should be able to demonstrate a good scientific background. Entry level candidates should have a 2- or 4-year degree in a chemistry, biochemistry or cell biology related field. Mid-career candidates should have at least 2 years' experience working in a chemical laboratory environment. Candidates should have experience with troubleshooting and the maintenance of the HPLC, Gas Chromatograph and Ion Chromatograph.
Position: Full-time days, Monday-Friday; excellent benefits.
Send resumés to:
Western New York Energy
4141 Bates Road
P.O. Box 191
Medina NY 14103
jobs@wnyenergy.com
82481 TFN
---
$750-$3,000 Sign-On Bonus
Registered Nurses and Care Providers
Batavia, Corfu, Oakfield, Albion, Medina & Elba
Days, Evenings, Overnights, Weekends
Full-time, Part-Time, Relief
The Arc of Genesee Orleans
For info, call 585-343-1123
or apply online at: www.arcgo.org/employment-opportunities
*750 for new hire Care Providers. $3,000 for new hire Registered Nurses
Must start job between 10/26/2020-12/31/2020. Bonus paid out quarterly over one-year period.
82827 1030
---
KENDALL SCHOOL DISTRICT
1 FULL-TIME or 2 PART-TIME CASEWORKERS
Must take the Orleans County Civil Service exam and be reachable from generated list. Immediate opening.
Please send cover letter, resume, certifications, and professional letters of reference to:
Julie Christensen, Kendall CSD, 1932 Kendall Road, Kendall, NY 14476

School Treasurer/Business Manager
See website for complete details at www.kendallschools.org
Deadline to apply is Nov. 6, 2020 Start date: Jan. 15, 2021
Salary commensurate with experience, comprehensive benefits package.

BUS AIDE
Immediate opening. Hours to work: 7:30 am to 8:45 am and 2:45 pm to 4 pm each school day.
Please complete an Orleans County Civil Service application (no test necessary) and send to:
Julie Christensen, KCSD, 1932 Kendall Road, Kendall, NY 14476
82829 1030

---
Secretary II
The Orleans County Department of Public Works has an opening for a Secretary II position to perform payroll, accounts payable, accounts receivable and account reconciliation. For details on how to apply, go to www.orleanscountyny.com under "Job Openings"; subject to a Civil Service examination. Orleans County EOE.

7181 del 1130
---
Community Action of Genesee & Orleans
Head Start Substitute Positions
Batavia, Medina, Albion & Kendall
Responsibilities
• Fill in as needed for classroom and/or as Bus Monitor (18 mos. – 5 years), training provided
Minimum Qualifications
• At least 18 years of age
• High school diploma or GED
• Reliable transportation
• Demonstrated experience working with children ages birth – 5 years
• ability to read and write commensurate with required duties
All successful candidates must be cleared through NYS and federal background checks and pass NYS physical for daycare licensing.
Respond by Oct. 30 with cover letter and resume to:
Human Resources & Payroll Administrator
409 E. State St., Albion, NY 14411
hr@caoginc.org
or stop in for an application! EOE/AAP

82843 1023

---
WANTED
SNOW PLOW DRIVERS. Must be dependable. Tim Newton Enterprises 585.682.7724
---
Cashier, C/S Rep., Stock Handler, Custodial, Lt. Maintenance Positions Available! Applicants must be 21 yrs. old, VALID Driver's License. Must be eager to work in a fast-paced environment. Some heavy lifting involved. Full time/Part time/ seasonal positions available. Sundays/Holidays a must! The Wine and Liquor Outlet, 5900 S. Transit Rd., Lockport, NY 14094. Apply in person. Call for details 716.434.4700
---
Truck Driver
Local Truck (Dump) Driver. Full or Part Time. Must have CDL A or B. Call Colton 585.797.7546
---
HELP WANTED: DAIRY COW MILKER. Reliable and motivated individual needed for 350 cow dairy. Experience preferred. Dependable transportation. Email: dairymilker66@gmail.com
---
HELP WANTED
HHA NEEDED for 12 hour shift Saturdays. 8am-8pm. Call 585.589.4091 and leave contact information.
---
Local company seeking Tanker Endorsed Class A CDL Holder to pickup and deliver milk from farm to local destinations. Competitive pay, health ins., vacation, holiday and overtime pay. Home everyday. Send qualifications to: rdrowcliffe@yahoo.com or call 716.474.1548
---
POSITION: CUSTOMER SERVICE REPRESENTATIVE. Full time. 40 hours per week, no weekends required. Excellent phone manners, computer skills and reliability required. $18.00 hourly. Apply in person only at Frontier Heating & AC Service, 115 E. Bank St., Albion. Mon.-Fri. 7:30-4:00.
---