To purchase an employment listing, click here.
---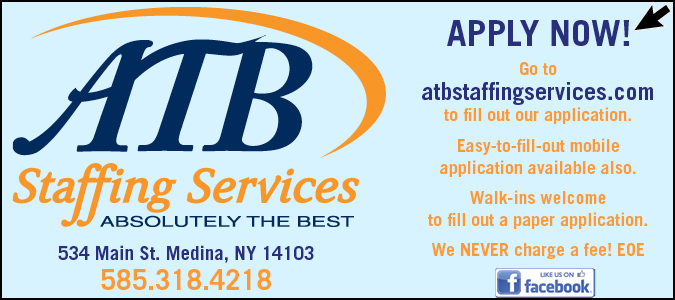 ---
Commodity Handler
Western New York Energy, Medina

Nature of Work:
Operates and maintains machinery and equipment necessary in the unloading of corn and loading of distillers and ethanol

Essential Responsibilities and Duties:
• Inspect grain received to ensure that it meets company standards
• Timely loading and unloading of ethanol, distiller's grains and other products by railcar and truck
• Housekeeping, maintaining cleanliness and organization of all areas of the department
• Operating rolling stock that includes loader, railcar mover, skid steer and forklift

Qualifications:
• Good written and verbal skills
• Ability to work well with others and also work independently

Education and Experience:
• High school diploma/GED required
• Demonstrated competencies
• Experience with loading equipment
• Work experience and equivalent to 2 years of experience in core essential responsibilities and duties
• Computer experience a plus
Physical Demands:
• Ability to lift 50 lbs.
• Use ladders and stairs
• May spend up to 8 hours on your feet
Send resumes to:
Western New York Energy
4141 Bates Road
P.O. Box 191
Medina NY 14103
77907
---
CDL A Drivers Wanted
Shelby Transportation, located near Medina, N.Y., is now hiring a full-time driver for round trip, local runs in the Western and Central New York areas. Tank endorsement a plus. On-farm/agricultural tractor trailer driving experience strongly preferred. Must have a minimum of 3+ years' recent experience. Good MVR, no DUI/DWI.
Excellent benefit and 401k package.
Send resume or apply in person:
jobs@shelbytrans.com
4141 Bates Road
PO Box 191
Medina NY 14103

77937
---
Code Enforcement Officer II
Village of Medina
Job description listed on the village website.
Certification required. Will train. Applications may be picked up at the Village Clerk's office:
119 Park Ave.
Medina NY 14103
Applications will be accepted through April 3, 2019.

78186
---
Nurses Wanted
The Villages of Orleans Health & Rehabilitation Center in Albion is looking to complement our
healthcare staff by hiring additional nurses.
We are looking for:
RNs, LPNs and CNAs
All shifts. We now offer competitive wages and substantial shift differential for 2nd and 3rd shifts!
Please contact Brittany Roberts to set up an interview at broberts@thevillagesoforleans.com, or 585-589-3231.

78182
---
Drivers Wanted
Hiring Class A and Class B CDL drivers for concrete mixer trucks and cement tanker drivers. Apply in person at Oak Orchard Concrete, 10831 Blair Road, Medina, or call 585-798-4890.

5491
---
New Job Opportunities!
Imagine Staffing
543B Main St.
Medina NY 14103

Akron and Corfu companies looking for production and assembly candidates. Pay $12-18/hour.
Batavia and Corfu companies seeking individuals for production and sanitation. Pay $12-15/hour.
Clarence company looking for grinders, machine operators, MIG/TIG welders and maintenance technicians. Pay $13-22/hour.
Clarence and Corfu companies hiring for warehouse/forklift, laboratory, and QC technicians. Pay $13-20/hour, depending on position.
Albion businesses looking for candidates with packaging and machine operation experience. $12-15/hour, depending on experience and position.
Rochester and Fairport areas are hiring for CNC setup, lathe and mill operators, production associates and coil fabricators. Pay ranges up to $18 per hour with excellent benefits!

Open Interviews:
Monday through Friday, 9-11 a.m. and 1-3:30 p.m.
(585) 228-9913 • (585) 228-5559
Appointments appreciated, but not necessary. Bring 2 forms of ID and resumé with you. EEO Employer – Veterans are encouraged to apply!
Apply online today!
Contact Krista at 585-228-9913, or kfiegel@imaginestaffing.net.

78174
---
Drivers
Medina Transport is hiring drivers for medical transports. Clean license, drug-free, flexible hours, evenings, weekends.
Apply within: 493 E. Center St., Medina
Phone: 585-798-9400

74922
---
immediate Openings
Kelly Services is proud to be recruiting for Holli-Pac, located in Holley, N.Y.
1st shift – Packaging
For details, call Kelly Services at 585-768-4380. Do not apply directly at Holli-Pac.

77885
---
CDL Drivers
Growmark FS – Growing Your Expectations
Class A and B, full-time seasonal. Must be able to lift 50 lbs. Possible full-time employment with ag. experience.
Apply at 3854 Taylor Hill Road, Albion, or click here.

77776
---
Help Wanted
Experienced short order cook for a seasonal cafe serving breakfast and lunch. Must have at least 2 years' experience and be able to work weekends.
Email resume and work experience to info@lakebreezemarina.com.

78192
---
Several Great Opportunities! Apply Now!
ATB Staffing Services – Absolutely The Best!

International Shipping Coordinator/Customer Service
Full time • Temp-to-hire
M-F 8:30 a.m. – 5 p.m. • Akron area
Seeking a highly detail-oriented candidate looking for a career. High-level clerical skills to include Microsoft Office/Outlook. Experience with preparing shipping paperwork strongly preferred. Must have excellent customer service skills in dealing with clients. Self-motivated with professional attitude and willing to learn! Pay rate $16+ based on experience and interview.
Production Associates
Barker area • 1st and 2nd shift openings • Pay rate $11.50
Working four 10-hour days, with three days off!
1st shift 6 a.m. – 4 p.m.
2nd shift 4 p.m. – done (approximately 2:30 a.m.)
Machinist
Medina area • 1st shift
Experience with grinders, lathes and mills
Pay rate based on experience: $14-$21+
Machine Operator
Medina area • Temp-to-hire
$12/hour • Must be able to read a ruler
Excellent benefits package available, effective upon permanent hire
Production Associates
Batavia area • Openings on all 3 shifts
Pay Rate $11.70 • Room to advance!
2nd Shift Forklift Operator
Barker area • 4 p.m. until done (approximagely 2:30 a.m.)
Previous experience a must • Pay rate $13
Go to www.atbstaffingservices.com to fill out our application. Easy-to-fill-out mobile application available also. Walk-ins welcome to fill out a paper application at 534 Main St., Medina NY 14103. We NEVER charge a fee!
585.318.4218
EOE

78173
---
Hiring Roofers and Laborers
• Full time
• Willing to train
• NYS driver's license a plus
Call our office: 716-433-2451

78047
---
Automotive Sales
Orleans Ford in Medina, N.Y. is looking for a goal-driven individual for our team. Our consultants average between 180 and 250 vehicles sold per year. Come join our winning team. Experience a plus, but not necessary. We offer salary plus bonus, 401k, health care benefits, and a great work environment.
Please send resume and contact information to saml@orleansford.com, or call 585-798-4316.
Orleans Ford
1405 S. Main St.
Medina NY 14103
74256
---
Help Wanted
Kendall Central School District

Probationary Art K-12
Anticipated September 2019
Probationary Music K-12, Instrumental and General Music
Anticipated September 2019
Please send your cover letter, resume, transcripts, professional references and certifications to:
Julie Christensen
Kendall CSD
1932 Kendall Road
Kendall NY 14476
Deadline to apply: March 29, 2019

Night Cleaner
Minimum wage. Comprehensive benefits package. Hours: 2:30-11:00 p.m.
Complete an Orleans County Civil Service application and submit to:
Julie Christensen
Kendall CSD
1932 Kendall Road
Kendall NY 14476
Deadline to apply: As soon as possible

78080
---
LPN Opportunities
In Brockport, N.Y.
Oak Orchard Health is seeking LPNs for our growing practice. New grad or experienced. We are willing to train new nursing professionals who are enthusiastic and motivated! We offer competitive wages and benefits.
Apply online at Indeed.com, or send resumes to Linda Wilkins at lwilkins@oochc.org.
Oak Orchard Health is an equal opportunity employer.

78121
---
Apple Stackers
Box stackers needed for our packhouse. Seasonal, $11.50 per hour. Able to stack packed apple boxes on pallets. Must be able to lift and stack 30-50 pounds. Immediate openings.
Apply at:
H.H. Dobbins, Inc.
99 West Ave.
Lyndonville NY 14098
Or, send resume to sseefeldt@wnyapples.com.
An equal opportunity employer

5485
---
New Year! New Job!
Why Arc of Genesee Orleans? Competitive pay, great benefits, paid training, advancement opportunities, 401k match, tuition assistance.
• Director of Residential
• Residential Manager
• Assistant Manager
• Behavior Technician
• Self Direction Manager
• COTA
• Community Services Manager
• Maintenance Specialist
• Direct Care
• Pre-Vocational Counselor
• Special Ed. Teacher
• Speech Therapist
• Support Broker
• Job Coach
• Bus Driver
Positions available in Genesee and Orleans counties.
For a full listing of all our positions and to apply, visit us online.

78106
---
Now Hiring
Busy shop looking for an ASE-certified mechanic. Must have NYS inspection license. Tow truck license preferred. Must have valid driver's license. Competitive pay.
Apply in person Monday – Friday, 8 a.m. – 5 p.m.
DK Auto, LLC
338 Childs St.
Albion, N.Y.
585-589-7083
Dave Mogle, owner

78062
---
Plant Operator
Western New York Energy
Starts at $17.95 per hour. Performs routine production operations. Must be able to climb stairs and ladders. Must have a valid NYS driver's license. Must have a high school diploma/GED. Benefits include excellent health and dental insurance (70%-100% company paid), $50,000 company paid life insurance, matching 401k plan, paid time off, wellness benefits.
Apply:
4141 Bates Road/P.O. Box 191
Medina NY 14103
jobs@wnyenergy.com

76092
---
Summer Employment
The Arc of Genesee Orleans
Camp Rainbow, Lyndonville, N.Y.
Aquatics Director
Lifeguard
Cook and Cook Aide
Counselors
Paid training: June 24-28
Camp session: July 8 – August 9
Apply online:
www.arcgo.org/employment

78107
---
HIRING
ATTENTION: Laborers and Equipment Operators. We are looking for qualified candidates to add to our great team of personnel. Email your resume to Jen@arthillexc.com, or stop in the office for an application. Art Hill Excavating 4040 Bates Road, Medina NY
---
HELP WANTED for working on new manufactured homes. Skirting installer $20-$25/hr. Utility installer $20-$25/hr. General laborer $18-$20/hr. These are full-time positions. Must be fit and agile. Must have reliable transportation. Work locations are Lockport & Corfu. Phone 585.738.2303.
---
NEEDED: NURSES HELPER. M, T & Th, F. In the AM for 1 hour. Hours may vary. Please call 585.589.0576
---
GOLF COURSE GROUNDS STAFF. Now taking applications for the upcoming season. Several positions open. Early morning hours & night water man available. Apply in person, Shelridge Country Club, Maintenance Department, Medina.
---
CDL-A DRIVER NEEDED: Regional runs. Usually 2-3 per week. Family-run business. Competitive wage & benefit package. 3 years of experience preferred, clean license. New equipment. No NYC or Canada. Please call George at Triple G Farms at 585.590.6297.
---
PART-TIME MILKER for Organic Dairy Farm. Will train if dependable, kind, patient & enjoys working with cows. AM or PM milking. 585.798.0092, leave message.
---
HELP WANTED: Full-time summer work. No experience needed. Please call 585.589.7478.
---
HELP WANTED
Responsible & reliable individual for full-time work available in gutters, roofing & siding. Own tools & transportation needed. If interested call Brian 585.755.4268
---
DUMP TRUCK DRIVERS. TriAxle and 6-wheel drivers wanted. Minimum CDL-B required. Experience preferred but will train. Good starting pay. Email bankstruckinginc@aol.com, or call 585.802.5109.
---
PART-TIME OFFICE. 9am-5pm. 1 or 2 days/week. Pleasant telephone skills. Computer: Word, Excel, etc. Reliable, trustworthy. Send resume to: Office, P.O. Box 187, Albion.
---
HELP WANTED: Experienced Concrete Construction Workers. For footers & walls. Days pay $40 w/benefits. Transportation a must. 716.870.8718.
---
CDL DRIVER WANTED
HIRING! Class B/ Class A drivers. Dump Truck experience is required. We are looking for long term employees. Must be physically capable of cleaning out truck box and tarping loads. Some light mechanical abilities will be necessary. Email your resume to Jen@aarthillexc.com, or visit our office for an application. 4040 Bates Road, Medina NY.
---
---