To purchase an employment listing, click here.
---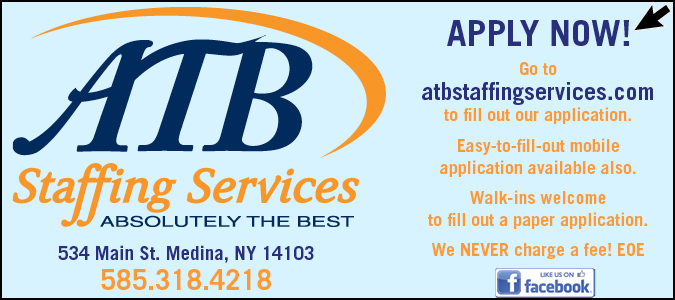 ---
CDL A Drivers Wanted
$48,000 plus
Shelby Transportation, located near Medina, N.Y., is now hiring full time drivers for round trip, local runs in the Western and Central New York areas. Tank endorsement a plus. On farm/agricultural tractor trailer driving experience strongly preferred. Must have a minimum of 3 years' recent experience. Good MVR, No DUI/DWI. Excellent benefit and 401k package.
Send resume or apply in person.
jobs@shelbytrans.com
4141 Bates Road • PO Box 191 • Medina NY 14103

76912
---
New Year! New Job!
The Arc of Genesee Orleans is now hiring:
• Meals On Wheels
• Human Services positions
• Assistant Manager
• Day Hab Manager
• Residential Manager
• Accounting Assistant
• Behavior Technician
• Bus Aide
• Bus Driver
• Trash/Recycling Driver
• COTA
• OT/PT
• Speech Pathologist
• Preschool Social Worker
Visit our website to see all employment opportunities and job qualifications.
Excellent benefits • Paid time off • Paid holidays • 401k match!
Apply online: www.arcgo.org

76926
---
Jobs, Jobs, Jobs!
ATB Staffing Services – Absolutely The Best!

Part-Time Office Assistant
Medina area • 15-20 hours/week
Small business looking for professional team player
Must be responsible, reliable and willing to learn new things
3 days a week, but must be flexible
Associate degree preferred • $12-13/hour
Machine Operator
Medina area • Temp-to-hire
$12/hour • Must be able to read a ruler
Excellent benefits package available, effective upon permanent hire
Packagers
Temp-to-hire
2 openings on 2nd shift (2-10:30 p.m.)
2 openings on 3rd shift (10 p.m. – 6:30 a.m.)
3 openings on 1st shift (6 a.m. – 2:30 p.m.)
Pay rates $11.61-12.26 • Medina area
Rework Project
Medina area • 1st shift
Pay rate $11.61 • Several openings!
Temp assignment expected to last 2-3 months, with possibility of moving to temp-to-hire. Great way to get your foot in the door or earn extra cash for the holidays!
Machinist
Medina area • 1st shift
Experience with grinders, lathes and mills
Pay rate based on experience: $14-$21+
Go to www.atbstaffingservices.com to fill out our application. Easy-to-fill-out mobile application available also. Walk-ins welcome to fill out a paper application at 534 Main St., Medina NY 14103. We NEVER charge a fee!
585.318.4218
EOE

76945
---
Your Career is HOT with Us
Lifetime Assistance, Inc. – Come join our team!
Immediate Openings: Direct Care and Driver positions

We Offer:
• Excellent benefits
• Generous paid time off
• Paid training
• Flexible schedules
• Most locations are within minutes from your home

Walk-in Interviews
No appointment needed!
Every Thursday from 3:30 to 7 p.m., starting Nov. 15, 2018.
100 Horizon Park, Brockport NY 14420
To expedite the interviewing process, please have the person/people you are referring to visit our website at www.lifetimeassistance.org to complete an application prior to the day of interview.
EOE: Lifetime Assistance is committed to understanding and valuing the differences of our employees and the individuals we serve. We are committed to creating a culture that promotes mutual respect, acceptance, and cooperation among individuals of diverse backgrounds. It is expected that all employees share this commitment.

76867
---
Unlimited Job Openings!
Imagine Staffing – Apply today!

Production/Packaging
Freeze Dry in Albion. 1st and 2nd shift openings. 10-12 hour days, flexible to work weekends. Excellent benefits!
Production/Assembly
In Akron, 1st and 2nd shift • Pay to $18/hr.
Production
In Medina on 2nd and 3rd shift. Paying $15+ depending on shift. Temp-to-hire plus OT!
Data Entry/HR
In Medina. $20/hour, temporary assignment.
Production/Sanitation
Yancey's Fancy. 1st and 2nd shifts. Must have manufacturing experience. Temp-to-hire plus OT!
Production/Assemblers
Chapin Manufacturing in Batavia. All 3 shifts available. Temp-to-hire, possible OT.
No experience needed for most positions. Call Krista at 585-228-9913, or
email kfiegel@imaginestaffing.net. Imagine NEVER charges our candidates a fee!

Open Interviews
543B Main Street • Medina NY 14103
Monday through Friday, 9-11 a.m. and 1-3:30 p.m.
(585) 228-9913 • (585) 228-5559
Appointments appreciated, but not necessary. Bring 2 forms of ID and resumé with you. EEO Employer – Veterans are encouraged to apply! Apply online today. Former employees' encouraged to contact us about new opportunities – don't be shy!

Baxter
Hiring for 1st and 2nd shifts. Entry-level and experienced manufacturing openings. This is a very clean facility, climate-controlled environment with a casual dress code. Call Marcy at 585-228-5559, or email mboyce@imaginestaffing.net.

76946
---
Graphic Designer
Must fill FT position immediately
Graphic design experience with proficiency in Adobe InDesign, Photoshop, Illustrator and Dreamweaver. A background in advertising, publication design and/or the printing industry is preferred. Knowledge of FileMaker Pro database design and data entry. Requires excellent written and verbal communication skills with customer-service experience. Being able to work independently, under short deadlines, with great attention to detail is a must. Position requires proofreading, copywriting and editing, as well as some printing, copying, and bindery work.
A plus, but not required: Experience with IT and computer networking (Mac & PC). Web-design/development experience with fluency in HTML, CSS, Javascript, and PHP.
Interested professionals should send PDF of resumé and cover letter to:
graphicsdept1@gmail.com
Please provide a link to your portfolio.

76772
---
Mason Laborer
Are you looking for a CAREER and not just a job? Apply for the Mason Laborer position with Westco Masonry to learn a trade.
Must have reliable transportation around the Greater Rochester Area.

Responsibilities:
• Mixing mortar cement
• Stacking block
• Setting scaffold
• Grading stone
• Pinning concrete forms
• Tend to the needs of the masons
Job type: Full-time
Call 585-820-1923 or apply here.

5149
---
Automotive Sales
Orleans Ford in Medina, N.Y. is looking for a goal-driven individual for our team. Our consultants average between 180 and 250 vehicles sold per year. Come join our winning team. Experience a plus, but not necessary. We offer salary plus bonus, 401k, health care benefits, and a great work environment.
Please send resume and contact information to saml@orleansford.com, or call 585-798-4316.
Orleans Ford
1405 S. Main St.
Medina NY 14103
74256
---
MAINTENANCE POSITION AVAILABLE: Part-time hours. $11.75 starting pay. Apply at McDonalds.com/careers
---
TIRE CHANGER at TRANSIT TIRE. Experienced only. 585.589.8473.
---
CARRIER WANTED: Local firm looking for carrier to deliver our products to customers within NY State, CT and PA. Call Cindy Robinson at 585.798.0300
---
SIDEWALK SHOVELERS NEEDED. Must be able to shovel snow, operate snow blower, spread salt. Must be dependable and available 24/7. Please call 585.682.7724
---
NEEDED: IN-HOME NURSE/LPN. 3pm-11pm Albion, NY. 585.748.8638
---
Roofers
WANTED: Roofer(s) with shingle and/or metal experience. Call 585.719.5764
---
Barden Building Products: Framers/Laborers/Assemblers/Loaders. Now accepting applications for several openings in Wall panel & Truss assembly. Framing/Construction experience necessary. Manufacturing/Assembly line exp. a plus. Must be detailed oriented, motivated, dependable, able to lift 50# & able to work flexible schedule. Competitive pay, benefits, 401k, etc. Apply in person or submit resume with salary requirements to: HR@Bardenhomes.com. Barden Building Products, 103 Kelly Ave., Middleport, NY 14105. Fax: 716.735.3752.
---
ROUTES OPEN
Wanted: RELIABLE driving carrier to deliver the Lake Country Pennysaver in the Albion area. Email circulation@lakecountrymedia.com.
---
TIRE CHANGER at TRANSIT TIRE. Experienced only. 585.589.8473.
---
SNOW PLOW DRIVERS NEEDED. Must be dependable, have valid driver's license, available to work 24/7. Please call 585.682.7724
---
---