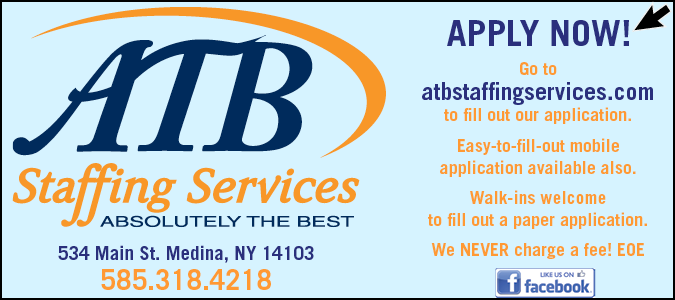 To purchase an employment listing, click here.
---
---
Employment Text Listings
DRIVERS – CLASS A CDL  
Seeking Class A CDL driver. Full or Part time. Flatbed delivery of wall panels, roof trusses,
building materials. Ability to assemble materials, load trailers, operate forklift
Mostly local, home nights and weekends. Must be hardworking and responsible.  
Competitive salary, benefits, 401k.  + load bonuses. This is great for someone looking to be \"semi-retired\".   
Apply in person or submit cover/resume to: HR@Bardenhomes.com.  
Barden Building Systems
103 Kelly Ave.
Middleport, NY 14105.
F 716-735-3752.
1752-22del0616
---
---
HEAD START EMPLOYMENT OPPORTUNITY
Early head start/child care partnership program
Family Community Partnership/ERSEA Specialist:
FT 40 hours/week; 52 week/year.
Along with other specialist, responsible for:
1. Eligibility, Recruitment, Selection, Enrollment and Attendance of 58 children. 
2. Plans, monitors and assures families are provided all services according to program regulation. 
3.  Works closely with community agencies to link families with services including subsidy payments for childcare. 
4. Visit families and Partner sites in Orleans, Genesee and eastern Niagara Counties 
5. Assures Health requirements are met and recorded for all children. 
6. Monitor and follow up on attendance.
Successful candidates must have:  Bachelor's degree in Social Work or related field.  Demonstrated experience working with low-income and community agencies.  Proven experience in supervision of others, effective communication, and organizational skills.  Proficient in PC systems and MS Office products.  Reliable daily means of personal transportation and a valid NYS Driver's License with acceptable driving record.   Must be able to pass all background checks required by federal and state regulations.  Previous experience with Head Start Program, and/or Child Care in New York State is preferred.
For further description and information go to our website:
www.caoginc.org. 
Send resume by June 2, 2023 to: 
hr@caoginc.org
409 E. State St.
Albion, NY 14411
2094-58
---
Conservation District Laborer
Orleans County Soil & Water Conservation District is seeking an enthusiastic, self-motivated laborer to assist with the technical aspects of our County-wide natural resources program.
Minimum Qualifications: Must Possess a valid NYS Driver's License during employment. Must be 18 years of age or older. Must be physically fit and be able to lift and carry 50 pounds and walk in rough, uneven terrain under sometimes unfavorable conditions including high heat, humidity, rain, etc. Knowledge of Environmental Conservation or related field, knowledgeable and fluent with programs including Microsoft Office, Publisher, Excel, Word, and GIS. Able to work independently and diligently. Able to speak with landowners, farmers, etc in a professional and educated manner. Salary $16/hr. • Seasonal Position 
Interested candidates should provide resume with references and cover letter to the District Manager, Katie Sommerfeldt at katie.sommerfeldt@ny.nacdnet.net.
For questions call the SWCD office at 585-589-5959 x5 or email katie.sommerfeldt@ny.nacdnet.net.
Resumes must be received by May 26, 2023.
ORLEANS COUNTY IS AN EQUAL OPPORTUNITY EMPLOYER!
del0618
---
Ambient Broadband is looking to contract with local Installation/Service Technicians for work in and around Orleans County, NY. Self-starter, able to follow directions and established procedures in performing customer installations, services, and repairs of home broadband equipment and related technology. The role will require mounting and troubleshooting of outdoor antennas, running cat5e cabling, and basic configuration of routers. Role requires some basic computer/networking knowledge as well as ability to learn, problem solve, communicate, and provide customer support and service.

Installation Technician Responsibilities:
• Traveling to customers\' homes or businesses to perform installations, maintenance, and repairs.
• Performing site surveys to determine the optimal placement for equipment installation.
• Installing the necessary cables, mounting the hardware, and ensuring that the equipment is positioned correctly.
• Basic knowledge of Cat5e/Cat6 wiring and connectors.
• Ensuring that tools and equipment are safely operated and maintained
• Responsible for safe use of company equipment and vehicle

Installation Technician Requirements:
• High school diploma or GED
• Valid driver\'s license (clean record) and own transportation
• Proficiency with hand and power tools
• Excellent customer service skills
• Strong written and verbal communication skills
• Physically fit and able to work at heights
• Willingness to work occasionally after hours and on weekends
• Contractor Insurance

$25+hr
del0602
---
Orleans/Niagara BOCES
Now Accepting Applications For: Coordinator (Principal)

Special Education Teachers
Health Teacher • Health Occupations Teacher
Science Teacher • Trade and Technical Subject Teaching Positions
Behavior Consultant • Clerical/Administrative Assistant Positions
School Nurses ($56,000 per ten-month school year)
Teacher Aides ($19.41 per hour)

 

Personal Care Aides ($18.25 per hour)

 

Cleaner (Sanborn) • Building Maintenance Worker (Sanborn)
Adult Education Literacy Instructors (Full-time and Part-time)
Adult Education Nursing Instructors (Part-time)
Adult Education Skills Instructors (Part-time)
Adult Education ESOL Instructor (Part-time)
Substitute Teachers and Teacher Aides
Substitute School Nurses

 

($300 per day)
Summer School Positions
Please visit our web site employment page at www.onboces.org.
Retirees welcome to apply. EOE
2094-57
---
AUTOMOTIVE SALES
Orleans Ford in Medina, N.Y., is looking for a goal-driven individual for our team.
Our consultants average between 180 and 250 vehicles sold per year.
Come join our winning team. Experience a plus, but not necessary.
We offer salary plus bonus, 401k, health-care benefits, & a great work environment.
Please send resume and contact information to vincec@orleansford.com or call 585-798-4316.
142-60 TFN
---
NEW OPENINGS!
Machine Operator
Medina area • Temp-to-hire! • Excellent company! • Full benefits effective immediately upon permanent hire!(401k, Health Insurance, PTO & Holiday Pay) • $15.50/hr pay increase to $16.00 upon permanent hire • Able to read a ruler preferred 
Production/ Janitorial / Batchers & Line Sanitation
Barker area •  Mandatory OT •must be able to work weekends • Experience a must • Basic Math skills • Openings on 1st, 2nd & 3rd • Pay rates $15.50-$16.50 
Production
 Gasport Area • Openings on all shifts • Pay Rate $14.50,$14.75, $14.85 • making parts, inspecting and sorting • Also in need of 2nd & 3rd shift Foreman willing to train with basic Machine knowledge • Starting pay $16.50
Custodian
Brockport area • M-F, 8a-4:30p • General custodial maintenance, using shop vac. to remove dust accumulation/floor sweeper/ bathrooms & break room • Pay Rate $16
Production Assistants
 Lyndonville Area • 1st shift & 2nd shift • Four 10hr. Days!, M-TH • 1st shift 6a-4:30p • 2nd shift 4p-approx 2a • Pay Rate $18-$18.40
Disassemblers
Brockport area • 4/10 hr. days M-TH -6:30a-5:00p • Familiar with hand tools • HS diploma or Equivalent • Pay Rate $16.00 • Pay increase and benefits when hired perm! • 1st shift
Go to
www.atbstaffingservices.com 
to fill out our application.

Walk-ins welcome to fill out a paper application. We NEVER charge a fee!
534 Main St. Medina, NY 14103 585.318.4218
EOE
2094-88
---
CDL A DRIVER• LOCAL •Shelby Transportation is currently seeking motivated and dedicated team members who are responsible for local grain hauling and home every night.
Potential for $60k plus
Excellent benefits – health and dental insurance, matching 401(k), life insurance, wellness benefits.
Requirements: Minimum 3 years driving experience. Good MVR, No DUI/DWI
On farm/agricultural experience preferred
Apply in person 4141 Bates Rd, Medina, NY,
or email resume to jobs@wnyenergy.com.
2065-58 TFN
---
Plant Operator 
Western New York Energy is currently seeking motivated and dedicated team members who are eager to learn new processes and advance their careers.
Hourly rate starts at $22 with clear path to $26.50 upon certification.
Continued advancement opportunities as the company grows.
Excellent health and dental insurance, matching 401(k), life ins, wellness benefits.
Requirements: NYS driver's license, high school diploma/GED, ability to climb stairs and ladders.
Go to wnyenergy.com/employment-opportunities for full job description.
Apply in person 4141 Bates Rd, Medina, NY or email resume to: jobs@wnyenergy.com
179-35 TFN
---
Lab Technician

Western New York Energy is currently seeking motivated and dedicated team members to perform tests on raw materials, in-process and finished products and provide results in an accurate and timely manner. • 12 hour monthly rotating shifts. • Excellent health and dental insurance, matching 401(k), life insurance, wellness benefits.
Requirements:
 BS in Chemistry or related scientific field w/min 2 yrs lab experience, ability to climb stairs and ladders.Go to 
wnyenergy.com/employment-opportunities
 for full job description.
2079-46 TFN
---
BE THE CHANGE YOU WISH TO SEE IN THE WORLD
Orleans County Department of Social Services is hiring Caseworkers starting rate $21.38-$22.92 per hour
An Equal Opportunity Employer
Sponsored by Orleans County Safe Harbour
Call (585) 589-3184
---
Intergrow Crop Care Team Members
Work with plants every day in a technologically advanced, climate-controlled greenhouse!
Friendly work environment with mentors looking to help grow your skill set!
Starting wage is $16.95/hour, with the potential to earn weekly bonuses and piece rates
Apply online at
www.intergrowgreenhouses.com
or in person at:
2428 Oak Orchard Rd.,
Albion, NY 14411
EOE
---
ATTENTION TOWN OF GAINES RESIDENTS
Seeking a Town of Gaines resident for a part-time position.
Planning Board/Zoning Board
of Appeals Secretary Position
Must be available evening hours
Please send a letter of interest, with resume, to:
Gaines Town Clerk • 14087 Ridge Road • Albion, NY  14411
All letters of interest should be submitted by June 12, 2023.
The Town of Gaines is an Equal Opportunity provider and employer.
---
---
Classified Ads
Truck Driver
Local Truck (Dump) Driver. Full or Part Time. Must have CDL A or B. Call Colton 585.797.7546
---
DRIVERS WANTED
Drivers for 6- & 10-wheel DUMP TRUCKS. Requires a Class B driver's license. Pay based on experience. Call Richard 585.749.8403
---
HELP WANTED: Reliable Person to do Yardwork. Spraying, weeding, trimming, pruning. Good Pay. 585.331.1731
---
LOWBOY DRIVER
Keeler Construction is seeking qualified candidates to fill the Lowboy Driver position who are responsible for moving heavy equipment. Local work and home every night. – CDL A License and good driving record are required. – Heavy Equipment operation knowledge and mechanical repair skills are preferred.  – Potential for $60k plus.Apply in person at 13519 West Lee Rd., Albion, NY or email resume to info@keelerconstruction.com.