To purchase an employment listing, click here.
---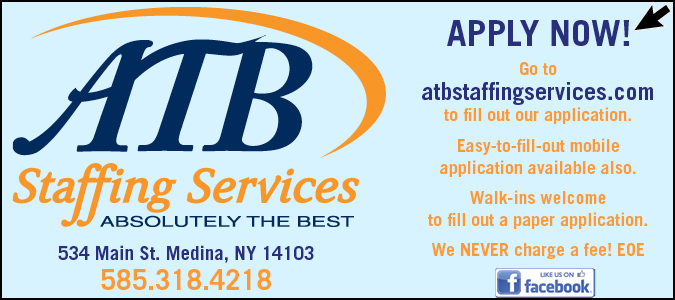 ---
Automotive Sales
Orleans Ford in Medina, N.Y. is looking for a goal-driven individual for our team. Our consultants average between 180 and 250 vehicles sold per year. Come join our winning team. Experience a plus, but not necessary. We offer salary plus bonus, 401k, health care benefits, and a great work environment.
Please send resume and contact information to saml@orleansford.com, or call 585-798-4316.
Orleans Ford
1405 S. Main St.
Medina NY 14103
74256
---
Automotive Detailer
Immediate opening for automotive detail position. Responsible for final stage of repair process and quality control before customer delivery. Would also include various other responsibilities. We offer advancement within when an employee demonstrates a good work ethic and attitude. Full time opening available, Monday-Friday. Competitive wages, paid holidays, bonuses, vacation and sick time. Uniforms and shoe allowance, 401k with match. Come down and talk to see if you have what it takes to be on our team. Wages to be determined based on experience and prior work history.
Inquire with Dave or Shaun at Waters Autobody and Paint LLC, 411 West Ave., Albion, N.Y. Call 585-589-7100, or email shaun@watersautobody.net.

6037
---
LPNs & RNs
The Villages of Orleans Health & Rehabilitation Center
Come join our team of caring professionals! We are a 120-bed facility in rural Albion N.Y., hiring for all shifts. Substantial sign-on bonus for all positions with monthly distribution. Competitive wages and shift differential. FT and PT positions available.
Interested? Call Deb Donnelly, DON at 585-589-3247, or stop in and see us at:
The Villages of Orleans
14012 Route 31
Albion NY 14411
We look forward to meeting you!

79126
---
Stop In Today
Imagine Staffing
543B Main Street
Medina NY 14103
Hiring for companies in Erie, Orleans, Genesee and Monroe counties, such as Yancey's Fancy, Perry's Ice Cream, Akron Door Mfg., Chapin, Dimar, Freeze Dry and Solar Mfg. Co. in Buffalo
Some openings include production, assembly, electronic techs, QA techs, machine operators, grinders, brazing, welding (MIG/TIG).
Call Krista at 585-228-9913, or email kfiegel@imaginestaffing.net.
We LOVE working with our veterans!
EEOC Employer

Open Interviews for Baxter in Our Office
9-11 a.m. and 1-3:30 p.m.
Tech II starting at $14
QA Techs starting at $16.35
After 90 days pay increase
Call Marcy at 585-228-5559.
All positions are temp-to-hire.

79972
---
Mason Laborer
Are you looking for a CAREER and not just a job? Apply for the Mason Laborer position with Westco Masonry to learn a trade. Must have your own vehicle as reliable transportation around the Greater Rochester Area.

Responsibilities:
• Mixing mortar cement
• Stacking block
• Setting scaffold
• Grading stone
• Pinning concrete forms
• Tending to the needs of the masons
Job type: Full-time
Please call Kevin if interested at 585-820-1923.

6020
---
Help Wanted
H.H. Dobbins, Inc. Our company is one of New York State's leading agriculture companies. Located in Lyndonville, N.Y., we are a grower and packer of apples. We are committed to excellence and being mindful of what is best for our growers, customers and associates. We are looking for talented and committed individuals to join our growing company. The ideal candidates will have a strong work ethic and a positive attitude.

Forklift Drivers
The forklift drivers report to the Operations Manager. The forklift drivers are fundamental during our apple harvest season to unload apples that are in bins and reload empty bins to the correct apple growers. Responsibilities: Ability to unload full bins of apples from flatbed trucks in a quick, safe manner. Complete paperwork for returning empty bins to apple growers. Stack empty/full bins according to apple variety/grower. Qualifications: Experience driving propane/electric forklifts. Able to work safely in a fast-paced environment. Attention to detail with the ability to count. These positions are seasonal, September-April. First shift, and requires some overtime according to production needs. All positions are a fundamental part of our success.

Cleaners
Responsible for cleaning the apple production equipment, floors, and all general building sanitation. Cleaner positions are seasonal, September- April, 2nd shift, and require some overtime according to production needs.
Apply at:
H.H. Dobbins Inc.
99 West Ave., Lyndonville NY 14098
Send resume to sseefeldt@wnyapples.com
unitedapplesales.com
An Equal Opportunity Employer

79973
---
Personal Care Aides
In-home care. Flexibility and benefits available.
$11.75 per hour
Independent Living of the Genesee Region
113 Main St. • Batavia, N.Y.
585-815-8501 ext. 403

79966
---
Bus Drivers
Now hiring bus drivers for Student Transportation of America
Current pay rate: $16
Current Class B with P and S endorsements, 1-2 years' experience: $17
Current Class B with P and S endorsements, 2+ years' experience: $18.25
Paid training at $11.10
Excellent opportunity for homemakers, retirees and the self-employed (age 25+). Steady work from September to June. Attendance bonus. 5 paid holidays, plus supplemental pay. Approximately 25-30 hours/week. 401k plan.
Apply in person:
The Albion Bus Garage
254 East Ave (behind the Middle School)
589-2070

79961
---
Help Wanted! Apply Now!
ATB Staffing Services – Absolutely The Best!

1st-shift Packaging Associates
Immediate openings • Medina area
Long-term temp to last through the end of year
6 a.m. – 2:30 p.m. • Pay rate $11.98
Great opportunity to make some extra $$ for the holidays!
Warehouse Assistants
Medina area • M-F • Assembling promotional displays
7 a.m. – 2:30 p.m. • Temporary position • $12
2nd-shift Production
Barker area
4 p.m. until done (approx. 2:30 a.m.) • Pay rate $12.25
Production Associates
Temp-to-hire • Batavia area • Pay rate $12.50
Food manufacturing experience a plus
1st shift • Mandatory overtime
Permanent pay rate increases to $13/$14 based on position
Go to www.atbstaffingservices.com to fill out our application. Easy-to-fill-out mobile application available also. Walk-ins welcome to fill out a paper application at 534 Main St., Medina NY 14103. We NEVER charge a fee!
585.318.4218
EOE
79971
---
Help Wanted
New Wave Gutters is looking to add to our team. Gutter installer with good work ethic, hardworking, reliable, and must have driver's license. Please call 659-2892, or email NWgutters@rochester.rr.com.

6040
---
Help Wanted
Career Systems Development Corporation (CSD) is seeking highly motivated individuals for Iroquois Job Corps in Medina, N.Y.: a residential vocational training program for at-promise youth 16-24.

Purchasing Agent
Prepares supporting documentation for submittal to the Contracting Officer for proposals

Finance Manager
Supervises and directs the activities of accounting personnel
CSD offers a competitive compensation package, including medical, dental, 401k. For complete job description and to apply, please visit our website, AND contact Nicole at ngillon@ghrogroup.com.
Equal Opportunity Employer Female/Minority/Disabled/Veteran

6009
---
$500 Sign-on Bonus
Work to support individuals with developmental disabilities achieve their goals. Paid training.

Open Interviews
Sept. 25 • 1-3 p.m.
Albion Career Center
458 West Ave. #3

Positions:
• Entry Level Residential Care Provider
• Assistant Residential Manager
• Residential Manager
• Coordinator of Residential Services
Must meet qualifications

Shifts Available:
Evenings, overnights, weekends
www.arcgo.org/employment-opportunities

79874
---
School Cafeteria Monitor
Albion Central School District employment opportunity
Qualifications: High school graduate or GED; ability to establish good relationships with children and peers; neat personal appearance; exhibits tact, courtesy and good judgment when working with students and adults. Non-competitive Civil Service labor appointment.
Applications are available at the Albion Central School District Office, 324 East Ave., Albion NY 14411; or call Cindy Ishmael at 585-589-2055.
Application deadline: Sept. 27, 2019
EOE

79887
---
Plant Operator
Starts at $17.95 per hour. Performs routine production operations. Must be able to climb stairs and ladders, have a valid NYS driver's license, and have a high school diploma/GED. Benefits include excellent health and dental insurance (70%-100% company paid), $50,000 company paid life insurance, matching 401k plan, paid time off, wellness benefits.
Apply:
4141 Bates Road
P.O. Box 191
Medina NY 14103
79825
---
Mechanic Wanted
Mechanic / MEO / Full-time laborer for the Town of Ridgeway Highway Department. CDL-B (with air brakes) required. Applicant must have mechanical experience on commercial vehicles, various equipment, and passenger trucks. Applicant must be available for winter hours from November to April.
Pick up application at the Town of Ridgeway Office, 410 West Ave., Medina, N.Y., and return with resume. Application period will end at close of business on Sept. 27, 2019.

5983
---
Immediate Openings!
Snappy is now hiring!

Machine Operators
• 1st shift
• Temp-to-hire
• Pay rate $12 – increases to $12.50 if hired permanently
• Must be able to read a ruler
• Excellent benefits package effective immediately upon permanent hire
• Benefits include 401k, healthcare, 12 paid holidays and PTO plan
• Excellent opportunity! Outstanding work environment!
Please apply at www.atbstaffingservices.com, or call 585-318-4218.

76294
---
Help Wanted for Lynn-Ette & Sons, Inc.
Looking for motivated, full-time individuals for help on the farm. Knowledge of basic mechanical skills, along with a CDL, is a plus.
Please send resumes to Staceyjurs@yahoo.com, or call 585-682-4435.

79592
---
General Laborer
Small remodeling firm specializing in kitchens, baths, and custom cabinetry, looking for full time LABORER/ CARPENTER'S APPRENTICE. $15.00 per hour and up, based on experience. Valid driver's license and transportation required. 716.735.9695 or email resume to krolakgeneralcontracting@yahoo.com.
---
HELP WANTED: PART-TIME ON SMALL DAIRY FARM. 585.738.0855
---
Help Wanted
APPLE PACKERS call Donna at Schwab Farms. 716.560.0198
---
Country Contracting. Immediate Full Time Positions Available: Carpenter & Laborer. Looking for self-motivated Carpenters, Installers, and/or Laborers with Experience. Skills, tools, and valid driver's license are a must! Call our office @ 585.765.2709 to obtain an application and/or email resumes to: ccinc1644@gmail.com
---
Farm Manager
HANDY PERSON for Lawn Care. Woodlawn Management & Building Maintenance. No animals. 2-bedroom house available. Send Skills/Experience to: ToddMich@aol.com
---
HELP
Need someone to fix stairs, install ceiling fan. Install bathroom light & dimmer-switch in dining room. 585.318.4422.
---
---