ALBION – Orleans County Sheriff Chris Bourke took the oath of office on Monday afternoon, the start of what he said is a challenging new era for law enforcement.
Bourke is the county's new sheriff following the retirement of Randy Bower and Bourke's election in November. Bourke served as undersheriff the past four years. He has worked 35 years in the Sheriff's Office, starting his career as a correction officer and then was a deputy sheriff before working 18 years as a lieutenant. He was supervisor of the Marine Patrol, and also was a K9 officer for 20 years.
Bourke took the oath with other key leaders of the Sheriff's Office: Undersheriff Michael Mele, Chief Deputy Jeff Gifaldi and Jail Superintendent Scott Wilson.
"We're excited to have all of our people in place," Bourke said after the swearing in. "We have a great team of employees at the Sheriff's Office."
Bourke takes the helm of the Sheriff's Office during a time of new state laws for bail reform, discovery, speedy trial and centralized arraignment. Twice a day the county will need to be able to arraign defendants in a centralized location. The county has proposed using a larger room in the jail for the arraignments, with a judge, public defender, district attorney and staff available in the morning and evening.
Bourke said he is particularly concerned the local judges are unable to set bail for defendants facing serious charges.
"This is turning the criminal justice system upside down," Bourke said. "And of course it was done without any funding from the state."
The county's jail population has fallen by nearly half since the bail reform provisions started a week ago. It's gone from the 70s each day to the 40s, said Wilson, the jail superintendent.
Bourke said he looks to continue many of the programs that were started by Bower, including addiction and mental health services in the jail for inmates.
He also wants to continue to the strong community partnerships with local clergy, schools and other local agencies and organizations.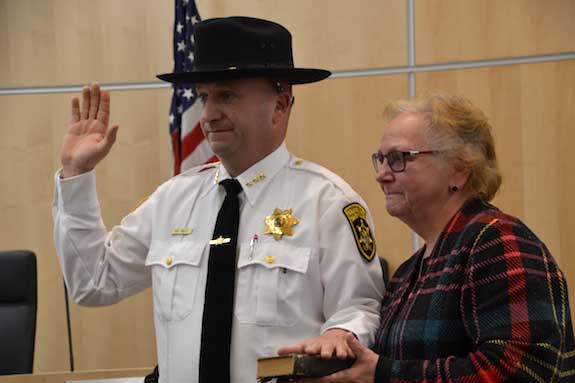 Michael Mele, the undersheriff, takes the oath of office while his mother Mary Jo Mele holds The Bible. Mele was the chief deputy the past four years. He has worked at the Sheriff's Office for 19 years. He started his career with the Holley Police Department for four years.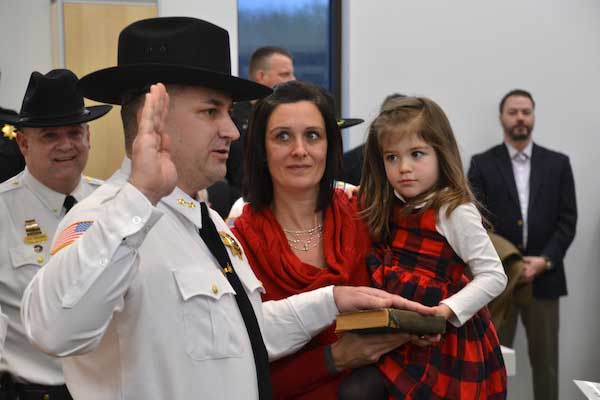 Jeff Gifaldi is the new chief deputy. He was an investigator with the Sheriff's Office. He has worked in law enforcement since 2001 with the Sheriff's Office and Albion Police Department. His wife Kelly and daughter Anna, 4, joined him during the swearing-in ceremony on Monday. Scott Wilson, the jail superintendent, is at back left.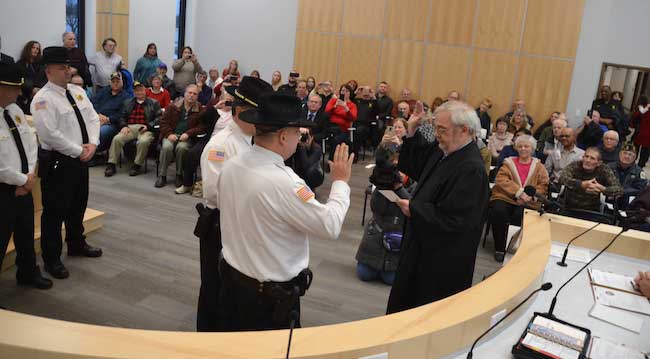 Scott Wilson takes the oath of office while Bourke holds The Bible. About 100 people attended the ceremony on Monday in the legislative chambers of the Orleans County Adminsitration Building. Wilson has been the jail superintendent since 2011.