Medina band takes first twice over weekend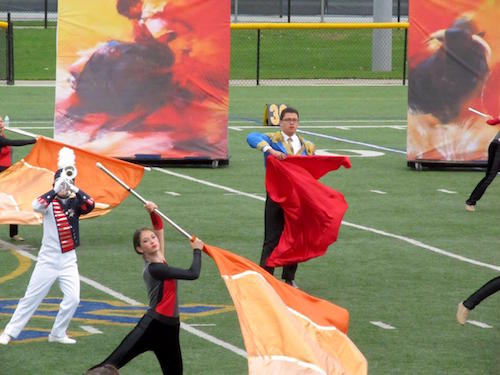 MEDINA – The Medina Mustang Band competed twice over the weekend and won first place at both competitions.
On Saturday the band performed in Orchard Park where 10 schools in six classifications competed. In SS1, Medina took 1st place with a score of 86.75 followed by East Irondequoit in 2nd with 83.20.
The following came in first in their classifications: In SS3, Pioneer with a score of 68.75; West Seneca in LS3 with a score of 81.50; Northwestern in SS2 with a 80.10; Orchard Park in LS2 with 85.70 and Lancaster in National Class with 86.2.
On Sunday, the Mustangs traveled to Webster where they won 1st place in SS1 with a score of 87.85 followed by East Irondequoit in 2nd with a score of 84.6.
Hilton took 1st place in LS3 with a score of 78.55; Leroy in SS2 with 76.1; and Webster in LS2 with a score of 83.55.
After the show the Medina and Webster bands proceeded to the auditorium and the groups performed for each other.
Jim Steele, the Mustang band director, commented that the band had two great opportunities to perform their 2016 show this weekend. They did a good job Saturday night in Orchard Park and bested that with a great performance in Webster on Sunday, Steele said.
The Mustangs next head to the NYS Field Band Championships on Sunday, Oct. 30. (There are 7 seats left on the spectator bus. If interested, contact Jim Steele at 585-317-9389.)
The Carrier Dome is the grand finale of the field band season. There will be 51 bands in seven classes, performing beginning from 8 a.m. with SS3 and working down. The SS1 class starts at 6 p.m. and includes 9 bands with Medina performing at 7:08 pm. The day also includes exhibition performances by UB's Thunder of the East and the Syracuse University Marching Band.
For more information on the competition, click here.