Young Democrats wanted in Orleans, a county that leans overwhelmingly Republican
4 people interested in challenging Congressman Collins attended forum in Albion
ALBION – Democrats in Orleans County may be outnumbered 2-to-1 by registered Republicans, but a dedicated small group can still make a difference in local elections, and at state-wide and national contests.
That was the message from Patrick Jordan, president of the New York State Young Democrats. The Queens residents visited local Democrats in an event on Wednesday at Hoag Library.
Jordan has made it a mission to establish chapters for Young Democrats throughout the state, including in many rural Republican strongholds.
Republicans have such in an advantage in numbers and dollars locally that many do not face election challenges from Democrats. Jordan urged young Democrats, between the ages of 16 and 36, to become active politically. A dedicated group, even if only a few people, could make a difference in an election by going door to door and helping to elect candidates.
Jordan said door-to-door remains the most effective way to campaign.
"Yeah, it's uncomfortable at first," Jordan said. "And it's hard work going door to door."
Orleans County could start a Young Democrats chapter with as few as 10 members. Kenny Capurso, who worked on a county legislator campaign for his father Al Capurso, said he would push to start a Young Democrats chapter in the county.
"There is certainly a bigger spark than ever before," he said about interest among younger adults in politics. "If young people see something they don't like then they want to change it."
When Capurso helped his father get signatures on petitions, Kenny said half of the people who signed were younger Democrats.
Mark Steffenilla, 23, of Le Roy founded a chapter for Democrats at The College at Brockport and also helped start the Young Democrats chapter in Genesee County, a neighboring rural county to Orleans. Steffenilla became active in politics when he worked on his grandfather's campaign for town justice.
He didn't have to push too hard to find young Democrats willing to commit to the chapter.
"It's just finding 10 people who are interested in bettering their communities," he said.
There are 13 inaugural members in the Young Democrats chapter in Genesee County. Steffenilla wants to see chapters in all four GLOW counties. Energized chapters can make a difference for Democratic Party candidates who face an uphill battle in the counties with such big Republican advantages in enrollments, Jordan said at the forum.
Andrea Newman, a Democrat from Holley, was elected to the Holley Board of Education last year. Those elections are nonpartisan. Newman became active politically initially as part of the movement in support of Bernie Sanders's campaign for president. She favored his position on universal health care.
She urged Democrats to discuss the core values of the party.
"If we meet face to face we can knock down the stereotypes (about Democrats)," she said.
The Young Democrats are open to people as young as 16. They aren't able to vote until 18, but Jordan encouraged welcoming high schoolers and staying connected to young adults. If young adults are active with the Young Democrats, they are more likely to stay in the community and not move away, Jordan said.
Many young people are looking for outlets for community service and to have "a voice" in government, he said.
If 10 people knocked on 10 doors a week or 40 a month, they would reach 4,800 voters a year, Roberts said.
"It doesn't take a lot of people to make a huge difference," he said.
For more on the Young Democrats of NYS, click here. For more on the Orleans County Democratic Party, click here.
Four candidate hopefuls to challenge Chris Collins for the 27th Congressional seat attended the forum last week. They were invited to make brief remarks.
Joan Seamans is the owner of a photography studio in Williamsville. She said she has the determination to take on Collins, but will need the Democratic Party to rally behind her.
"I'm ready to do it," she said. "But we know we need a team. We need an army behind us."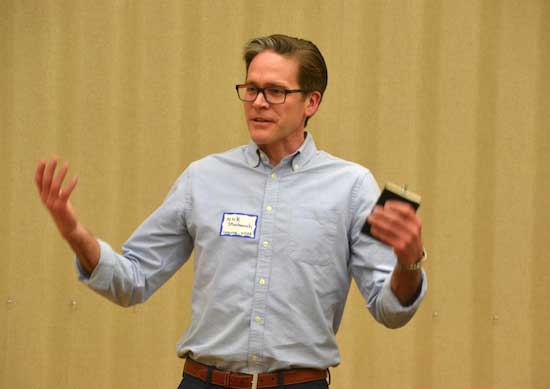 Nicholas Stankevich is a Mumford businessman, who works as vice president of Marketing and Operations at Genesee Country Inn Bed and Breakfast. He also works as an advisor for businesses.
He wants to see more opportunities in the rural areas so younger adults have reasons to stay in the community. The rural communities are "hemorrhaging" population, he said.
He also supports universal healthcare. He believes it would lower costs for businesses. He wants to see government have a "people-first approach."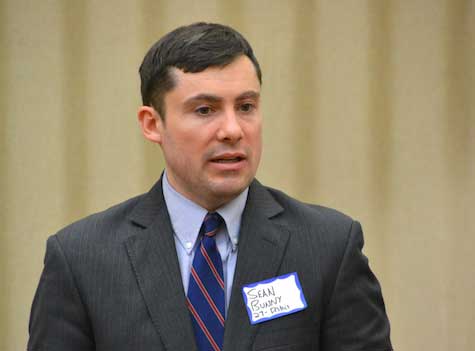 Sean Bunny is a former Erie County Assistant District Attorney. He also is an Army veterans who served in Iraq.
He said the focus of a congressman should be enacting policies that make peoples' lives better. He said Collins is focused instead on the wealthiest residents.
"We need better jobs and healthcare," Bunny said.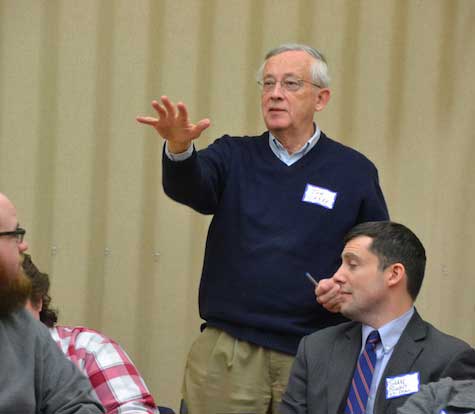 Thomas P. Casey of Erie County is an environmental engineer. He said he is inspired by the surge of interest in young Americans in their government. Casey wants to see strong actions to fight global warming and protect the environment. He also supports universal healthcare.
"What do we Americans really want to be?" he said.
(Grand Island Town Supervisor Nate McMurray is also seeking Democrat support to challenge Collins. McMurray didn't attend the forum in Albion.)