Yates names new pavilion in honor of Russ Martino
Martino served as town supervisor when Yates acquired land for Town Park by Lake Ontario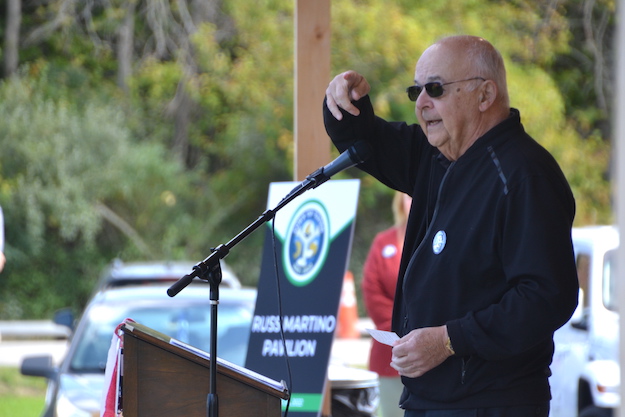 Photos by Tom Rivers
YATES – Russ Martino, a former Yates town supervisor, speaks at today's bicentennial celebration for the Town of Yates at the town park by Lake Ontario on Morrison Road.
The event also was a celebration of $2.5 million in upgrades to the park. One of the big additions to the park is a new pavilion. Town officials announced the pavilion will be named in honor of Martino.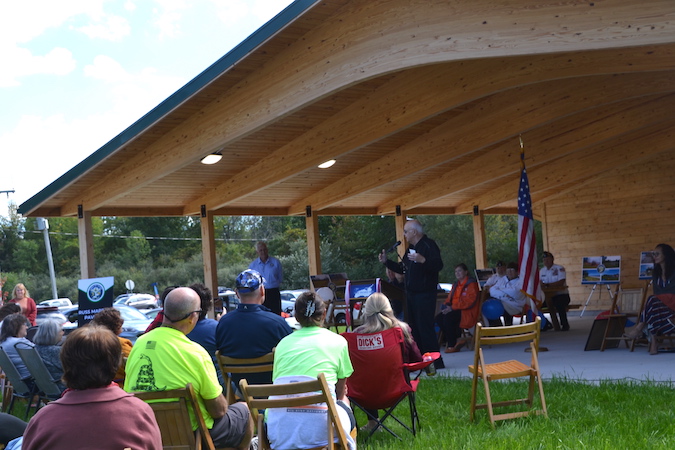 Russ Martino thanks the town officials for honoring him with the "Russ Martino Pavilion."
Martino served as town supervisor from 1996 to 2009. He was the supervisor when two members of the Planning Board – Jeanne Whipple and Chairman Lou Salen – urged him to acquire the land for the park in 1997. It was for sale and the town used $100,000 from the state to acquire 5 acres of waterfront property, Martino recalled.
Martino also served the community as an industrial arts teacher at the high school for 16 years, beginning in 1964. He then was the elementary school principal for 17 years.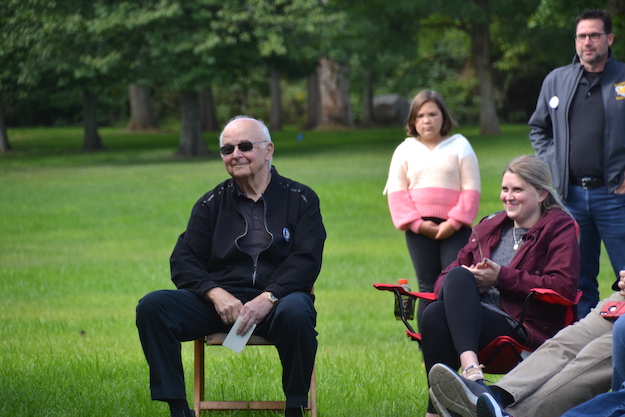 Russ Martino sits with family and friends during today's celebration at the town park.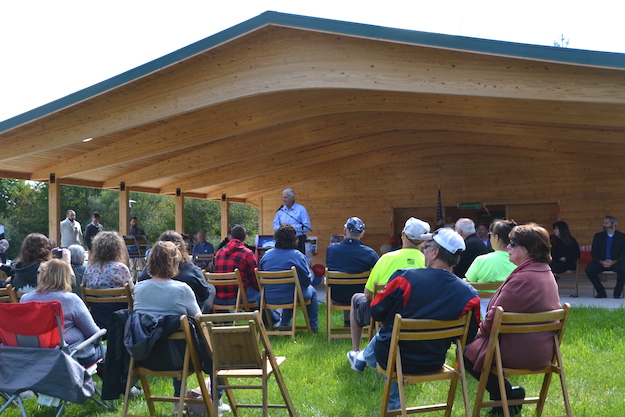 Town Supervisor Jim Simon praised Martino for his community service of nearly 60 years.
Martino during his remarks congratulated the Town Board for seeing the many projects to completion at the town park. The state is paying 95 percent of the costs, with the Lyndonville Area Foundation chipping in $100,000 and in-kind services from the highway department covering the remaining local share.
The park upgrades also include a new playground, walking trail, kayak launch and parking lot. A new pier going about 60 feet out into the lake will be installed in the next couple weeks.
Martino marveled at how the park has been transformed from a grassy area to so many amenities.
"We've come from nowhere to this," Martino said. "And they did it the correct way."