Wrestlers put on a show at the fairgrounds
Lots of body slams in return of Empire State Wrestling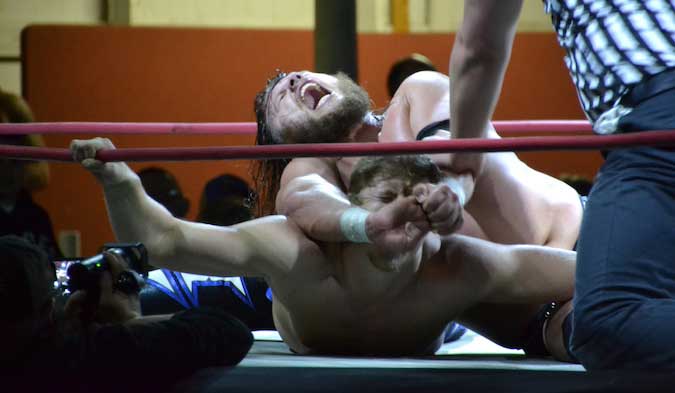 Photos by Tom Rivers
KNOWLESVILLE – Joe Gacy applies lots of pressure on Kevin Bennett during their wrestling match Saturday during the "Fairground Fallout: Return of the Empire."
This was the second straight year Empire State Wrestling held an event at the fairgrounds, in an event that was a fundraiser for the East Shelby Volunteer Fire Company. About 200 attended the event at the Lartz Building.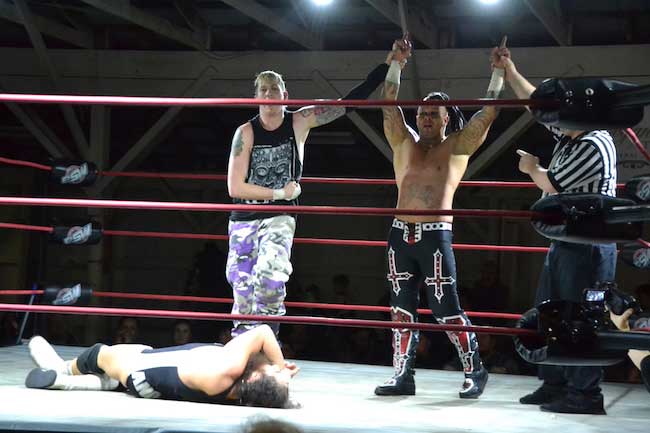 Former WWE star Shannon Moore, right, and his tag team partner Anthony Gaines raise their arms in victory. Moore was the biggest name on the card for Saturday's matches. He flew in from Atlanta to compete in the match in Orleans County.
Shannon Moore has been wrestling professionally for about 20 years. He was athletic in the ring and easily body slammed his opponents.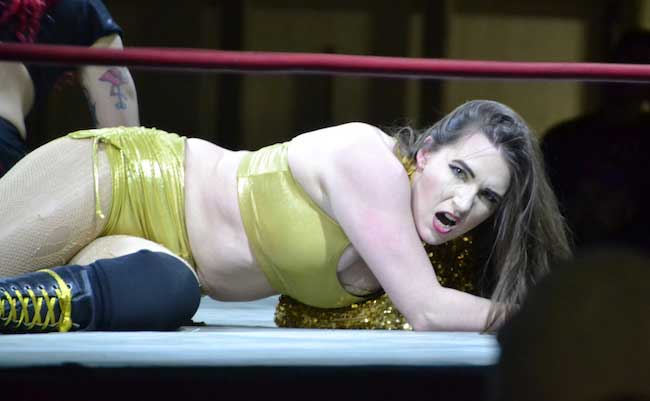 Kate Carney of Portland, Ore. was knocked to the canvas by Toronto's Jody Threat, in a match between two women wrestlers.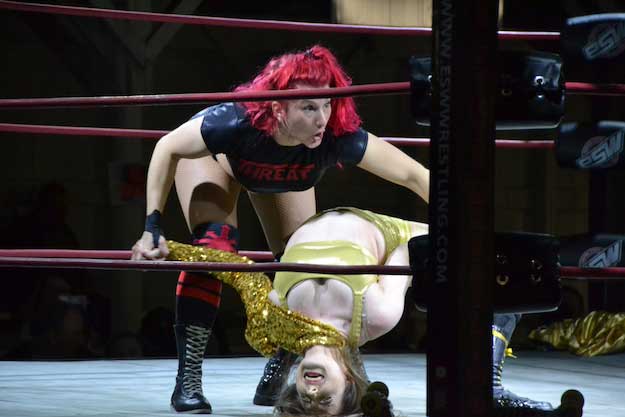 Jody Threat tries to get Kate Carney to give up with this pain move. Carney would get out of it, and went on to pin Threat.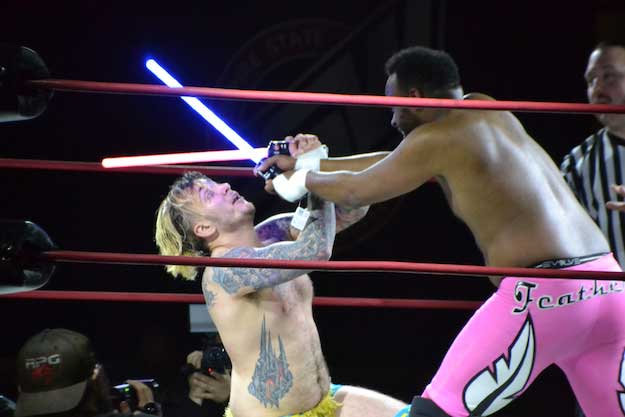 The event had a Star Wars theme because it fell on May 4 (May the Fourth be with You). Here two wrestlers briefly had a light saber battle. Jerk Cockins of Tonawanda, left, fights with ESW Interstate Champion Frankie Feathers, who retained his title.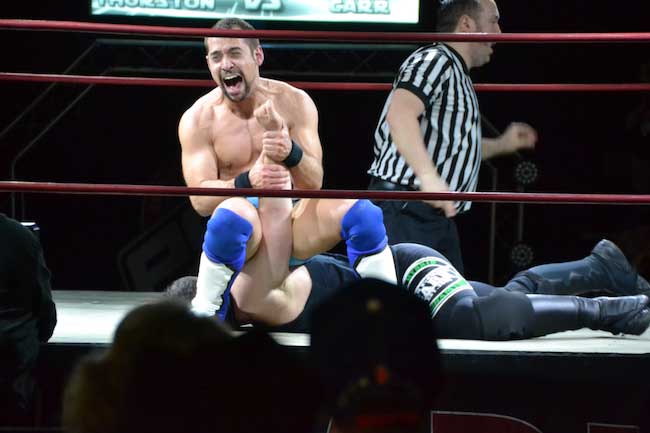 Brandon Thurston, the ESW Heavyweight Champion, puts pressure on Sean Carr's arm and forces him to concede.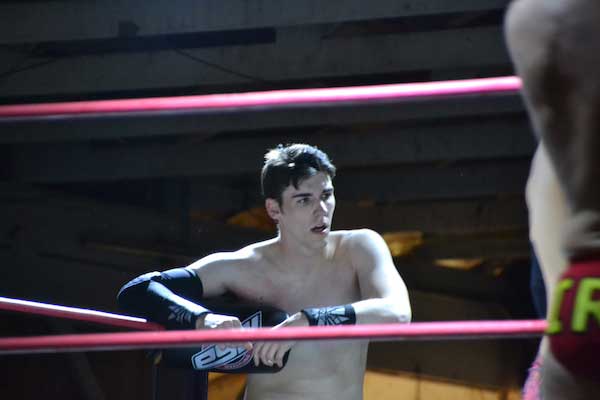 Medina's Gavin Glass was in action. He waits to get tagged in by his partner Rob Sweet.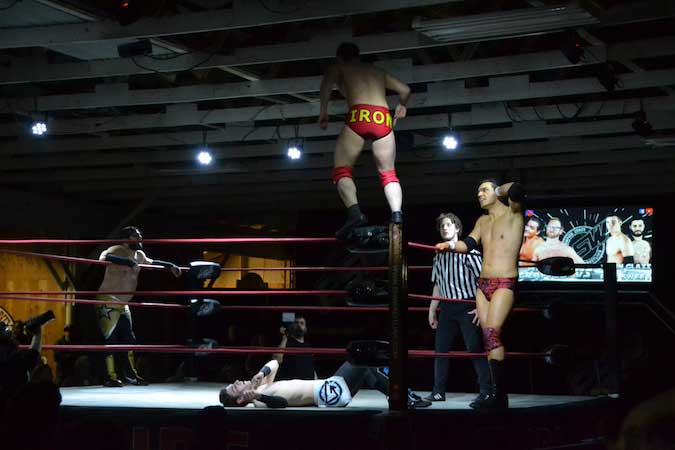 Greg Iron of Hand Crafted climbs the top of the ropes to jump on Gavin Glass. Glass and his partner Sweet managed to win the match after taking a lot of hits.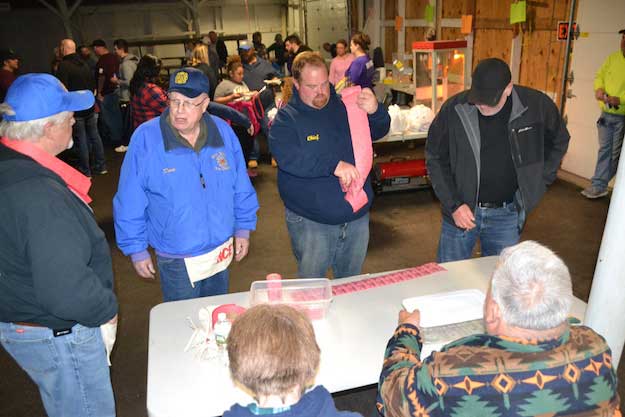 East Shelby firefighters sold concessions and 50/50 raffle tickets. David Green, second from left, and Fire Chief Andy Beach get tickets ready. Beach said he would like to have the wrestlers back and make it an annual event in the county.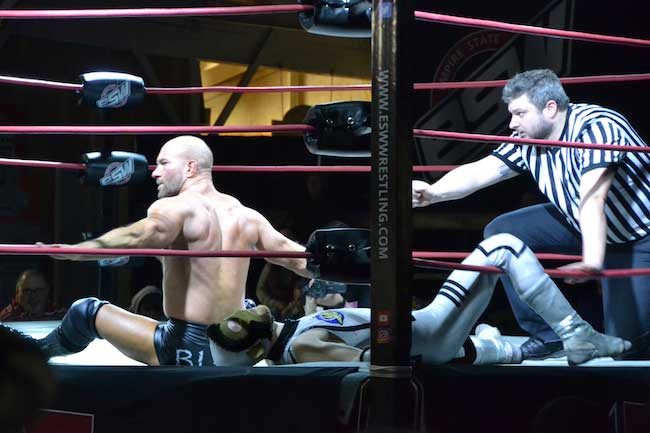 The Blade, left, knocks down Space Monkey. The Blade seemed to relish the hecklers in the crowd, yelling at them with gusto.
Empire State Wrestling's next event is May 18, the "Brawlfest" in North Tonawanda at St. Johnsburg Fire Hall. Click here for more information.