World War I veteran from Albion helped break stalemate on the Western Front
By Eric Neace, guest contributor
Illuminating Orleans, Vol. 2, No. 22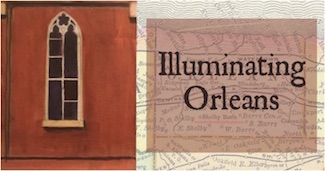 ALBION – Local history matters. Many major international events may seem on the surface to have little connection to our rural communities but when the evidence is explored it becomes clear that many impactful individuals have called Orleans County home.
One such individual was Charles Moore Burrows Jr., an Albion veteran who helped shift momentum in the favor of the Allied Powers against Germany at the end of the First World War.
Charles Burrows Jr. was born on July 10th, 1895 in Albion; son of Dr. Charles Burrows Sr. and Florence Merrick. Charles and his family resided in the Village of Albion at what was "126 Main Street" at the time, which is the plot of land immediately north of the Episcopal Church on South Main Street. Charles attended Albion High School and graduated in 1915 as captain of the varsity football team and vice president of Albion High's Student Congress.
Burrows Jr. remained in Albion for two years post-graduation before enlisting in the 106th Field Artillery Regiment of the New York Guard in July of 1917. About a week after Charles enlisted, the 106th Regiment was federalized into the United States Army with orders to report to Camp Wadsworth in Spartanburg, South Carolina.
After reporting in September of 1917, Burrows and the rest of the 106th Regiment practiced drills, marches, horse care and operating their artillery. After months of training in the Blue Ridge Mountains, Burrows was rewarded with a promotion to the rank of corporal and rumors began swirling throughout the 106th that they would be deployed to France in the near future.
These rumors became reality and in June of 1918, the 106th Regiment arrived in Western France with orders to remain in Bordeaux until further notice, hundreds of miles from front lines in Eastern France. Corporal Burrows remained busy that summer as he attended the Saumur Artillery School where he studied military tactics, mathematics, engineering, and the French language.
This summer vacation ended abruptly on September 7th as the 106th Regiment moved under orders from Bordeaux to the town of Bar-de-Luc, where they were stationed temporarily before moving to the front lines at Verdun, France, on the Meuse river, home of arguably the bloodiest battle of the First World War where there were hundreds of thousands of casualties resulting from trench-based warfare.
From September 23rd-25th, Cpl. Burrows and the 106th Regiment faced scattered enemy artillery fire as they established a position on a knoll near the hamlet of Chattancourt, overlooking the Meuse River in preparation to support an impending French offensive into German-held territory.
Early in the morning of September 26th, 1918, Cpl. Burrows and the 106th Regiment fired about 2,500 rounds from their position at their German targets. It is reported that the objective of the 106th Regiment during this engagement was to fire far behind enemy lines, targeting strategic German positions such as ammunition stockpiles, supply hubs and communication infrastructure. This offensive proved to be a major success with French infantry forces using the support to drive back the German army, helping shift momentum toward the Allied forces late in the war.
After this major engagement at Verdun, Cpl. Burrows and the 106th Regiment provided artillery support in several other skirmishes along the Western Front, helping liberate towns such as Reville, Eraye and Crepion, remaining in pursuit of the waning German military until their surrender on November 11th, 1918. After Germany's surrender the 106th Regiment remained in France until March of 1919, drilling and tying up loose ends before they were sent back to the United States. A few years following his service Charles Burrows was promoted to 2nd Lieutenant in the Army Field Artillery Reserves due to his graduation from training at the Saumur Artillery School while deployed in France.
Upon returning to civilian life in the United States Charles Burrows Jr. remained in Albion for a few years before moving around the Northeast United States while he worked as a traffic engineer for the American Telephone & Telegraph Company, where he remained until his retirement in 1960. Charles passed away in 1967 in Plainfield, New Jersey where he resided, leaving behind a widow and extended family. Charles is buried at Mount Albion Cemetery, where his grave can be found at 1596 Park.
Individuals such as Charles Burrows Jr. have proven over time that Orleans County has had a sizable impact on major historical events far beyond our small communities.
All resources used to create this article can be found at the Orleans County Department of History.
(Editor's Note: Eric Neace is a 2017 graduate of Lyndonville High School. He attended SUNY Cortland and is graduate student in History and Social Studies Education at Brockport.)