Works continues on restoration of chapel at Hillside Cemetery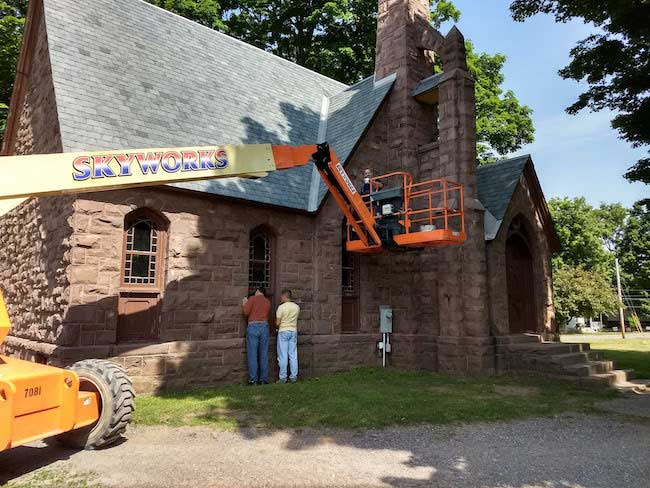 Photo courtesy of Erin Anheier
CLARENDON – This photo shows Tim Wheeler of TSW Masonry on the lift as Russ Bosch, project engineer, and Steve Swiat of Northwood Historic Restoration discuss the window restoration project for the chapel at Hillside Cemetery.
Wheeler has repointed the interior walls of the basement and the chimney and ventilating tower. That project was completed last week.
Swiat has begun scraping and repairing the decorative wooden frames of the windows. He will remove the sashes when Clarendon has a ship date for the replacement glass and he will restore them and replace broken panes, said Erin Anheier, a member of the Clarendon Historical Society which has helped spearhead the project. Unbroken panes will be reused. The replacement glass is being specially made to match the color and texture of the original glass. The glass has an 18-week lead time.
Soon, Tom DiFante will be repainting the wooden eaves.
The state has approved a $126,210 matching grant for work on the chapel at Hillside Cemetery. Matching funds are a combination of other local grants (Elisabeth Dye Curtiss and Rochester Area Community Fund), cash donations from local residents, some funds that the Town of Clarendon received from the Cemetery Association when the Association disbanded and fundraising events run or coordinated by the Clarendon Historical Society.
The chapel's roof has already been replaced as part of the efforts to preserve the chapel, which was built in 1894 of locally quarried Medina Sandstone in a Greek Revival style.
Hillside Cemetery was placed on the State and National Registers of Historic Places in 2013 with the chapel being a major contributing asset. In 2014, the Landmark Society of Western New York named the chapel to its "Five to Revive" list.
The next step is to restore the interior. Clarendon is currently awaiting for the specifications to be approved by the State for that work.