Work starts on restoring Fancher Clock, a World War II Memorial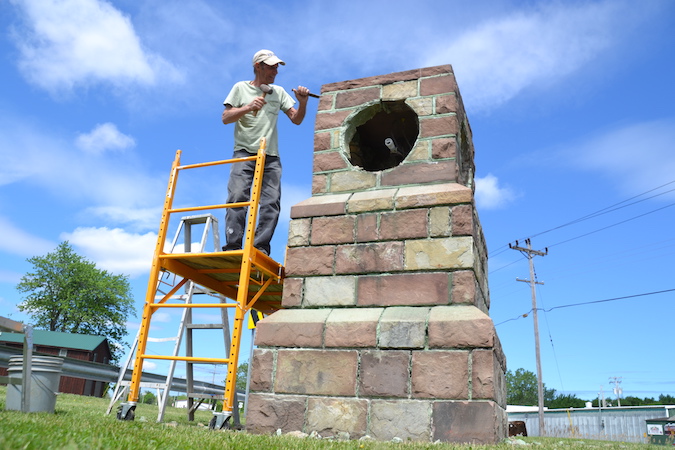 Photos by Tom Rivers
FANCHER – Neal Muscarella, a mason from Albion, chips away old and loose mortar today on the Fancher Clock, a World War II Memorial at the curve on Route 31 on the east side on Murray.
Muscarella will be putting in new mortar and it will be the color green like the original. Muscarella said this is the only sandstone structure that he has seen with green mortar.
The four-sided clock at the Fancher Curve is a memorial to 10 young men from the community who died in World War II. The memorial was dedicated on Aug. 14, 1949.
Murray town officials are pushing to have the restoration done in time for the anniversary of the clock's dedication.
Fancher native Fred Fiorito has donated to cover the costs of restoring the monument. Fiorito is a retired chiropractor who lives in Mount Vernon, outside New York City. He grew up on a farm at the intersection of Fancher and Telegraph roads.
He was only 10, and he has never forgotten seeing the Gold Star mothers in mourning during the clock's original dedication.
Fiorito in trips home over the years has noticed the memorial's gradually deterioration. Sometimes the clocks haven't worked. The mortar has crumbled.
Fiorito wants the site to be a well cared for showcase for the 10 local residents who died in World War II. Those 10 include John Christopher, Joseph Christopher, Cosmo Coccitti, John Kettle, Jr., Leonard Licursi, Martin Licursi, Richard Merritt, Camille Nenni, Floyd Valentine and Richard Vendetta.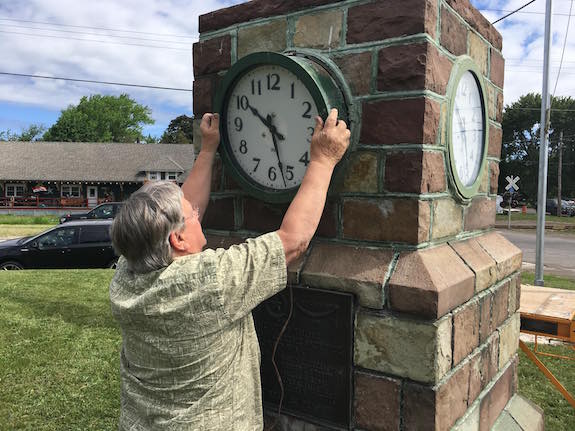 Provided photo: Dan Mawn, president of the Murray-Holley Historical Society, removes one of the clock faces. The clocks will have new movements put in, and a new electrical service. They will be programmed to automatically adjust for Daylight Savings in March and also for way the clocks "fall back" an hour in November.
The four clock faces also will have new metal rings so they can slide in more easily into the monument and have better structural support.
The project also is expected to include upgraded landscaping and improvements to the flagpole.