Woman left at altar in 1911 among those who filed 'Heart Balm' lawsuits
By Catherine Cooper, Orleans County Historian
Illuminating Orleans, Vol. 3 No. 7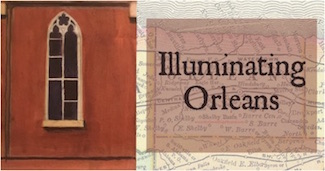 ALBION – Emma B. Tripp became engaged to Louis J. Ives in 1908. They planned to be married in April 1911. But Mr. Ives disappeared.
On February 19, 1913, instead of enjoying wedded bliss, Mrs. Tripp found herself testifying against Mr. Ives before a jury at a Supreme Court trial held in Albion. Judge Warren B. Hooker presided.
Described in the Democrat & Chronicle as "an attractive widow, gowned in deep mourning." Mrs. Tripp was represented by attorney Harry Fox. She sought $10,000 in breach of promise damages.
Mr. Ives did not appear and was not represented.
Mrs. Tripp first became acquainted with Mr. Ives when he rented a suite of rooms at her boarding house in Buffalo in 1906. Prior to his move, Mr. Ives, a widower, had operated a successful produce business in Medina, at 339 Main St. (currently Mystic Dragon's Lair).
A friendship developed between the landlady and the tenant. They attended the theater and other entertainments together. Soon they were constant companions. Neither were in the full flush of youth: Mrs. Tripp was then aged 51 and Mr. Ives was 65.
Mrs. Tripp testified that she assisted Mr. Ives in the development and patenting of an induction device to dry wood flooring and railroad ties. Several prominent Buffalo businessmen invested money in a company which he formed to sell the product.
In his letters to her, which were read before the court, Mr. Ives referred to her as "Honey", "My darling" and "Love". He wrote poems expressing his undying love for her.
One evening, shortly before April 1911, the couple attended a dinner at the home of friends in Buffalo. At one point, Mr. Ives excused himself and said that "he would be back in a few minutes." But he did not return. Mrs. Tripp heard from him the following day. He said he had been called to Lockport suddenly on business and that he would be back the next day. She did not see him again. At the time of the trial, Mr. Ives was said to be living in St. Catharines, Ontario.
The jury found in favor of Mrs. Tripp and awarded her $2,000 in damages.
Breach of promise actions pertaining to courtship or marriage situations were also referred to as "heart balm" cases. At a time when women relied on marriage for financial security, it was understood that an engagement was a promise to marry, a binding contract between two people and that the injured party could pursue financial compensation if one person broke the contract without consulting the other.
Upon her engagement, a woman would have discontinued the pursuit of other suitors, thus limiting future marriage prospects. A woman in Mrs. Tripp's situation would have felt embarrassment, humiliation, and concern for her reputation. Few would have relished the scrutiny and loss of privacy associated with a public court case.
In the following years, a series of high profile and salacious heart balm cases generated negative publicity:
"$100,000 Heart Balm Award Won by Author's First Wife" – (Chicago, 1935)
"Twice Wed Mrs. Fogarty Seeks $500,000 Breach of Promise Against Gene Tunney" – (Bridgeport, Ct., 1929)
These are just two of many such headlines. Public opinion gradually shifted to favor the accused, since the "injured parties" seemed to be conniving grafters.
On March 20, 1935, a bill sponsored by Senator John McNaboe of Manhattan was passed. It aimed to curb the "racketeering" associated with breach of promise and alienation of affection cases. By 1945, sixteen states had abolished breach of promise laws.
Mrs. Tripp returned to Buffalo and vanished into obscurity. Mr. Ives died in 1925 in Mineola, New York, at the home of his daughter.
"Hell hath no fury like a woman scorned."