Woman catches fish of a lifetime to win OC Fishing Derby
CARLTON – Julie Schaeffer and her husband Mike hold the 30-pound, 14-ounce Chinook salmon that Julie caught to win to the $4,000 grand prize in the Orleans County Fishing Derby. They are pictured Sunday at an awards program at the Carlton Recreation Hall.
The Schaeffers travelled 200 miles from Sligo, Pa. to fish in the derby. They have been coming to Orleans County to fish since the early 1980s. Mr. Schaeffer's father Henry was a charter boat captain locally for 16 years. He also fished in the derby that ended Sunday and was on the leaderboard before being knocked out by a bigger fish.
In addition the grand prize, Julie Schaeffer, 58, took three other spots on the leaderboard with fifth place finishes for Chinook salmon, brown trout and rainbow trout. (Fifth place is good for $50 awards.)
The grand prize fish is the biggest she's ever caught. She hooked the fish with a Dreamweaver spoon. She and her husband, who are both retired from a glass factory after more than three decades of work, were about 8 miles out in the lake in an area known as the "30 bar."
The Schaeffers time their visit to Orleans County to coincide with the annual fishing derby, which started Aug. 6 and ended at 1 p.m. on Sunday. They also enjoy fishing trips to the Florida Keys.
"It's relaxing being out on the water," Mrs. Schaeffer said. "You never know what you're going to catch."
Her husband called her, "a fishing machine."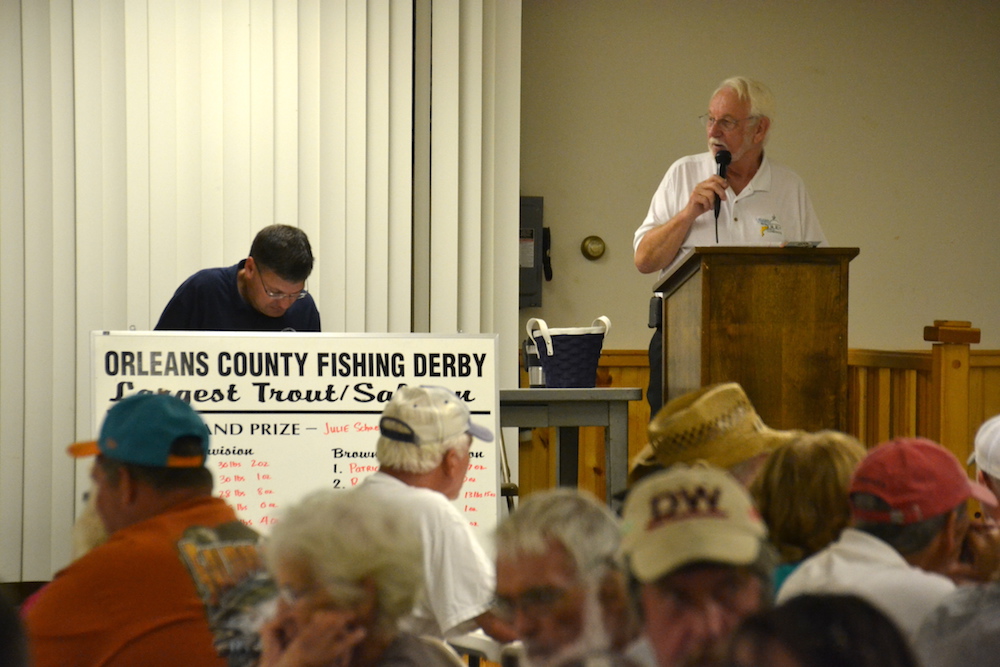 Mike Waterhouse, the county's sportsfishing promotion coordinator, serves as emcee at the awards program. Ed Fancher (left) is the derby's treasurer. He is writing checks for the $8,800 in prize money that was given away.
There were 426 entries in the derby, which was down from 644 last year. Some bad weather, especially on the weekends, kept some anglers away. The derby is run by the Albion Rotary Club. It has been ongoing for about 35 years, making it one of the longest-lasting derbies on Lake Ontario.
The derby awards prizes in four divisions: Chinook salon, brown trout, rainbow trout and lake trout. The prizes include $500 for first, $300 for second, $200 for third, $100 for fourth and $50 for fifth. In addition, $200 goes to the Orleans County resident that catches the biggest fish.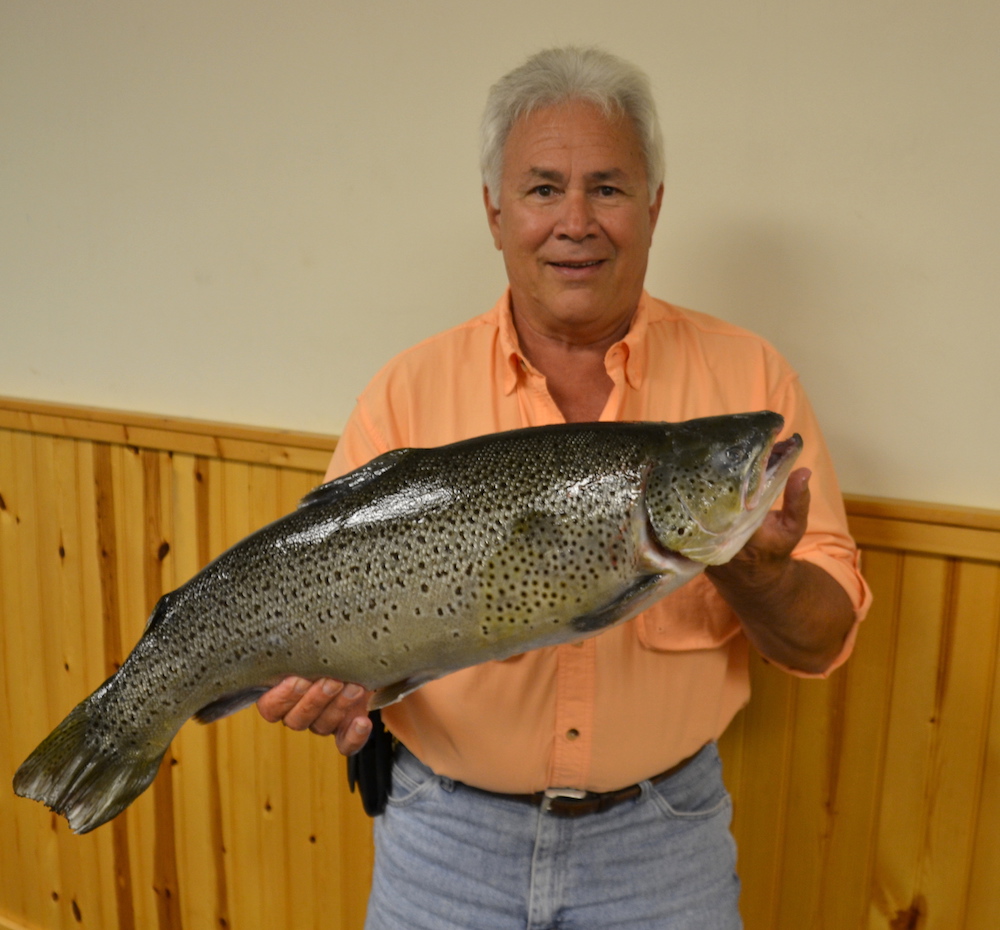 Patrick Pullinzi of Hamlin holds the first place brown trout at 15 pounds, 7 ounces.
Other division leaders include: 30 pounds, 2 ounces for a Chinook caught by Tom Shatzer of Chambersburg, Pa.; Rainbow trout – 14 pounds, 1 ounce by Robert Griffith of Akron, Ohio; and Lake trout – 21 pounds, 1 ounce by Scott Bengsch of Webster.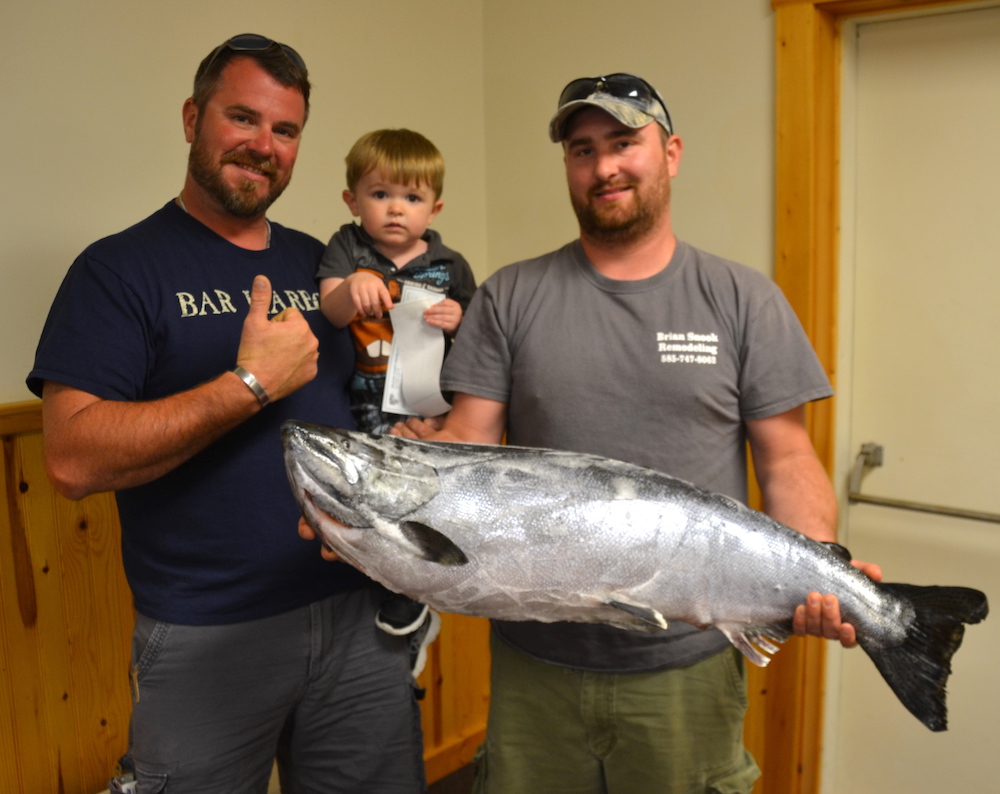 Brian Snook (right) of Holley won biggest fish caught by an Orleans County resident (a $200 prize) with a 28-pound, 8-ounce Chinook, which was also third biggest Chinook overall. He is pictured with his brother Bill Silpoch of Holley who won the Orleans prize last year. Bill is holding Brian's son, Jack Snook, 2.
To see the full leaderboard, click here.