Woman, 94, from Orleans recovers from Covid-19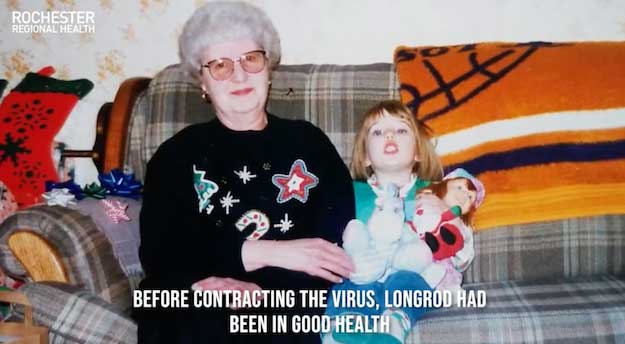 Photo courtesy of Rochester Regional Health
BATAVIA – Norma Longrod, 94, of Orleans County has been released from a Batavia hospital after beating Covid-19, Rochester Regional Health said today.
Longrod was admitted to United Memorial Medical Center in March. She had fallen and had a fever of 102. She was immediately placed in isolation at the hospital away from other patients.
She took hydroxychloroquine at the Batavia hospital to help in her recovery.
"Somehow she was able to stay strong enough and pull through this," said Dr. Peter Janes, a hospital at United Memorial. "It's pretty amazing. She ended up being a pretty resilient lady."
She is one of the oldest people in Western New York to recover from the coronavirus.
In a video posted by Rochester Regional Health, Longrod thanks the hospital for her care. She urged people to take precautions from the virus.
"They're crazy if they don't take it seriously," she said.
She is now recovering at Orchard Manor Rehabilitation and Nursing Center in Medina.
Click here to see the video about Longrod posted by Rochester Regional Health.