With proclamations and citations, Barre marks 200th anniversary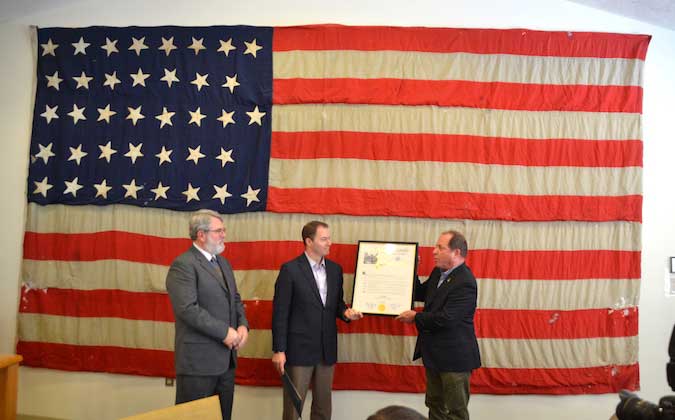 Photos by Tom Rivers
BARRE – The Town of Barre celebrated its bicentennial on Saturday with an open house at the Town Hall and several proclamations and citations on the milestone anniversary.
The top photos shows Town Supervisor Sean Pogue, left, listening to State Sen. Robert Ortt, center, and Assemblyman Steve Hawley read a proclamation from the state about Barre's 200th anniversary.
They are pictured in front of a 10-by-17-foot flag that was donated to the town by the DeZetter family. The flag was made in 1886 when there were 38 states. Ortt said he would like to find some state funding to better preserve and display the large flag.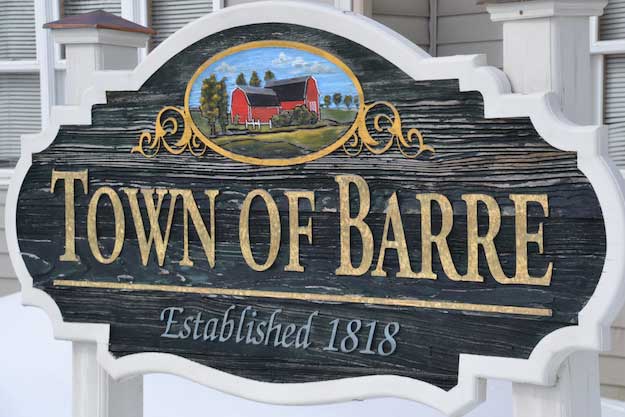 The town was founded in 1818. Barre officially formed on March 6, 1818. There will be another open house at the Town Hall on West Barre Road on Tuesday from noon to 6 p.m. There are many historical displays in the Town Hall in honor of the town's bicentennial.
There will be a bigger celebration on June 29-30 at the Town Park on Route 98.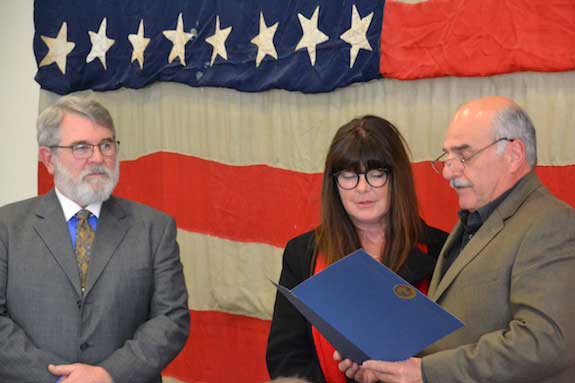 Orleans County legislators Lynne Johnson and John DeFilipps read a proclamation from the County Legislature about Barre's 200th anniversary. The town also received proclamations and citations from Gov. Andrew Cuomo, U.S. Sen. Charles Schumer, and Congressman Chris Collins.
Sean Pogue, the town supervisor, invited barre residents to be active in the community and help write the next chapter of the town's history.
"As a community, let's put our thoughts together and create that sense of family and community that we will celebrate 25 years from now," he said.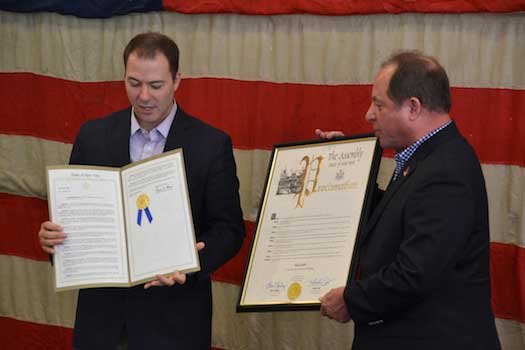 The proclamation from State Assemblyman Steve Hawley and State Senator Robert Ortt states the following:
"Whereas, the State of New York takes great pride in recognizing and celebrating important milestones in the history of communities in the Empire States; and
Whereas, as New York State Legislators, we congratulate and honor those municipalities which were influential in the growth and development of our state and have greatly contributed to the economic and social prestige of the Empire State; and
Whereas, Barre can trace its founding back to the pioneer days of the Holland Purchase and the original four million acre "farm" known as the Morris Purchase, which was bought from Massachusetts in 1791; and
Whereas, the first settlers to reach the Town of Barre are Stephen Paine in 1816, who traveled on Ridge Road from Rochester, and Judge John Lee in 1818, who officially settled the area on March 6, naming it after his hometown of Barre, Massachusetts; the first Town Supervisor was Nathan Whitney in 1818; and
Whereas, Barre, the Massachusetts' town namesake, was originally a colonel and member of the British Parliament during the American Revolution but was also a staunch friend of the early American colonies; and
Whereas, many of Barre's early settlers were Revolutionary War veterans who came in ox-drawn wagons; pioneers eventually built crude log cabins without floors, chimneys or windows transforming the wilderness into productive farms and comfortable homes; and
Whereas, the agriculture industry has been an integral part of Barre's economy since its inception, with open land yielding plenty of buckwheat, corn, rye, oats, wheat and dry beans, while its 2,000 cows make Barre the hub of Orleans County's dairy industry; and
Whereas, Barre is currently home to more than 2,000 residents who embody the sheer determination, grit, and perseverance of early settlers who pushed through uncut wilderness and forest to start a new, more promising life on the fertile farmlands of what is now the Town of Barre; and
Whereas, may the Town of Barre and its good citizens stand as shining examples for all other localities to emulate, and may the town flourish and grow now and forever in the future; now, therefore, be it
Resolved, that Assemblyman Steve Hawley and Senator Robert Ortt in conjunction with the citizens of the 139th Assembly District and 62nd Senate District, offer congratulations and best wishes for continued success to the Town of Barre."