With gratitude, Medina grads are ready for next challenge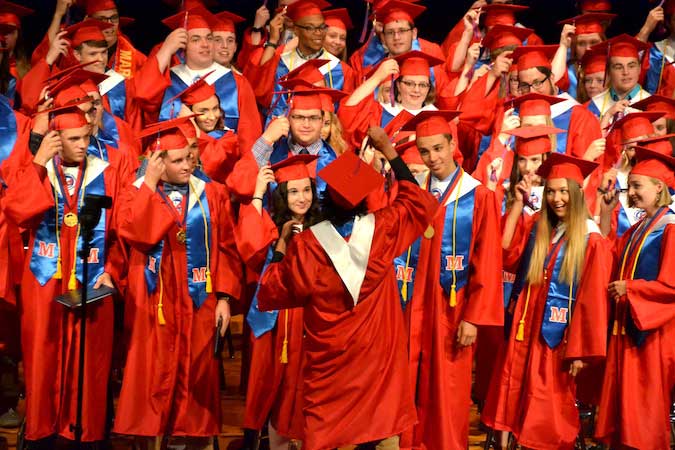 Photos by Tom Rivers
MEDINA – Carson Gates, president of Medina's Class of 2018, leads the class in moving the tassels on their caps during commencement Friday in the Medina High School Auditorium, when 120 seniors received their diplomas.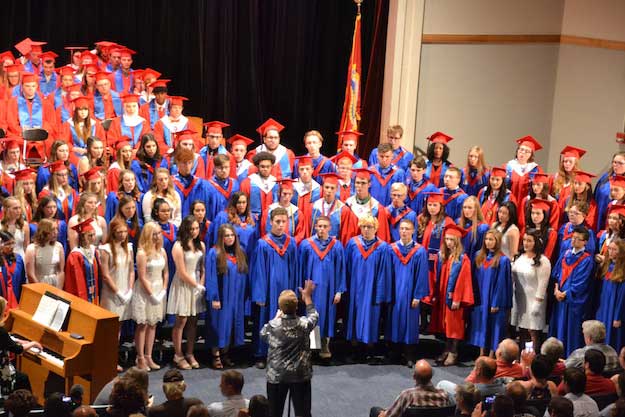 The A'Cappella Choir led by Lisa Roeseler sang, "It's Hard to Say Goodbye" and "The Halls of Ivy."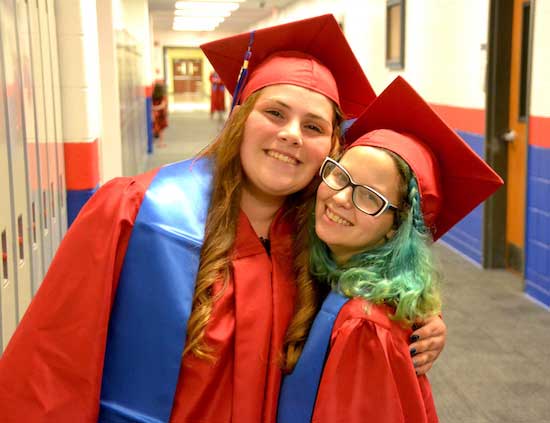 Alexzandra Schlegel and Erin Dietz are pictured before graduation.
"I will miss my friends and the school pride," Schlegel said.
"I will miss the teachers," Dietz said. "They taught me everything for graduation."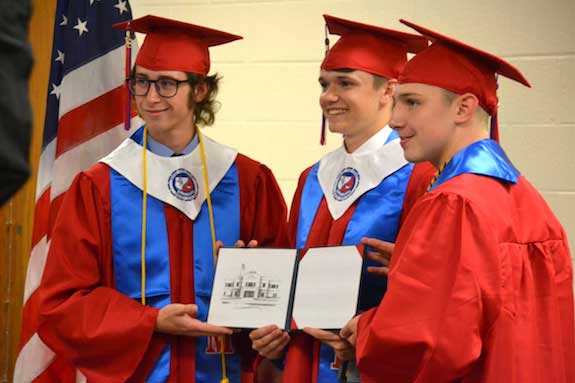 These three friends, all lacrosse players, pose for a photo while waiting for graduation to start. They include, from left: Luke Wilson, Brendan Luthart and Joe Gates.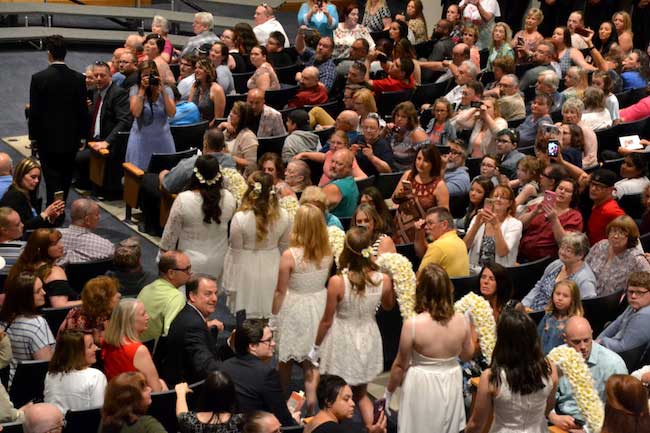 Junior girls, who are among the top-ranked students in their class, continue a century-old tradition at Medina by carrying a daisy chain into the auditorium, ahead of the seniors. The students picked daisies and created the chain of flowers.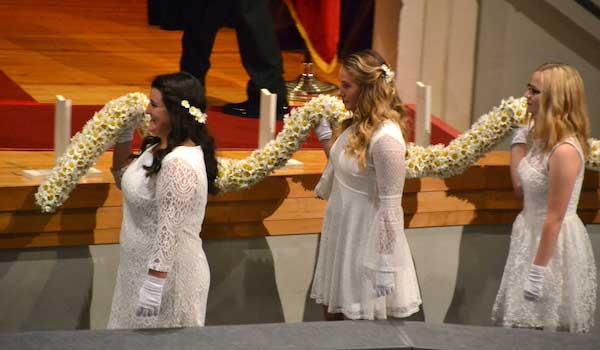 The daisy chain is placed at the front of the stage.

Jack Hill gives the salutatorian's address, which he entitled, "Gratitude." Each graduate's diploma included a thank you card, and Hill urged them to write a message, thanking someone for helping them get to this point in their lives.
Hill heaped praise on the teaching staff at Medina. Teachers go above and beyond the job description, with many also coaching teams and leading clubs and other programs. Many send kind notes and give the students steady praise, building their confidence.
"Teachers are some of the best people in the world," Hill said.
The salutatorian also encouraged his classmates to use their talents as the embark on the next chapter of their lives. The best way to show gratitude, Hill said, is to use their skills in their careers and bettering their community.
They should also repay what they have been given in Medina by showing kindness to others, Hill said.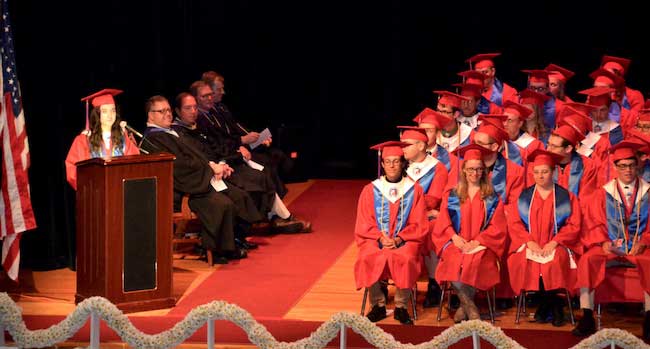 Madison Kenward, the valedictorian, spoke about a "growth mindset" and not a fixed mindset in her speech, entitled, "Yet." Madison's mother, Mindy Kenward, is an elementary school teacher who focuses on a growth mindset in the classroom. When her students are frustrated and worry they can't learn something, Mrs. Kenward responds, "Maybe you can't do it, yet."
Madison asked her classmates through Snapchat what are some of their goals they haven't accomplished, yet.
The graduates responded with a range of goals, from learning to play the guitar, running a marathon, being a good role model, finding Bigfoot and becoming wealthy enough to donate back to the school.
There will be obstacles in reaching the goals, but with a growth mindset you keep moving forward, taking risks, Kenward said.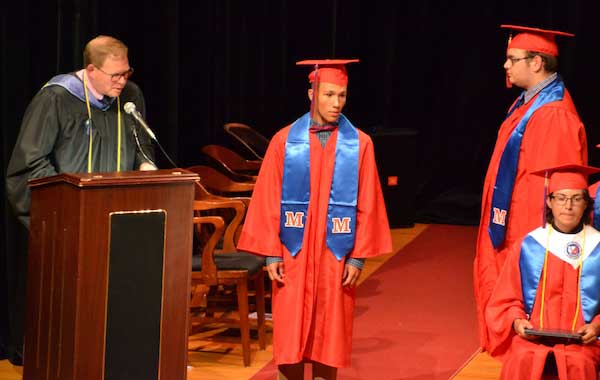 Michael Cavanaugh, the high school principal, announces the next graduate: Da'Ron Bellan. His brother Kyson Bellan, standing at right, is next.
Cavanaugh delivered the keynote address to the 120 graduates. Cavanaugh has been their principal since eighth grade.
He said characteristics for success include perseverance, patience and preparation.
"Be humble, be appreciative and invest in relationships," Cavanaugh said. "Be prepared for anything and let your moral compass be your guide."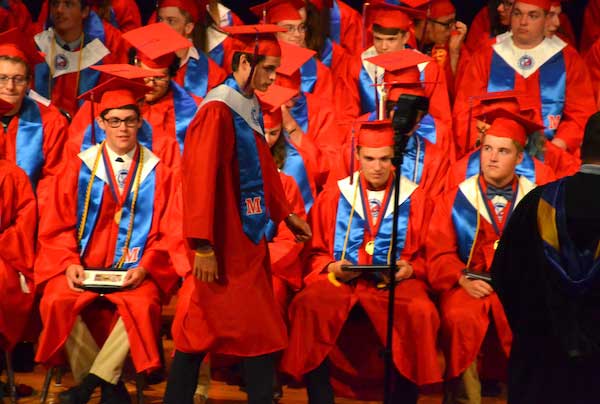 Dan Heil walks across the front of the stage to receive his diploma.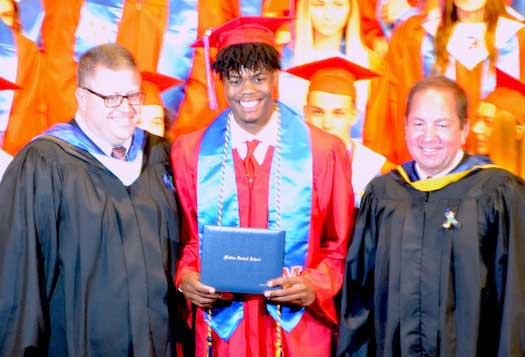 Jalin Cooper has a big smile after he was presented with his diploma.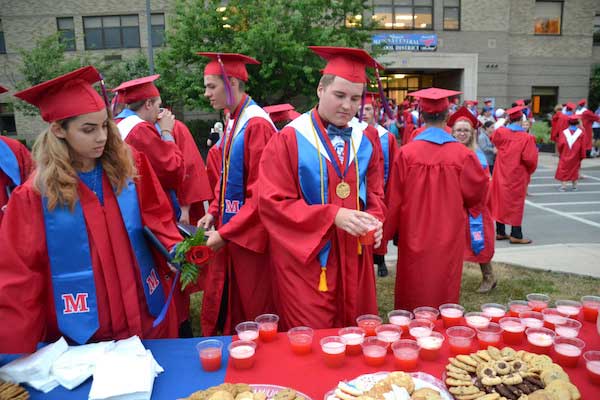 Emma-Lee Drisdom and Toby Kiebala try a cookie and punch after the ceremony.