With 197 Covid cases past week, Orleans passes 10,000 in 2-plus years of pandemic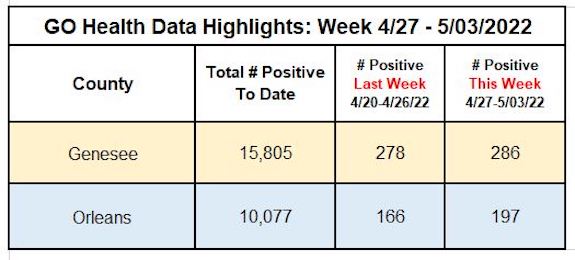 Orleans County has passed a milestone in the two-plus years of the pandemic: 10,000 cases.
The county had 197 new confirmed cases in the past week (April 27 through May 3) and now has had 10,077 confirmed cases since March 2020, according to data from the Genesee & Orleans County Health Departments.
The two counties, Genesee and Orleans, also hit a grim milestone with 300 deaths from Covid during the pandemic. Genesee and Orleans each reported a Covid-related death in the past week. Genesee now has 186 deaths and Orleans 114 due to Covid.
Orleans has 40,343 residents, according to the 2020 Census. The 10,077 cases represent about 1 for every 4 residents, although some residents have contracted Covid more than once.
Genesee County, which has 58,388 residents, has 15,805 cases during the pandemic, which is also about 1 for every 4 residents.
The cases continue to increase each week since mid-March. The 197 in Orleans the past week is up from 166 the previous week (April 20-26) and 113 the week before that.
Genesee is reporting 286 new cases from April 27 to March 3, and 278 the week before that, and 168 from April 13-19.
State-wide the 7-day average for positive tests is 6.94 percent, but it's much higher in the Finger Lakes Region, which includes Orleans. That region is at a 13.02 percent positive over the past seven days. Western New York is the highest at 17.48 percent and New York City is the lowest at 4.44 percent.