Winning design announced in "I Voted" competition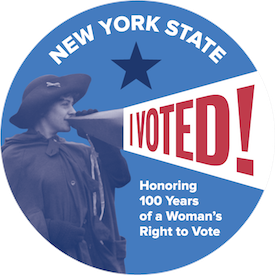 Press Release, Gov. Andrew Cuomo
Governor Andrew M. Cuomo and Lieutenant Governor Kathy Hochul today announced the winning design in the Suffrage Centennial "I Voted" Sticker Competition. The competition encouraged New Yorkers to vote for one of three special designs for an "I Voted" sticker to be distributed at polling places across New York this Election Day.
The designs celebrate the 100th anniversary of women's suffrage in New York, passed on November 6, 1917, three years before women across the country gained that right.
"As we celebrate the 100th anniversary of women's suffrage in New York, this sticker celebrates the hard-fought right to vote and our proud legacy of women's rights," Governor Cuomo said. "New York is the proud birthplace of the women's suffrage movement, and we will continue to work to ensure equal rights for all."
The competition was open for online voting from September 25 to September 29, and received more than 18,000 votes. The winning sticker received 9,321 votes, with the second place sticker receiving 5,808 and the third place sticker receiving 3,589.
Lieutenant Governor Kathy Hochul, Chair of the New York State Women's Suffrage Commission, said, "New York women fought valiantly to win a voice at the ballot box 100 years ago, three years before the rest of the nation. The 'I Voted' sticker is our way of paying tribute to their struggle while challenging the women of today to not only exercise our right to vote, but to think about how we can continue to work together to achieve true equality for everyone. I hope this sticker inspires each of us to ask ourselves, 100 years from now, how will we be judged and what can we do to help create a more equitable society?"
The woman featured on the winning sticker is "General" Rosalie Jones, a New York suffragist and organizer. In December, 1912, Jones led a 150 mile-long hike, on foot, from New York City to Albany. The group's journey took nearly two weeks. Upon arriving in Albany, the women presented a petition to Governor-elect Sulzer, who expressed his support for women's suffrage.
The winning sticker will be printed and distributed to the Boards of Election in each county across New York. County Boards of Election may distribute the stickers at polling places across the State on Election Day, November 7.
The New York State Women's Suffrage Commission, chaired by Lieutenant Governor Kathy Hochul, is organizing programs to commemorate women's suffrage between 2017, 100 years from when women won the right to vote in New York State, and 2020, which will be a century after the 19th Amendment was ratified.
The Commission's programs celebrate the accomplishment of women's suffrage and the central role of New Yorkers and New York State in this milestone, while also helping shape the future to ensure a more just and equitable society for all. To learn more, visit www.ny.gov/suffrage.