Willy Wonka brings chocolate factory, zany characters to Holley stage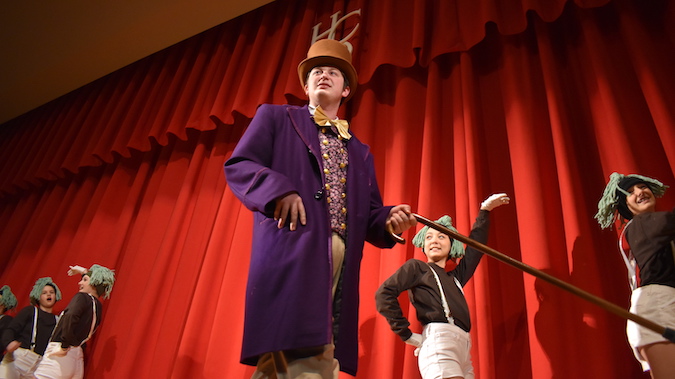 Photos by Tom Rivers
HOLLEY – Gabe Lindsay stars as Willy Wonka in Holley Junior-Senior High School's production of Roald Dahl's Willy Wonka. This is from the opening scene of "Pure Imagination" and Willy Wonka is joined by Oompa-Loompas.
Holley performs the musical with shows at 7 p.m. on Friday and 2 and 7 p.m. on Saturday in the Junior-Senior High School Auditorium.
Tickets are available online. Click here for more information.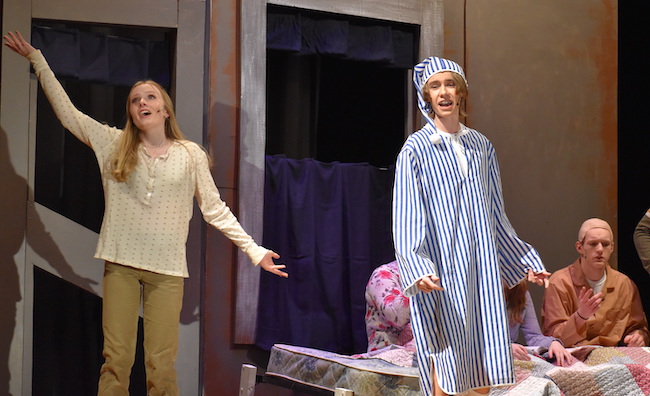 Ava Quincey plays the role of Charlie Bucket, left, and Charlie is very excited to have found a golden ticket in one of the Wonka chocolate bars. Charlie will be joined by Grandpa Joe (played by Owen Schultz) in a tour of the Wonka chocolate factory.
They are singing one of the shows catchy numbers, "I've Got a Golden Ticket."
The Holley musical is directed by Dustin Gardner. Gardner played the role of Willy Wonka when he was a Kendall student in 2009.
Gardner made his directing debut for Holley last year with Footloose. He said Willy Wonka has a broad appeal to people of all ages. There are 40 students in the cast and another 20 in the crew.
"I'm most excited for the kids who are in a production for the first time," Gardner said before Tuesday's rehearsal. "Once they get the lights on them it's a rush you can't explain."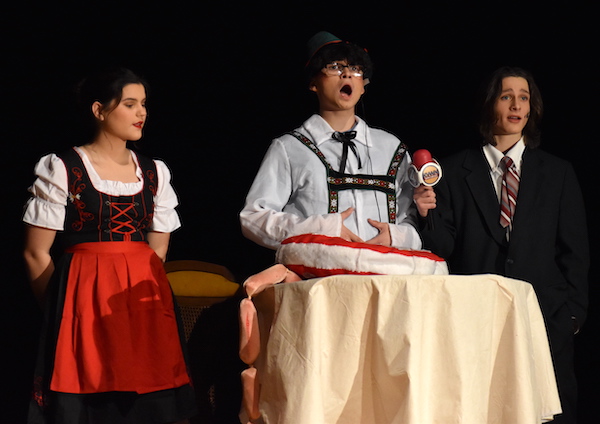 Jax Richards-Dyson is Phineous Trout, a reporter who announces the winners of the Golden Ticket contest throughout the show. Here he interviews Augustus Gloop (played by Jose-Angel Valentin) and Mrs. Gloop (Maggie Skehan).
Augustus loves to eat, and sings "I Eat More!"
Valentin speaks in a German accent and wears some padding for the role. He said the cast members have been very excited about Willy Wonka.
"We're very much out of our comfort zones," Valentin said.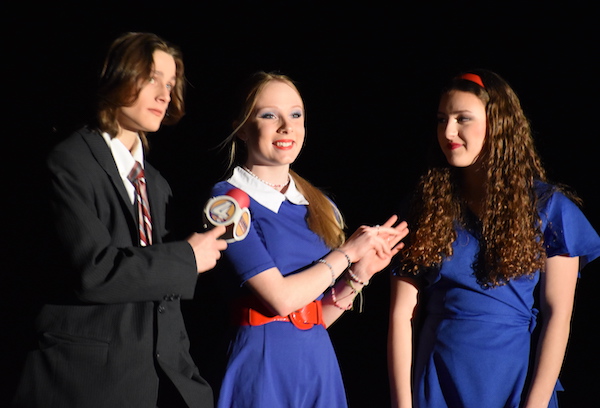 Phineous Trout interviews Violet Beauregarde (Ellie Quincey) and her mother, Mrs. Beauregarde (Allison Merle) after Violet finds one of the five Golden Tickets. Violet is a prolific chewer of gum.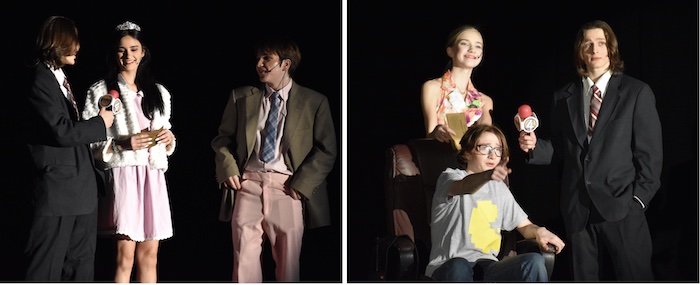 (Left) Jayda Shampine plays Veruca Salt, a very wealthy, spoiled brat who sings, "I Want It Now." Her father is played by Kohle Pachla. (Right) Mike Teavee (Nico Unterborn) is also one of the five Golden Ticket winners. He is addicted to video games. His mother is played by Isla Schultz.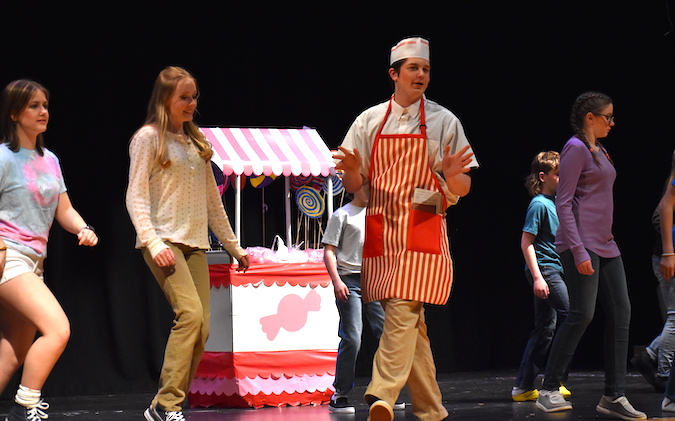 Gabe Lindsay also plays the role of the "The Candy Man." He sells Wonka chocolate bars. Charlie is the only kid too poor to buy one.
Lindsay said the show has been fun for the cast and crew. The musical sends a powerful theme, he said.
"Don't be mean, and don't be a greedy little kid."