'What's Cooking?' – Historian receives trove of cookbooks from community groups
Besides recipes, cookbooks provide a local history resource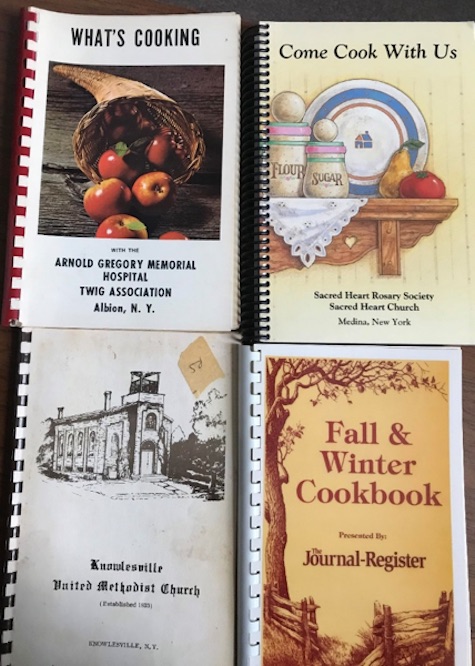 By Catherine Cooper, Orleans County Historian  – Volume 1, Number 5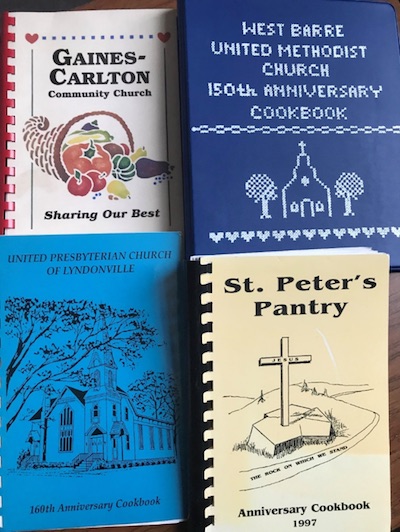 The spiral-bound cookbooks published as fundraisers for churches and community groups are a familiar sight in our kitchens. A collection of local cookbooks was just recently donated to the Orleans County Dept. of History. With their brightly illustrated covers and domestic content, they contrast with the largely black and white documents that comprise the majority of the Department's collection.
At first glance, they might seem an unlikely resource, but in fact, these locally specific cookbooks are treasure troves of local history. They are of interest now and their value to social historians will only increase as time goes by.
The cookbooks in this donation represent Albion, Barre, Clarendon, Gaines, Knowlesville, Lyndonville, Medina, Shelby and Waterport. Most were published in the '70s and '80s, though the most recent is from 2010.
Many cookbook projects were church sponsored, but there are also cookbooks from schools, hospitals, a prison, the Lake Plains YMCA and groups such as the Senior Citizens of Western Orleans and the Orleans County Historical Association. Morris Press was the primary publisher. Cookbook projects were undertaken to mark anniversaries or for specific fundraising projects.
In some cases, the cookbooks are a testament to churches or groups that now no longer exist. The now-defunct list from this donated collection includes: The Journal-Register, Medina Association of Women, Sacred Heart Church, and Arnold Gregory Memorial Hospital. Also, the local advertisements provide a record of business and services.  Some still continue, many are no longer, reflecting business and economic trends.
These advertisements are a treasure trove for local historians.
Community cookbooks were almost always compiled by women. For many contributors, this may have been the first time their name was in print. This was a source of pride, an affirmation of identity, of belonging to a recognized group.
Part of the pleasure – and historical value – of looking through the cookbooks is that of seeing familiar names among the contributors, family members or neighbors, many now departed. When viewing the cookbooks with a friend, the conversation invariably turns reminiscent, as stories and connections are recalled. In years to come, these cookbooks will be treasured as heirlooms by contributors' descendants.
The saying "An army marches on its stomach" has been attributed to Napoleon Bonaparte. Women well know that families also march on their stomachs. History is as much about families as it is about armies.
The humble spiral-bound community cookbook is a succinct tactical manual to fall back on when faced with that dreaded question "What's for supper?" Internet recipe searches can be overwhelming. The new cookbooks on the market now are either very specialized in terms of ingredients or techniques, or feature celebrities discovering the joy of cooking. Sometimes you just want a quick recipe for banana bread. The stained or dog-eared page of the trusty spiral-bound cookbook will lead the way.
The recipes are short, practical, straightforward, and thrifty. There are no "diet", "lite" or ingredient intolerant options. If a recipe calls for milk, it is implied that the source will be a cow, not an almond. Some of the recipe titles are intriguing: The $100 Cake, Easy-Peasy Pudding, Glenda's Pie, Elephant Stew, Crab Louis, Lovelight Icing. All of the recipes are "keepers", having been tested and honed over time by those most merciless of critics: family members.
Some of the recipes have not aged well. We might look askance at the Fruit Salad recipe which was a fairly common submission:
1 can mandarin oranges,   6 cups miniature marshmallows,
1 can crushed pineapple,  1 cup sour cream,     1 cup coconut.
Drain cans, mix ingredients well, chill
No doubt, this recipe will remind many of their grandmothers. We should keep in mind that this recipe evolved at a time when grocery stores were not stocked all year long with the luxury of out of season fruit that we are accustomed to.
The cookbooks reflect the culinary traditions and food practices of a certain time, when households were transitioning from stay-at-home mothers to moms who worked outside the home. Family dinners were still the norm, so cooking practices adapted to simpler recipes. Convenience ingredients such as cans of mushroom soup or cans of cream of chicken soup were widely used.
We can observe major changes in food preferences and health considerations in the short time since these cookbooks flourished. Jell-O and Velveeta cheese are no longer in fashion. We have the luxury of access to a wide range of fresh food, varied sources of protein and ethnic foods. Our cooking technology has changed – rice cookers, air-fryers, Insta-Pots. Pizza and take-out proliferate and there are more options for those who have food intolerances. We take these trends for granted, but they are all part of ever changing culinary history
Cooks love to share recipes. This collection attests to the generosity of spirit of our Orleans County cooks.
Cookbooks from the Towns of Kendall and Murray would be appreciated as they are not represented. Contact Catherine.Cooper@orleanscountyny.gov.