Wes Bradley named Lyndonville's Firefighter of the Year
LFD honors other members for dedicated service
LYNDONVILLE – The Lyndonville Fire Department on Saturday honored Wes Bradley as its firefighter of the year for 2019.
Bradley, a retired middle school science teacher at Lyndonville, remains an active firefighter, responding to about 50 calls a year. Bradley also serves as the department's chaplain.
"He does everything very professional," Fire Chief Ben Bane said. "As chaplain, he is always there to comfort members when we have bad calls."
Last year the department responded to 200 calls, including a fatal fire.
Bradley, 71, joined the department in August 1979 when he moved to Lyndonville to work as a teacher. He was about 30 at the time.
He was inspired by his father's example. Ray Bradley volunteered for more than 30 years as a firefighter in Canton, NY.
"I saw my father volunteering and it was something I always wanted to do," Bradley said on Saturday at the Carlton Recreation Hall, where Lyndonville had its annual awards and installation banquet.
Bradley, after years as an interior firefighter, continues as an exterior firefighter and with the fire police on traffic control. He also goes on EMS calls. He isn't an EMT but he said it is comforting for many residents to see their neighbors in the fire service respond to the calls.
"I enjoy serving the community," Bradley said. "The community has been good to me. I can give a little bit back."
Bradley also is a member of the Lyndonville Lions Club and is a girls soccer referee for Section VI.
The Fire Department presented other awards on Saturday for 2019, including: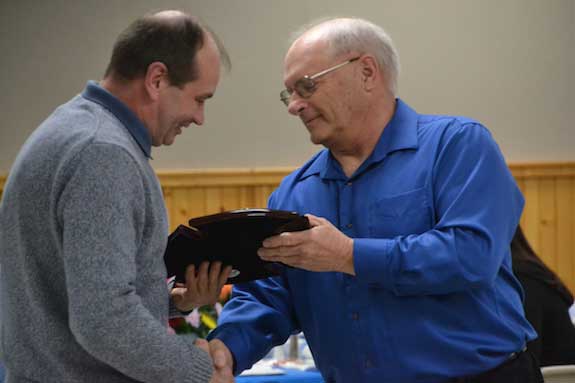 Fire President's Award – Gary White (right), president of the Lyndonville Fire Department, presented the President's Award to Pete Kage, who responded to 84 calls last year. He also has been an active member for five years.
"This is a person who does a lot for the department but doesn't get much credit," White said.
Chief's Award – Fire Chief Ben Bane announced the Chief's Award is going to John Flanagan, a long-time member currently battling cancer. Flanagan also was recognized for reaching 15 years of service with the department. Flanagan was unable to attend the banquet.
"Before his illness he would do anything to help out," Bane said.
Auxiliary President's Award – Nicole Kistner, Auxiliary President, presented the award to Anna Schuner, who has been a member of the Auxiliary for 15 years, and is the current treasurer. She is also an active firefighter and is an officer as the EMS lieutenant.
Top Five responders – These five firefighters responded to the most calls in 2019: 137, Mike Heideman; 108, Ken Starr; 106 Harold Scribner; 84 Pete Kage; and 76, TJ Heideman.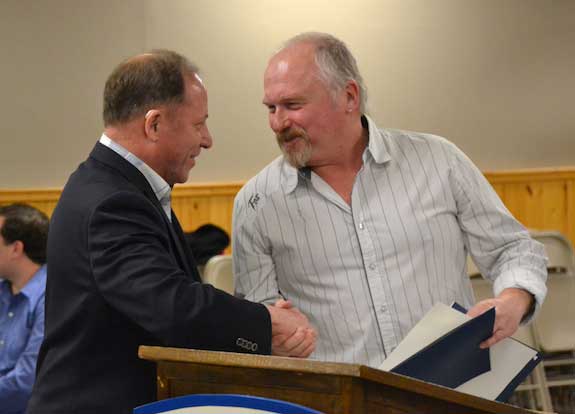 Service Awards – Some members were also recognized for reaching milestones in years of service. Jim Scharlau, right, is congratulated on 40 years of service by State Assemblyman Steve Hawley.
Other firefighters who were recognized with service awards include: 5 years, Pete Kage; 10 years, Pam Durow; and 15 years, John Flanagan.
Auxiliary members with service awards include: 5 years, Pam Durow, Cheryl Mapes and Taylor Piskorowski; 15 years, Anna Schuner; and 20 years, Vicky Bane.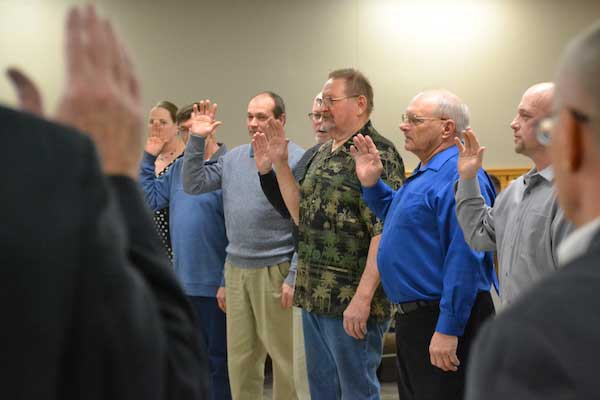 The fire department swore in new officers and leaders for 2020. They are shown taking the oath of office, which was administered by Dale Banker, director of the Orleans County Emergency Management Office.
Fire Officers include: Chief, Ben Bane; First Assistant Chief, Mike Heideman; Second Assistant Chief, Steve Bane Jr.; Fire Captain, TJ Heideman; Fire Lieutenant, Danny Woodward; EMS Captain, Wally Snyder; EMS Lieutenant, Anna Schuner; Fire Police Captain, Bruce Fumia; and Chaplain, Wes Bradley.
The Fire Executive Officers members include: President, Gary White; Secretary, Peter Kage; and Treasurer, Jim Wells. Board of directors include Kenny Starr, 3-year term; Keith Weaver, 2-year term; and Mike Tabor, 1-year term.
Fire Company Auxiliary Officers include: President, Nicole Kistner; Vice President, Cheryl Mapes; Secretary, Cindy Grabowski; and Treasurer, Anna Schuner.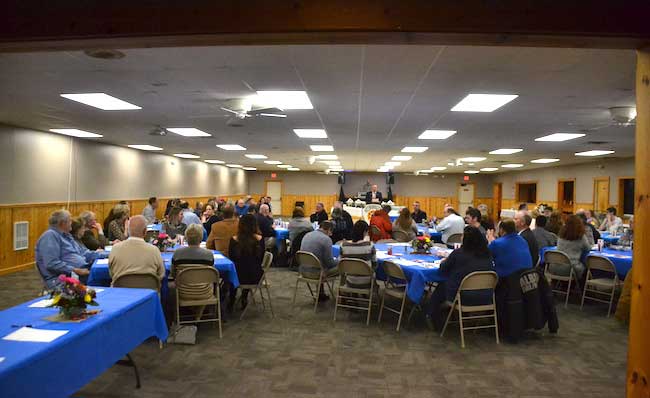 The group is gathered at the Carlton Rec Hall for dinner and the annual awards and installation.