Weights and Measures uses many devices to ensure public doesn't get shorted
Genesee, Orleans and Wyoming Public Health Column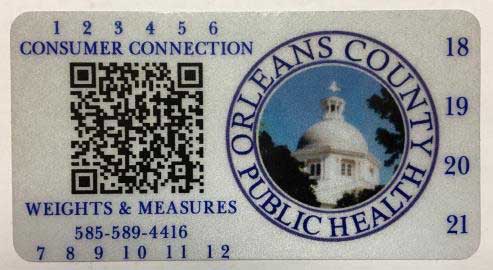 The first seven days of March are dedicated to celebrating the world of Weights and Measures. Are you familiar with this? From March 1st to March 7th we commemorate President John Adam's signing of the first United States weights and measures law on March 2nd, 1799.
Individuals who protect the laws of Weights and Measures have very big responsibilities. "We are responsible for enforcing all applicable laws, regulations, rules, and ordinances prescribed by New York State Department of Agriculture and Markets," stated David Diegelman, Director of Weights and Measures for the Genesee County Health Department.
Weights and Measures officials are responsible for assuring that all commercial weighing and measuring devices throughout the county are tested for compliance and accuracy so that consumers, businesses, and manufactures are protected from unfair practices.
The devices that Weights and Measures focus on includes scales, petroleum pumps, vehicle tank meters, timing devices, linear measuring devices, and calibration of farm bulk milk tanks. Weights and Measures have the jurisdiction to test at any establishment where commodities are being purchased or sold by weight. This includes pharmacies, food stores, delis, supermarkets, hardware stores, and gas stations. Weights and Measures also have the jurisdiction to test at larger industrial locations such as feed and fertilizer businesses, stone quarries, asphalt plants, scrap yards, farms, and food processing and manufacturing facilities.
Orleans and Genesee County Weights and Measures Departments were very busy in 2018. Genesee County did 170 Weights and Measures related inspections and Orleans County had 77 establishments requiring inspections. Genesee County tested and sealed about 600 devices and Orleans County tested and sealed 426 devices. These devices included various scales, petroleum pumps, and timing devices. Genesee County weighed about 500 packages and Orleans County weighed 743 packages to verify the net weight of the contents. In addition, Genesee County submitted 53 petroleum samples and Orleans County submitted 52 petroleum samples from gas stations and wholesale consumers. These were tested to verify the octane or cetane rating of the products.
"Weights and Measures is extremely important. A small weighing or measuring error can accumulate to millions of dollars," stated Ronald Mannella, Director of Weights and Measures for Orleans County Public Health Department. "Weights and Measures assures that people are getting what they are paying for and assuring the integrity of businesses."
During the first week of March make sure you take a moment to learn more about what Weights and Measures are, give thanks to the people who assure such accuracy, and look out for the stickers below to see what has been tested by weights and measures.