Weather turns to snow and cold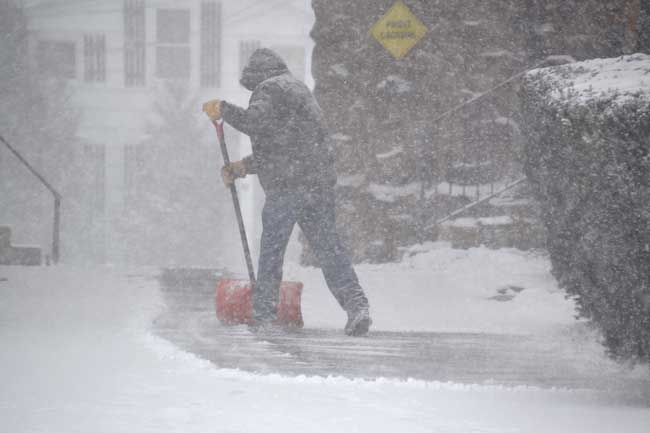 Photo by Tom Rivers
Mike Condoluci, a maintenance worker with the Holy Family Parish, shovels the sidewalks by St. Joseph's Catholic Church at about 3 p.m. today. The church on Sunday will have Mass at 10:30 a.m. with Bishop Richard Malone. The Mass will be a celebration of First Communion, Confirmation and Parish Life.
The weather has turned cold and snowy this afternoon after the harsh wind storm caused widespread damage and power outages in the region.
Today is forecast for a high of 19 degrees with temperatures falling to 11 overnight. The forecast for the next few days includes a high of 20 on Sunday with a chance of snow showers, followed by a high of 26 with a slight chance of snow on Monday.
The National Weather Service in Buffalo has issued  a winter storm watch for Monday evening through Wednesday evening when 7 to 14 inches of snow is possible for Orleans, Niagara, Genesee, Erie, Wyoming, Chautauqua, Cattaraugus and Allegany counties.