Waterline near Wal-Mart connects districts, provides backup for nursing home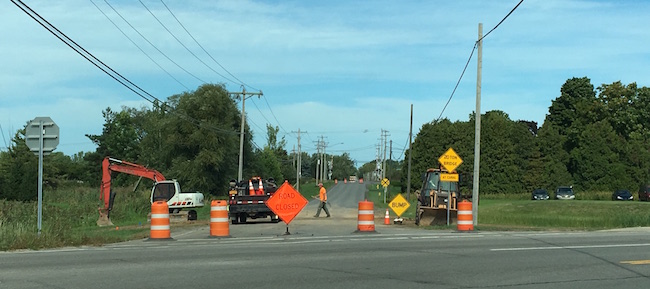 Photo by Tom Rivers
ALBION – The Town of Albion Highway Department is running a 160-foot-long 8-inch water main that will link Water District #6 with districts #2 and #3.
The town ran a waterline that connected with a 12-inch main that was a dead end on Route 31, just east of Gaines Basin Road. Water District #6 also stopped on the other side of Gaines Basin. The town spent three days with help from other municipalities to run an 8-inch water line, connecting the districts.
Albion had to cut across Gaines Basin and that section will be repaved to Route 31 next month, Town Highway Superintendent Michael Neidert said. (This photo was taken on Wednesday afternoon when the section of Gaines Basin Road near 31 was put back together and cleaned up.)
The waterline will also be tested and should be activated next week after tests from the Health Department.
The line provides a backup source of water for the nursing home and other users on Route 31 from near the village line heading west to near Wal-Mart.
Besides the Albion town crews, highway workers from Carlton and the Orleans County Highway Department assisted with the project.