Ward Dobbins has taken Lyndonville apple packing and sales business to new level
Chamber honors H.H. Dobbins owner as 'Business Person of the Year'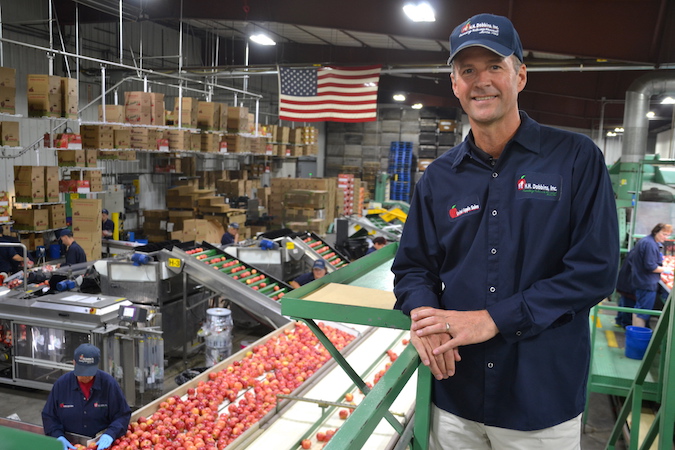 Photos by Tom Rivers: Ward Dobbins is pictured inside H.H. Dobbins while Gala apples are being packed on Tuesday. Dobbins has worked at the company for 30 years, and led a big expansion last year with plans for a bigger packing line next year.
LYNDONVILLE – An apple packing business that started in 1905 by the Dobbins family has grown to a worldwide footprint under the leadership of the fourth-generation owner, Ward Dobbins.
H.H. Dobbins packs 1 million bushels of apples a year, and about 20 to 25 percent are shipped out of country to the United Kingdom, Israel, Iceland, Central America and other distant locales. (Dobbins sold the first U.S. apples into Cuba when the embargo was lifted.)
Most of the apples packed and sold by Dobbins are grown nearby in Orleans County.
Dobbins, the company owner and chief executive officer, likes the company's position in the apple market.
Last year it completed a $3.4 million project, adding a 26,240-square-foot controlled atmosphere storage building on Millers Road, about 2 miles from the main packing house on West Avenue.
The new CA boosts Dobbins on-site storage to 300,000 bushels of apples. The CA also acts to put apples "to sleep," allowing them to be stored for many months, sometimes up to a year.
The ability to pull apples out of storage well after the harvest season means Dobbins can become a year-round packing operation.
The Chamber of Commerce on Friday recognized Dobbins with its "Business Person of the Year" award.
Dobbins said the company's success is due to a talented management team, dedicated employees and the high-quality apples from so many excellent local growers.
"We have a great team here," Dobbins said. "I wouldn't be doing what I am without them."
Lyndonville has proven to be a great location for the business because the company is nestled nicely in the Lake Ontario fruit belt with growers from Niagara, Orleans, Monroe and Wayne counties.
Those farmers have switched in recent years to popular varieties such as Honeycrisp and many have planted high-density orchards which boosts the yield per acre.
"The growers around here are top-notch," Dobbins said. "They have the new varieties and systems."
Dobbins works with about 30 farms, but about 10 supply most of the 1 million bushels packed and shipped from Dobbins each year.
Those apples are packed for well-known customers including Costco, Sam's Club, Aldi and the Stop & Shop grocery chain.
There used to be many more packing houses in the region, but many consolidated with larger packing houses serving many farms. Dobbins said his company's goal is to operate as efficiently and inexpensively as possible to be in the best position to serve the apple growers and Dobbins' customers.
The packing houses have become high-tech with CA storage that effectively put apples to sleep to allow some of the fruit to be stored for nearly a year. That happens by dropping the oxygen levels to about 2 percent (compared to 20-21 percent of the air people breathe). The CA rooms also have carbon scrubbers that drop CO2 levels to about 2 percent.
The CA storage rooms release nitrogen that displaces oxygen. The new rooms are airtight without leaks. Some of the older CA rooms aren't as tight and cost more to run.
Dobbins is looking to upgrade its packing house even more. The company plans to replace a packing line next year with new technology that can detect internal and external blemishes on fruit.
Dobbins has 75 workers and many work on the packing lines, sorting out fruit that doesn't quite look perfect. The new packing line will have a defect sorter that quickly scans for exterior imperfections in fruit. The big advantage to the technology will be seeing problems inside the fruit, such as water coring, that aren't detectable to the human eye.
Dobbins said the new line won't displace workers. They will instead be packing boxes and bags of fruit. The new line will increase the volume from 140 bushels packed per hour to 900 bushels, Dobbins said.
The new packing line will require an addition at the West Avenue complex. It will replace a packing line that is 20 years old.
Dobbins said there have been numerous technology innovations in the packing industry, from production lines to building designs.
The industry has also experienced major changes in food safety, from establishing standards for traceability to how workers handle fruit. (Visitors also must sign in, wear company-issued coats and either hair nets or hats. They also need to answer questions about any recent illnesses and medication they are using.)
With traceability, Dobbins can tell which bag of apples comes from which farm, and can even say which field it came from. Every bin of apples delivered at Dobbins is labelled by the farm. When the apples are packed and bagged, there will be a record on the bag noting which farm the apple is from. Should there ever be an outbreak of a foodborne illness, Dobbins can trace it to the farm.
Dobbins has two employees dedicated to food safety and five more that work in quality control.
"The consumer should feel very good," he said about the many safety steps taken by Dobbins and the industry.
Dobbins about five years ago also merged its sales division with United Apples Sale Inc. to create United Apple Sales.
That company has boosted the exports for Dobbins. The company also opened a new office last week in the state of Washington, the country's leading apple-producing state. (New York is second.)
Dobbins said the New York apple industry is in a good position. He mentioned a few reasons:
"We have the Great Lakes and rainfall," he said. "We have access to a huge percentage of the population within an 8-hour drive from here. People are becoming more health conscious."