Walking trail at Bullard dedicated to Wayne Burlison and Judy Christopher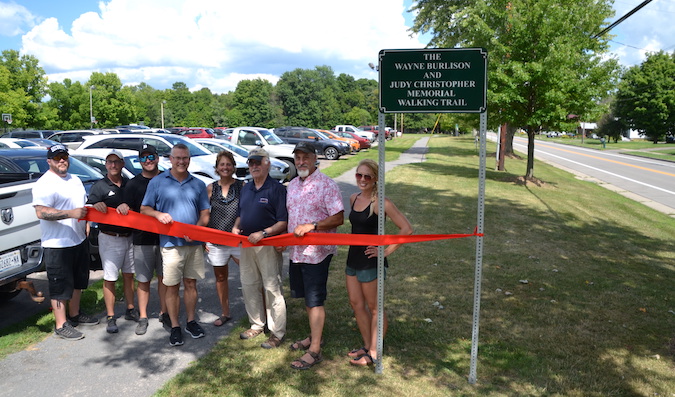 Photos by Tom Rivers
ALBION – There was a ribbon-cutting celebration today for a walking trail along the perimeter of Bullard Park. The 3,800-foot-long crusher-run path is dedicated to the late Wayne Burlison and Judy Christopher.
The Albion Running Club donated $5,000 towards the trail, which was installed last fall by the Village of Albion Department of Public Works, with assistance from a private contractor with a milling machine.
Pictured from left include Village Trustee Tim McMurray, Marc O'Hearn of the Running Club, Village Trustee Zack Burgess, Brian Krieger of the Running Club, Margy Brown of the Running Club, Gene Christopher (Judy's husband), David Cristofaro (Judy's son) and Lindon Morici of the Running Club.
The 5-foot-wide walking trail is part of an $800,000 improvement project at Bullard, a village park on Route 31. Other upgrades include a new splash park, amphitheater, utility building with bathrooms and a pavilion.
The trail is in memory of Wayne Burlison, an Albion elementary music teacher who died at age 36 from colon cancer on March 26, 2014. Burlison was an active member of the Albion Running Club and he promoted fitness in the community and led a Couch to 5K program called Run for God.
Christopher ran Phoenix Fitness in downtown Albion and organized the first 19 Strawberry Festival races. She started the 5k and 8k races at the festival initially to give members of the gym needed a fitness. Christopher passed away from cancer at age 70 on Aug. 3, 2013.
Her family also ran the Four C's Marina for many years. Judy also was the first woman elected to serve on the Albion Town Board. She was a long-time member of the Albion Rotary Club and served on the Swan Library Board of Trustees.
Cristofaro recalled his mother's famous quote to "just keep moving." She would be thrilled people have a nice path to go for a walk or jog around Bullard.
"It's beautiful," Cristofaro said about the new trail. "It's awesome."
Krieger followed Christopher as the Strawberry Festival race director for several years. He was close friends with Burlison. The two teamed to lead the Run for God program.
"This is a wonderful opportunity for people to keep moving," Krieger said. "It's a great memorial to two wonderful people from Albion."