Waldo scarecrow is on the move in Albion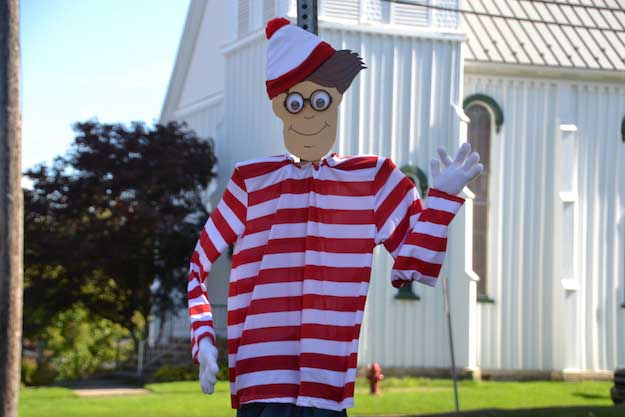 Photo by Tom Rivers
ALBION – Where's Waldo? Today he is on East State Street in Albion, between the Orleans County Courthouse and the Albion Free Methodist Church. He has already been in several spots in Albion the past week.
Waldo was created by Matt Hand, his wife Crystal and their daughters. The Hands each year have created a scarecrow for Albion's scarecrow contest in the downtown. Last year they made a Pennywise scarecrow from the movie It. The first year for scarecrow in 2016, the Hands made a witch hanging sideways from the light pole on Main Street.
The family helped organize the scarecrow contest for the Albion Merchants Association about a week ago.
Last year, Pennywise was moved around town and Matt wanted a traveling scarecrow again this year.
Waldo isn't just roaming a few blocks. He has been in the downtown, on Route 31 and near Walmart before his stop by the Courthouse today.
Matt said he wanted a friendlier scarecrow this year that schoolkids could look for on their bus rides.