Volunteers tackled trash in canal communities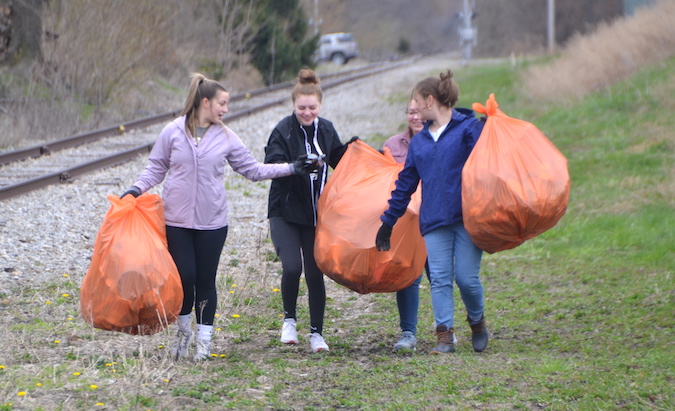 Photos by Tom Rivers
ALBION – Volunteers have been out in canal communities throughout the state this weekend as part of Canal Clean Sweep.
This photo shows four Albion High Schools students carrying big bags of trash they picked up along the railroad tracks in Albion. These students include Sydney Mulka, Lucy Rivers, Audrey Pask and Leah Kania. They were joined by Albion Interact Club advisor Tim Archer and some members of the Albion Rotary Club. They picked up nine bags of trash.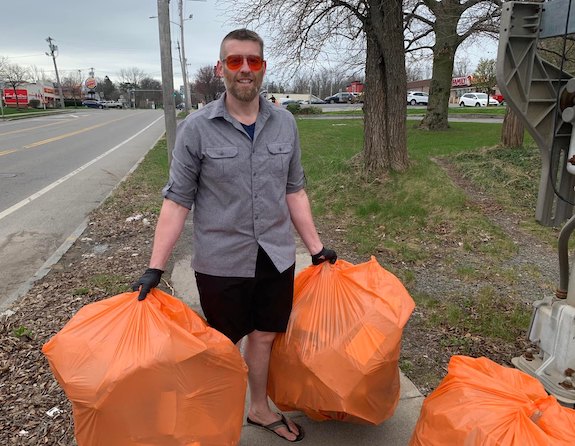 Robert Batt, director of the Cornell Cooperative Extension in Orleans County and a member of the Albion Rotary Club, filled three bags of trash. He was joined by his wife and daughter in picking up litter along the railroad tracks, just west of Main Street.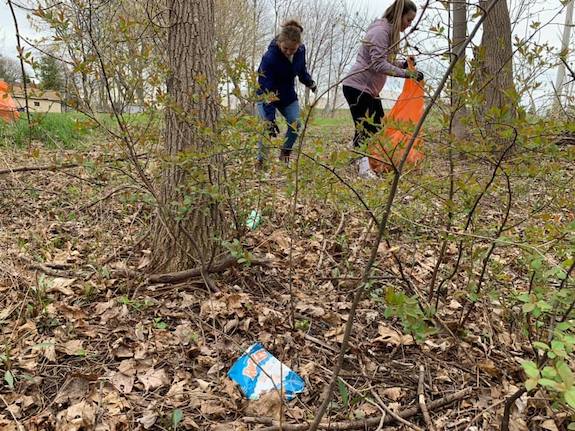 Leah Kania and Sydney Mulka hunt for trash along Platt Street near the railroad tracks.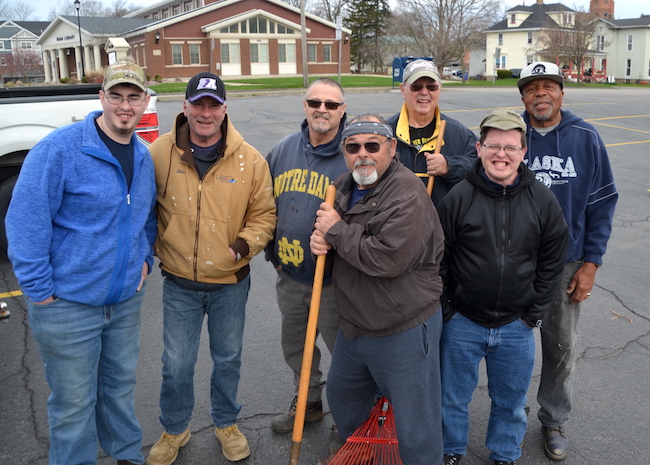 The Albion Lions Club also went out and cleaned up several sites on Saturday. This group includes from left: Ben Lennox, Ron Albertson, Kevin Howard, Mark Johnson, Bill Robinson, Jonathan Doherty and Henry Smith Jr.
The Medina Rotary Club also cleaned up trash and debris on the north side of the canal from Fruit Avenue bridge to Marshall Road bridge on Saturday.
The Doherty family and friends picked up on litter near the Brown Street bridge in Albion for the Canal Clean Sweep.
Other upcoming events include:
Medina Lions Club will be doing its Environmental Cleanup Day from 9 to 11:30 a.m. on May 7. Volunteers will meet at the Canal Lift bridge on North Gravel Road and then be assigned areas along the canal and village public areas to clean up trash and spread mulch.
The Holley Rotary Club and Holley Interact Club from 8 a.m. to noon on April 30 will gather with other community members to walk the canal the length that spans the school district. They will cover from the public boat launch on County Line Road at Route 31 to Transit Road. Teams will work from bridge to bridge picking up trash. If there are enough volunteers, they will try to cover the entire village for clean up as well. Volunteers are meeting at the Holley High School parking lot and disperse from there.