Volunteers have 100-plus baskets, lots of cookies ready for Sunday's Puerto Rico benefit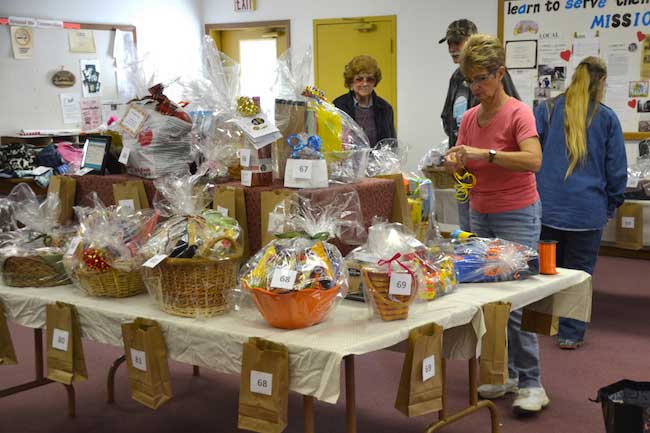 Photos by Tom Rivers
CARLTON — Laurie Frederick works on a table full of baskets that will be raffled off on Sunday as part of a fundraiser for the community of Moca in Puerto Rico.
The Carlton United United Methodist Church is hosting the fundraiser from 1 to 5 p.m. on Sunday. More than 100 baskets will be raffled off.
The church and a yoga class led by Pat Haines are leading the fundraiser on Sunday. Betty Garcia Mathewson of Albion is in the yoga class. Her cousin and other family live in Moca on the western side of Puerto Rico.
Betty shared with the yoga class the initial difficulty of contacting family to make sure they were OK after the hurricane hit the island.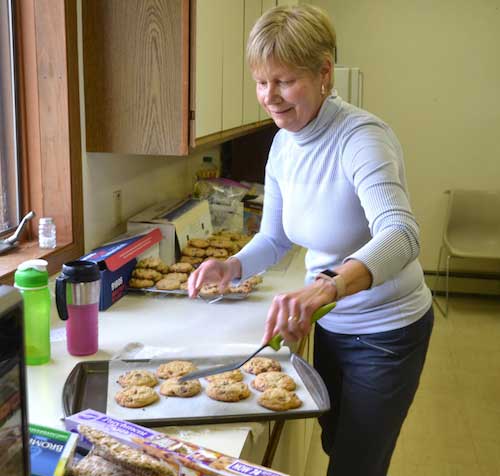 Pat Haines bakes cookies at the church today for Sunday's fundraiser. People who drop often clothing will receive a raffle ticket on Sunday.
Haines said the community has stepped up with many donations so far.
"People have been eager to help," Haines said. "It restores your faith in humanity."
The money raised on Sunday will be wired from the Carlton United Methodist Church to the Centro Cristiano Nueva Vision – the New Vision Christian Center in Moca.
Garcia Mathewson said much of the humanitarian relief is focused on San Juan and the more populated areas in Puerto Rico. She worries especially for the small towns that don't get much media or political attention.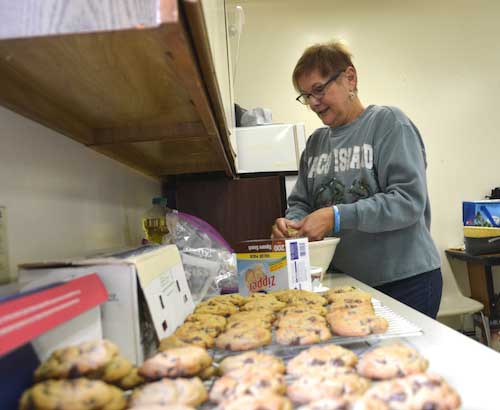 Cindy Chaplin bakes cookies for Sunday's event.
The church is located at 1196 Archbald Rd., Waterport.