Volunteers enjoy meeting visitors at Lighthouse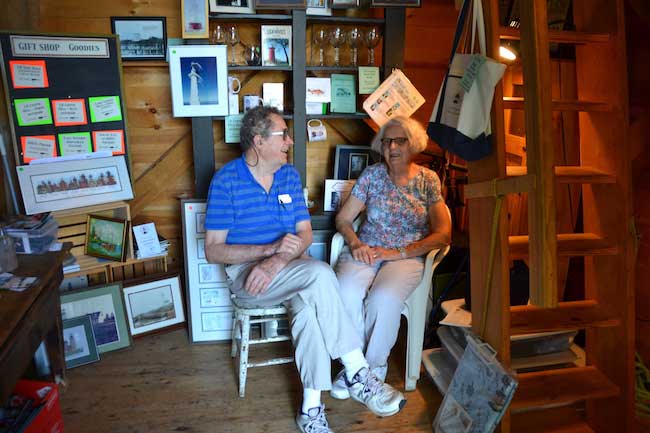 Photos by Tom Rivers
POINT BREEZE – Neil and Joanne Johnson of Albion welcomed visitors to the Oak Orchard Lighthouse at Point Breeze on Sunday afternoon to see the small museum and gift shop.
The Albion couple volunteers for about three hours on Sundays at the lighthouse and typically greets about 20-25 people.
"We like lighthouses and we like meeting people," said Mr. Johnson, who is the Albion village historian. "It's the best job you can have. You meet a lot of nice people."
The Oak Orchard Lighthouse Museum is open during the summer on Fridays from 6 to 8 p.m., Saturdays from noon to 4 p.m., and Sundays from 1 to 4 p.m.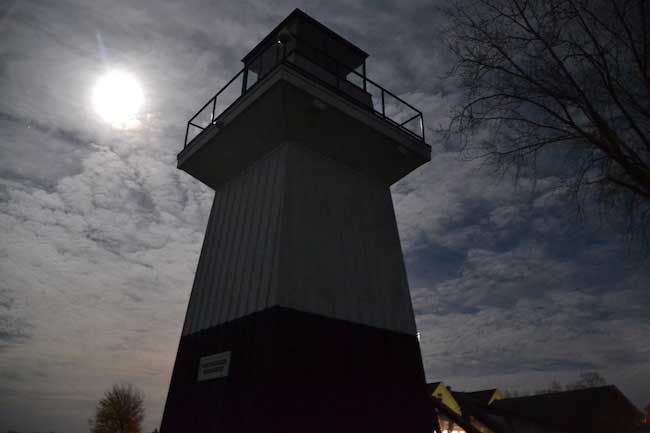 The Oak Orchard Lighthouse is pictured on Nov. 14, 2016 during the "Supermoon." This was brightest and largest the moon has appeared since 1948, according to NASA. There won't be another supermoon like this until 2034, NASA said.
Volunteers with the Oak Orchard Lighthouse Committee pushed to build the lighthouse, which is a replica of a structure built in 1871 at Point Breeze. The original was toppled in a windstorm in 1916.
The new 35-foot structure was built in 2010 with community donations and a state grant. The Oak Orchard Lighthouse has become an iconic symbol for the county and the Point. It is featured in many of the county's tourism promotions.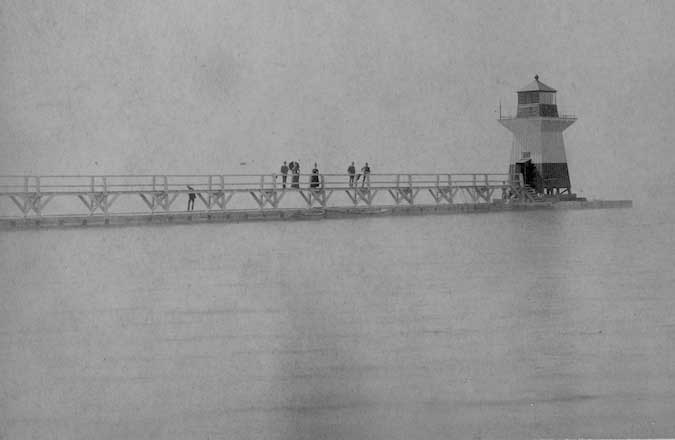 Photo from Orleans County Department of History: This photo shows the original Oak Orchard Lighthouse, which was built in 1871 on the pier on the west side of the Oak Orchard River.
This picture, taken around 1900, shows people standing along the piers that extended about 1,600 feet out onto Lake Ontario.
The Point Breeze Lighthouse was accompanied by a light-keeper's home located on the western shore of the river.
During a storm in 1914, the lighthouse was severely damaged and with no available funding to provide necessary repairs to the lighthouse, it remained in place to suffer the continued effects of Lake Ontario, County Historian Matthew Ballard wrote in his "Overlooked Orleans" column in the Orleans Hub.
"Finally, a storm on December 28, 1916 delivered the final blow and swept the entire structure and a portion of the pier into the lake," Ballard said.