Vision Board provides inspiration for adventure, happiness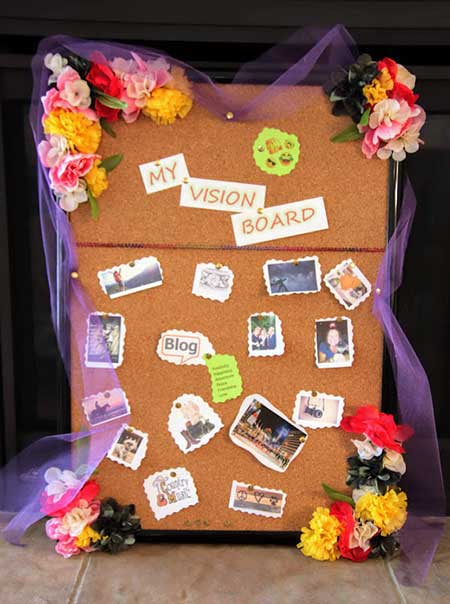 What an unusual concept. When I first heard about the Vision Board a few years back, I thought "different strokes for different folks", right? I could not quite grasp the benefit of putting pictures on a board and how that could help make dreams come true.
That changed early this fall. Like many of us, I was talking the talk and not walking the walk. It was time to start doing some of the things that I always thought and talked about, but never did. Maybe I was afraid or maybe I was just being lazy. Yep, I said it, Lazy.
So one day I got a cork board and decided to give the Vision Board a try. I had nothing to lose, but everything to gain. I decorated it pretty and took the time to think about what I wanted to do in the near future. A bucket list of possibilities and happiness.
You see I turned a corner on February 2, 2016. That was the day our house was damaged by a fire. We were forced out of our comfort zone of work and binge TV. Our routine had changed. We got moving and had a new goal. It was time to rebuild our home so we could live there again.
I remember thinking even though it was an unexpected situation there was a silver lining… it gave me motivation again for something new. Not that pulling wires in our gutted out house in 20-degree weather was fun, but it forced us to get out of our comfort zone.
Well three years had passed and I did not want to lose that zest for trying new adventures so I turned to the Vision Board. See the middle of my board? It says "Blog."
I find the Vision Board keeps my eye on the prize. Some of the items on the board have been started and others WILL be done in the future. It is kept near to me to remind me what is important – Positivity, Happiness, Adventure, Peace, Friendship, Love. Anything that goes on the board has to be in that spirit.
As we all go into 2020, not only a new year, but a new decade, consider creating a Vision Board. The time and thought put into it may be the beginning of a whole new slice of happiness. Somethings you try may not be what you thought, but at least you tried. However, other adventures will be more fantastic than you even imagined!
The only way to discover new levels of happiness is to put yourself out there. Out of your comfort zone. Because as the saying goes "The true failure in life is not trying at all". Resolve to try in 2020 🙂
Happy Perks to Everyone! To view My Blog live online and share Your Visions Of Possibilities just go to https://www.positiveperksposts.com were you can also Join in, Like and Share Your Comments.
Truly,
Debbie Burgoon London
Your Sassy Small Town Missus from Albion