VFW's Strickland Post marks 75 years in Albion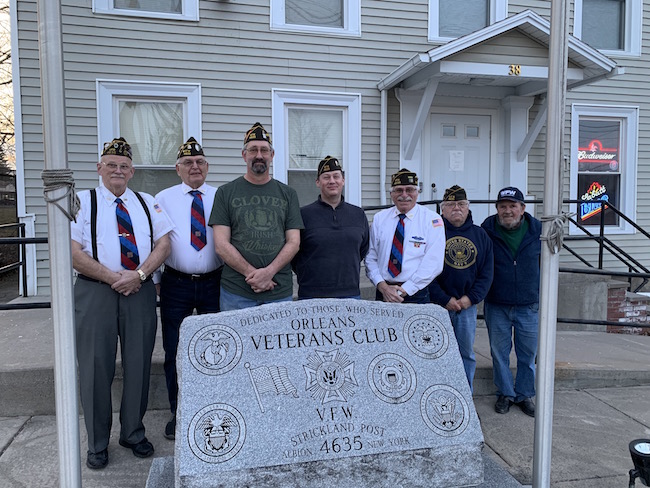 Photos by Tom Rivers
ALBION – The VFW Post in Albion reached its 75th anniversary on Nov. 19, 2020. The Post hasn't been able to have a celebration for the milestone due to Covid-19 restrictions and concerns. However, the Post's leaders on Wednesday acknowledged the 75 years during its monthly meeting.
Pictured outside the Post on Platt Street include from left: Orville Preston, chaplain; Mike Donahue, trustee; Mark Roberts, past commander; Matt Passarell, current commander; Joe Gehl, trustee; Kevin Christy, quartermaster; and Gary Befus, trustee.
The VFW Post works with the American Legion on setting flags on about 2,000 veterans' graves annually. The VFW also provides scholarships and helps organize the annual Memorial Day observance.
Matt Passarell, the current commander, praised the efforts of the VFW members since the post's founding. He thanked the current members for continuing to serve at the post and serve the community.
"The 75th anniversary is an impressive milestone," Passarell said during Wednesday's monthly board meeting. "A lot of this can be attributed to people from long ago who wanted a VFW post in Albion."
The Veterans of Foreign Wars national office recognized the local VFW with a Diamond Jubilee Award on Nov. 19, which was the 75th anniversary of the post's founding.
"In special commemoration and grateful recognition of its seventy-five years of exceptional service to the nation and its veterans throughout its seven and one-half decades of dedicated support for the programs and purposes of the Veterans of Foreign Wars," the citation read.
Harold "Hal" Roesch, II, commander-in-chief of the national VFW, sent a letter of congratulations to the VFW.
"The members of VFW Post 4635 are a pillar of support for Albion, New York," Roesch wrote in his letter. "Year after year, you have provided superb public service to others. You provide an invaluable network of service to those who have borne the battle, as well as to their families, and you advance the health and well-being of those who bear the burden of defending our nation and our way of life."