VFW Auxiliary discusses stars and stripes with kindergarteners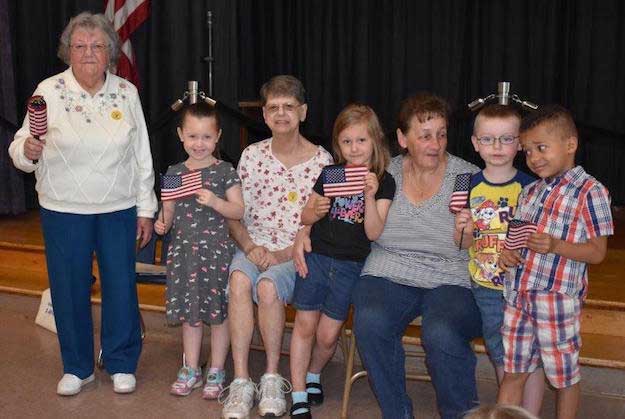 Provided photos
ALBION – Members of the VFW Auxiliary Strickland Post #4635 paid a visit to the Albion Elementary School and met with kindergarten students today.  Corinne Padura, left, read a book to the students about the origins of the American Flag as well as the symbolism of the stars and stripes.  She talked about the importance of respecting the flag and proper care of the flag.
The top photo shows the VFW Auxiliary members with students in Mrs. Perry's class. The group includes, from left: Corinne Pahura, Payton Babcock, Sue Boyce, Olivia Ginger, Debbie Ashe, Dalmas Weese and Edwin Dudley.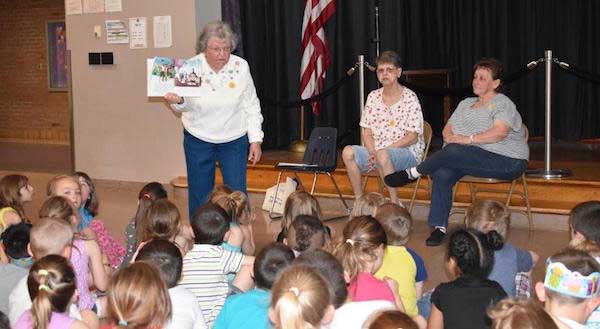 Corinne Pahura reads a book about the origins of the flag to the entire kindergarten class. She was a former kindergarten teacher.
Students sang "We Love Our Flag" and recited a poem about the flag.
Red, white and blue,
These colors run true;
Red, white and blue,
waving I love you!
At the end of the program each child received a flag.  Students will use these flags during their annual Flag Day program on June 14. This community outreach effort is part of the VFW Auxiliary Americanism program.