VFW and American Legion in Medina honor Jim Freas
'He is the glue that keeps us all together' – VFW commander Dan Anderson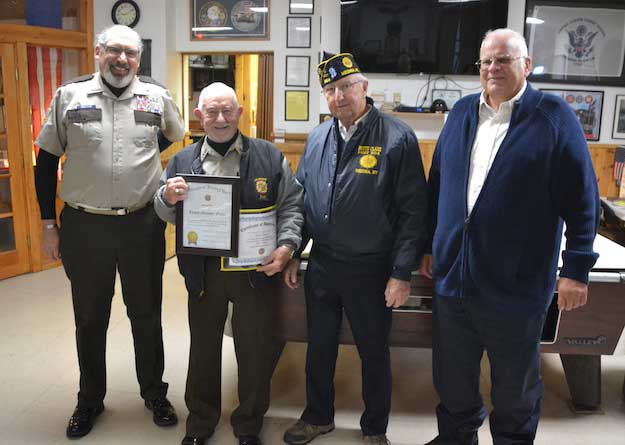 Photo by Tom Rivers
MEDINA – Leaders of two veterans' organizations in Medina today presented awards to Jim Freas for his service to veterans.
Freas, a Vietnam War veteran, is past commander of the VFW and Legion in Medina. He also is involved with the Marine Corps League based in Albion.
Pictured from left include Dan Anderson, VFW commander; Jim Freas; Glenn Whitmore, Commander of American Legion Post #204 in Medina; and Steve Johnson, vice commander of the Legion in Medina.
Click here to see a video of the awards presentation.
Freas, 80, is a past commander of both the VFW and American Legion in Medina. He also was county commander of the Legion for Orleans County. He served in the Marine Corps from 1956 to 1969 and did two tours of duty in Vietnam. After Vietnam, he joined the Army Reserve for 10 years.
Freas is in the Honor Guard and attends about 50 funerals for veterans each year. He helps contact veterans to make sure they have a presence at funerals for veterans.
He also is the emcee of the annual Memorial Day observance at State Street Park and contacts the veterans' organizations for their role in the event.
Dan Anderson, commander of the VFW, presented an award to James "Gunny" Freas for "meritorious and distinguished service" to the VFW Lincoln Post # 1483 and the VFW of the United States.
The American Legion in Medina presented Freas with a "certificate of appreciation" for his many years of dedication to the Legion and the country. The certificate was signed by Glenn Whitmore, Legion commander, and Steve Johnson, Legion vice commander.
Anderson of the VFW moved to Medina six years ago after 23 years in the military. He said Freas was the first one to welcome him to the community and the VFW.
"He has done so much for the veterans around," Anderson said about Freas. "If anyone has a question about the VFW or Legion, he knows the answer or will find out. He is the glue that keeps us all together. Jim seems to be everywhere."
Freas said he enjoys the time with the veterans in the organizations. He praised the veterans for attending the funerals, often in rainy and cold weather.
"We have a good bunch with a lot of dedicated guys," he said.
He welcomed more younger veterans to be part of the Honor Guard, which attends funerals and other functions.
Freas has attended all 12 Patriot Trips led by State Assemblyman Steve Hawley, where about 100 people go annually to see memorials to veterans in Washington, D.C. Freas helps as a guide and also raises money to cover some of the costs of the trip.
He was asked why he is so involved in the many efforts.
"I do it for the veterans," he said.