Veterans in Medina give American flags a fitting retirement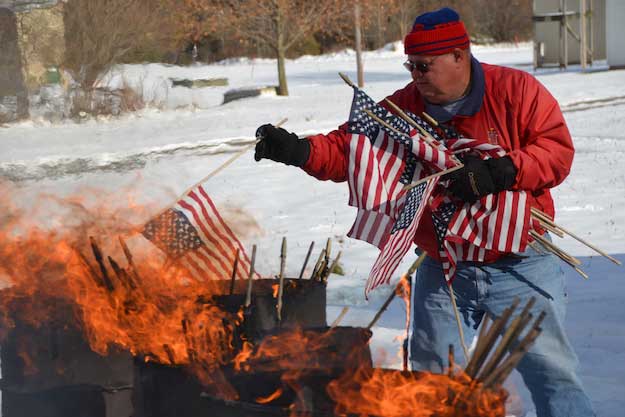 Photos by Tom Rivers
MEDINA – Larry Szatkowski sets flags in a barrel on Saturday morning at the Conservation Club on Bates Road in Medina.
Veterans in Medina retired more than 1,000 American flags on Saturday, after collecting them earlier in the morning from local cemeteries. Those flags were placed there by veterans and Boy Scouts in May, prior to Memorial Day.
There were also bags of worn flags that were turned in by residents at drop-off locations at KeyBank, Medina Savings and Loan (Generations Bank), Ace Hardware, the VFW on East Center Street, the American Legion on North Main Street, and Veterans' Service Agency office on Route 31 in Albion.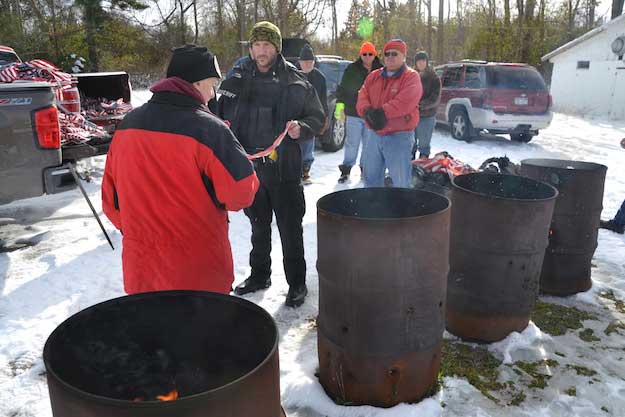 There was a ceremony prior to flags being put in the barrels, where one  flag was cut, including the stars and 13 stripes. In this photo Deputy Steven Fox of the Sheriff's Office, a five-year Marine Corps veteran, holds a red stripe of a flag with Jim Freas.
The veterans first recited the Pledge of Allegiance and then stood in silence until the entire flag was consumed by the flames.
The seven red stripes and six white stripes together they represent the original 13 colonies.
"The red stripes remind us of the lifeblood of the brave men and women who were ready to die for this, their country," said veteran Dave Kusmierczak. "The white stripes remind us of purity and cleanliness of purpose, through word and deed."
The stars represent the 50 states of the country. "The blue is for truth and justice, like the eternal blue of star-filled heavens," Kusmierczak said.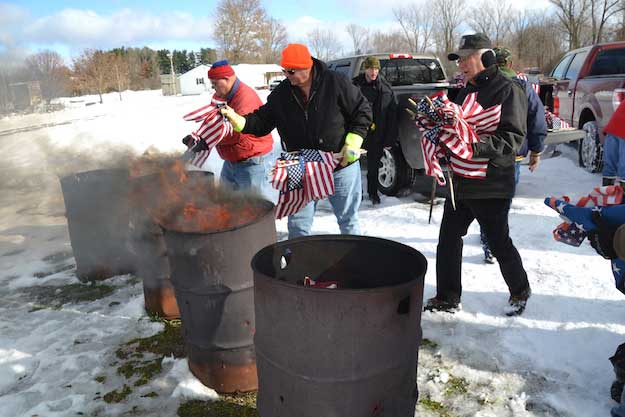 These veterans – Larry Szatkowski, Steve Johnson and Legion commander Glenn Whitmore – bring flags to be retired in the burn barrels. The Medina veterans do flag retirement ceremonies at least twice a year, with another event near Flag Day in June.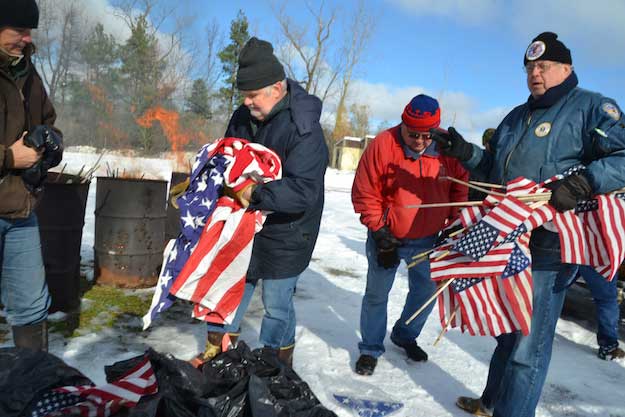 Peter Huth, left, and David Kusmierczak bring flags for the retirement. The veterans said it is disrespectful to have worn and tattered flags at veterans' graves. New flags will be put out in May at veterans' graves at local cemeteries.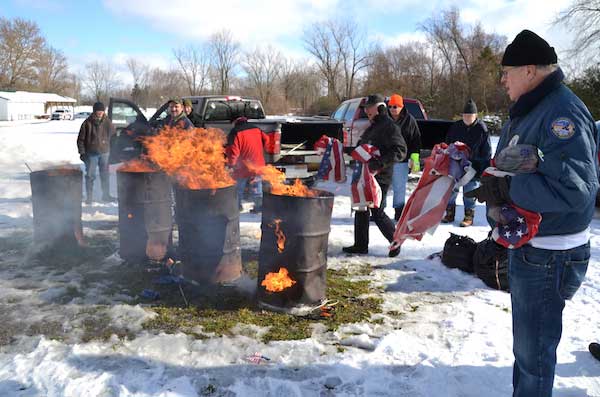 Dave Kusmierczak, a member of the American Legion and VFW, has been part of the flag retirement ceremonies for about a decade.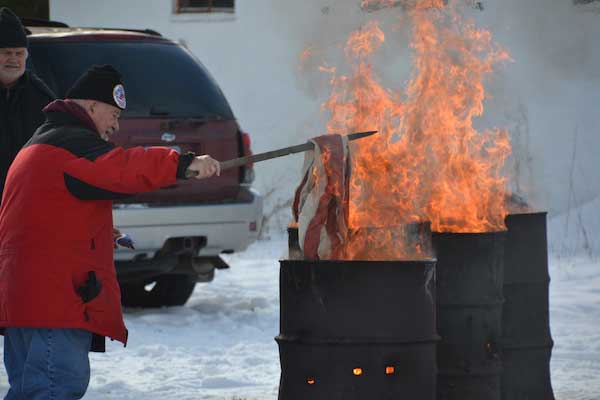 Jim Freas, past commander of the VFW and American Legion in Medina, puts a flag in the fire. The proper way to dispose of a flag is by burning or burying.
To see a video of flags being retired, click here.