Veterans gather to recognize 75th anniversary of Pearl Harbor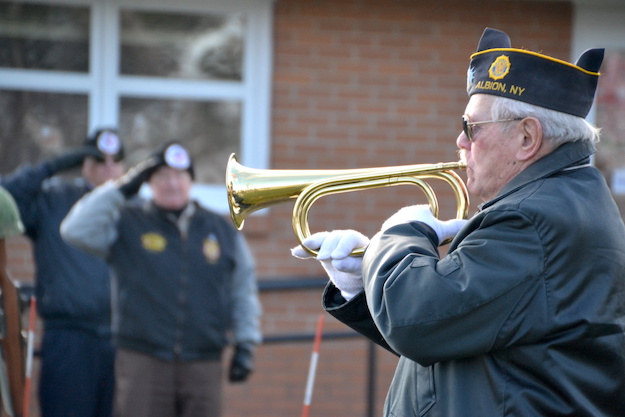 Photos by Tom Rivers
ALBION – Jim Baron of Albion plays Taps today at the conclusion of a 75th anniversary memorial service in honor of the 2,403 Americans killed in the attacks at Pearl Harbor.
Veterans and some elected officials gathered just before 1 p.m. today at the Orleans County Veterans Service Agency on Route 31 for the service.
The surprise Japanese attacks on Pearl Harbor brought the country into World War II. In addition to 2,403 Americans being killed at Pearl Harbor, another 1,178 were injured.
It was the deadliest attack on American soil until the Sept. 11, 2001 terrorist attacks.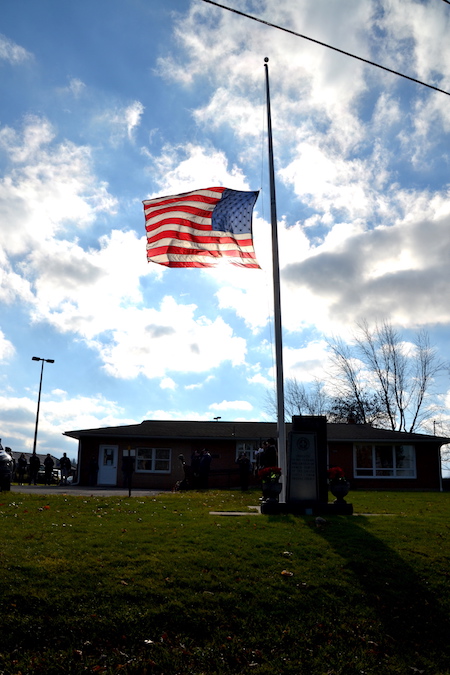 The American flag is at half-staff on the 75th anniversary of the Pearl Harbor attacks. The flag is at the Orleans County Veterans Service Agency, 13996 Route 31 West.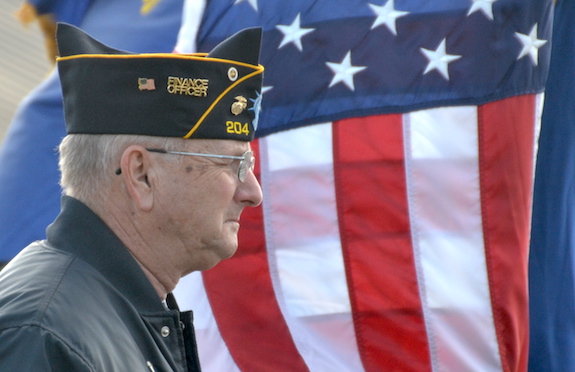 David Morien of Medina was part of the Honor Guard during today's service.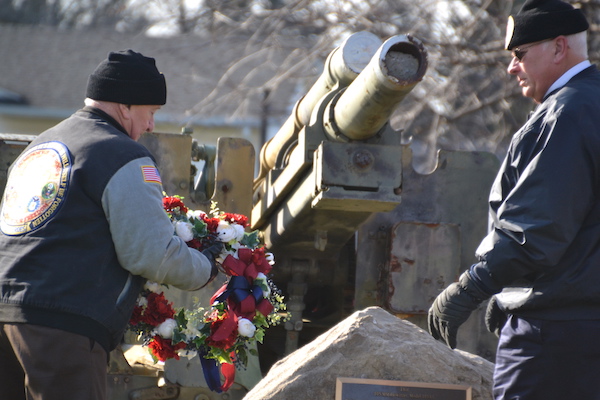 Jim Freas (left), commander of the VFW in Medina, and Steve Johnson, commander of the American Legion in Medina, carry a memorial wreath that they placed on the 105 mm howitzer which was used in the Korean War. That cannon was dedicated at the Veterans Service Agency on July 27, 2003, the 50th anniversary of the end of the Korean War.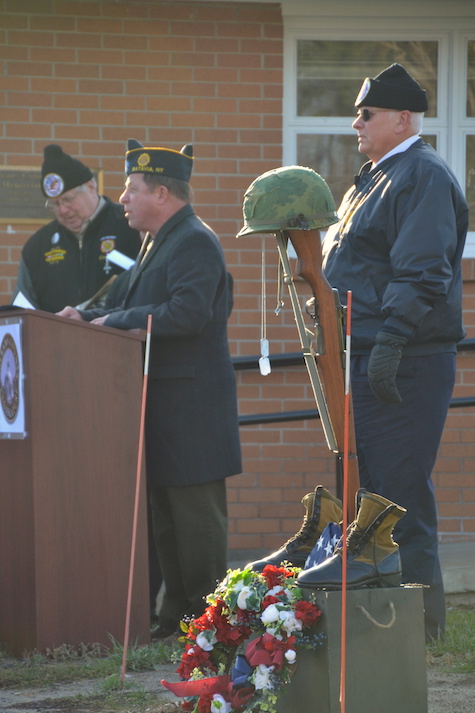 State Assemblyman Steve Hawley speaks during the service. He issued this statement about the 75th anniversary of Pearl Harbor:
"The surprise attacks on the Pearl Harbor Naval Base in what is now Hawaii represent a crucial time in U.S. military and world history. More than 2,000 brave men and women lost their lives defending our sovereignty and freedom and their service will never be forgotten. Despite the shameless attack on the American stance of isolationism, our military quickly mobilized and defeated the forces of Nazism and Fascism during World War II.
"As the son of a veteran and veteran myself, I have always championed taking care of our servicemen and servicewomen as one of my top priorities in Albany. I have pushed for legislation to exempt veterans from admission to state parks and facilities, held events to teach local veterans about business ownership, and helped usher in the Veterans Buy-Back bill.
"It is paramount that we remain vigilant in our war against evil in today's world, and the attacks on Pearl Harbor serve as a lesson that there will always be challenges to our democracy but through strength and determination, our way of life will prevail.
"I would like to thank and commend any surviving World War II veterans and their families and commemorate this special day in American history. Please take a moment on Pearl Harbor Day to remember those who perished in this tragedy and thank a veteran close to you in your life."
Gov. Andrew Cuomo issued this statement today about Pearl Harbor:
"Today, we mark the 75th anniversary of the attack on Pearl Harbor. In commemoration of the courage and valor shown by those who answered the call to protect our nation, we acknowledge and honor the more than 2,400 who made the ultimate sacrifice.
"On this day of infamy we are all reminded that 'freedom is not free.' Yet, it provides us with an opportunity here in New York to ensure those who have fought and continue to fight for the values this state and nation were founded upon are treated with the dignity and respect they deserve. That's why New York remains committed to providing full access to quality services and supports for all our U.S. Service members and Veterans.
"This day weighs heavy on the hearts of all Americans. While we can never repay those who gave their lives in defense of liberty, justice and democracy, we can honor their sacrifice by working together to ensure the ideals and freedoms we cherish always ring true."