USDA announces food box program to end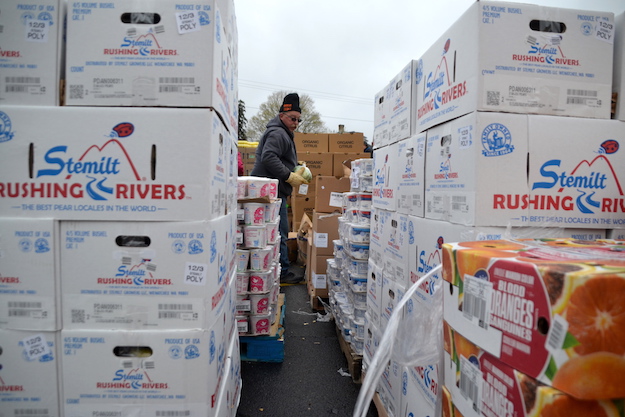 Photos by Tom Rivers
ALBION – Greg Gilman, an employee with Community Action of Orleans & Genesee, helps with a food distribution this morning in Albion. The federal government has funded the program since last April but announced it won't continue after May.
"This helps hundreds of families every week," said Annette Finch, emergency services coordinator for Community Action.
The program has been going most Fridays in Orleans County since April 2020. People line up in vehicles often by 5:30 to 6 a.m. for the distributions that are scheduled to start at 8 to 8:30 a.m. There are usually 300 boxes of food each week, but sometimes there are more, including today when the usual 20-pound box was supplemented with oranges, pears, Brussels sprouts, hummus and eggs.
"We never know what we're going to get until they pull up here," Finch said about the delivery trucks.
The schedule the next two weeks includes:
April 23, Orleans County Cornell Cooperative Extension, 4-H Fairgrounds on Route 31 in Knowlesville
April 30, Community Action Main Street Store, 113 South Main St., Albion
Tom Vilsack, USDA secretary, announced this week the fresh produce boxes will be delivered as part of the Emergency Food Assistance Program where they can be delivered more efficiently with less waste and at a lower cost.
The "Families Food Box Program" had five rounds and delivered 157.1 million boxes of fresh produce, milk, dairy and cooked meats to Americans across the country.