United Way sets $235K goal to support 16 agencies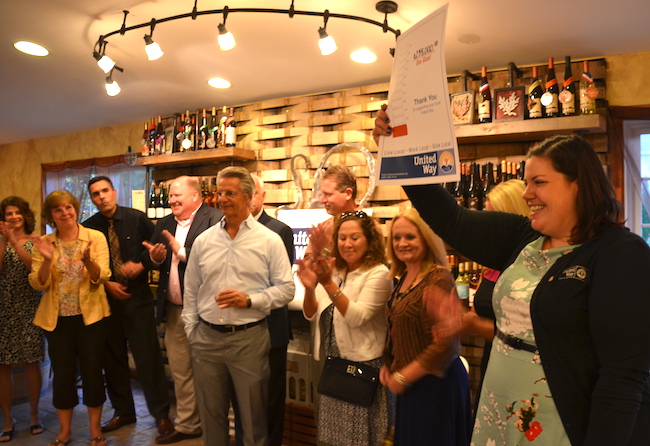 Photos by Tom Rivers: Jessica Downey, the United Way of Orleans County executive director, announces the $235,000 fund-raising goal during a kick-off event Thursday at Leonard Oakes Estate Winery in Medina. Members of the board of directors are pictured with her.
MEDINA – The United Way of Orleans County is asking residents to open their hearts and wallets to support 16 agencies that receive funds through the annual fund-raising appeal.
The United Way kicked off the campaign on Thursday with a $235,000 goal. The money supports agencies that serve youth, senior citizens, people with disabilities and people in crisis.
Jessica Downey, the United Way's executive director, said the campaign can bring needed funding to the agencies. United Way has reduced its goal from $279,104,98 last year and $325,000 two years ago.
Orleans County has experienced population loss, which has hindered efforts to reach previous goals, Downey said during a kick-off event at the Leonard Oakes Estate Winery. Some of the appropriations to member agencies have had to be reduced, but Downey said the new goal represents a realistic target for the community.
She is the lone full-time employee for the United Way, which has moved to a rent-free office at CRFS, where Downey was a vice president. She said United Way doesn't have any frivolous spending and is dedicated to helping the local agencies.
The agencies said the United Way funding is important for them to carry out their work.
"We don't get any money from the government," said Nyla Gaylord, the director of development for the Genesee-Orleans Ministry of Concern. "We are extremely bare bones. There is nowhere left that we can cut."
The United Way funding helps support the Just Friends mentoring program through GOMOC and also the furniture program, where the Ministry of Concern picks up donated furniture and delivers it to residents who need stoves, refrigerators, couches and other larger household items.
"A lot of people we serve are working poor and they fall through the cracks," she said.
Mary Lee Knights is president of the Orleans County Adult Learning Services, which provides tutoring and family literacy programing. It has 22 tutors and 15 students in the adult literacy program and 11 tutors in the family literacy program.
OCALS provides its services for free, but needs United Way support for three part-time employees as well as educational materials. Knights said the United Way funding helps the agency in its mission. Those educational services help people develop skills and become more self efficient.
Some workplace campaigns have already begun, and Downey welcomed any business or group to invite her to give a presentation. She can be reached by email at jdowney@orleansunitedway.org. (She also said retired residents are welcome to give. Anyone can send a contribution to the United Way of Orleans County at P.O. Box 468, Albion, NY 14411.)
David Cook is chairman of the board of directors. He said many of the county's largest companies have representatives on the board, including the leaders from CRFS, Brunner, and Takeform Architectural Graphics. There are also representatives from the Lyndonville and Kendall school districts, Iroquois Job Corps Center, Pawlak's Save-A-Lot, Bank of Castile, Orleans Community Health, The Daily News of Batavia, and the Catholic Family Center.
The kickoff event also included representatives from Baxter in Medina, which has been critical to the most recent campaigns, with fund-raising there topping $60,000.
Cook of Lyndonville was working at Kodak 25 years ago when he led a workplace campaign in his department. He has stayed committed to United Way. He now works as territory manager for Innovative Surface Solutions. He said he travels the county and region and sees the need.
The agencies that benefit from the campaign include:
4-H Youth – Cornell Cooperative Extension; Arc of Orleans County Camp Rainbow; Arc of Orleans County Meals on Wheels & Nutri-Fair; Boy Scouts of America – Iroquois Trail Council, Inc.; Christ Church Community Kitchen; Community Action – Main Street Store Employment Support Project; GCASA; Girl Scouts of Western New York; Hospice of Orleans Martin-Linsin Residence; Ministry of Concern; Orleans County Adult Learning Services; Regional Action Phone; Senior Citizens of WNY; YMCA; Just Friends; Medina Youth Commission; Independent Living of Genesee Region; Community Action: Holley Community Center; Ministry of Concern, Last Resort; and the Town of Yates, Summer Recreation Program. Donors can also request their donation go to another agency.
For more on the United Way of Orleans County, click here.