United Way receives $10k grant for IT upgrades
Press Release, United Way of Orleans County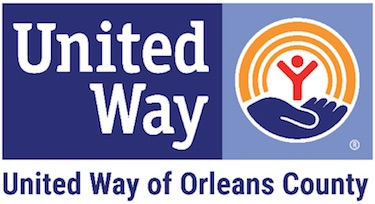 MEDINA – United Way of Orleans County announces a $10,000 grant award from United Way Worldwide's Covid-19 Community Response and Recovery Fund.
This grant was awarded to 175 United Ways across the United States and is intended to increase internal capacity and crisis response preparedness, including critical areas such as business continuity planning, IT infrastructure, data security and digital communication platforms.
To date, United Way of Orleans County has provided $144,000 in support to the community in response to the impact of Covid-19.  These funds were used to provide housing stabilization services to help keep families in their homes, utility payments, and food and equipment for community food pantries.
This new grant of $10,000 will position the United Way to better respond to future emergencies by providing funding to purchase technology to facilitate employees working from home.   Although anyone with an internet connection and a computer can work from home, with the correct equipment and IT infrastructure in place, working from home can be even more efficient and secure.
United Way of Orleans County plans to use this fund to purchase VoIP phone systems and services including a cell phone transferring app, a firewall with VPN, professionally installed and monitored antivirus, and organization-wide offsite digital storage.
IT security equals more efficiency and capacity. With this equipment documents can be shared safely with co-workers from home, phone calls can be better identified as work related, and fraudulent phishing emails and malicious webpages blocked. United Way employees can confidently work from home and spend more time helping the community rather than worrying about a large-scale IT disaster.
"United Way of Orleans County is grateful to have the support needed to increase its capacity to better respond to community needs around Covid-19 and other emergencies and disasters," said Dean Bellack, Executive Director of the United Way of Orleans County. "It's not often that organizations receive grant funding that focuses on vital back-office tools such as IT infrastructure, and digital communication platforms and this will allow us to be more agile and responsive."
United Way Worldwide established the Covid-19 Community Response and Recovery Fund in 2020 to meet the unprecedented human services needs that appeared simultaneously in communities around the world because of the pandemic and the resulting economic fallout. To date, $57.3 million has been raised and distributed to more than 650 Local United Ways to serve immediate needs in their communities, impacting more than 20 million lives.
To learn more about United Way of Orleans County or to give, advocate or volunteer, please visit: www.orleansunitedway.org.