United Way leader sees local organization being force for good for years to come
Agency has secured about $1 million in grants, foundation funding for community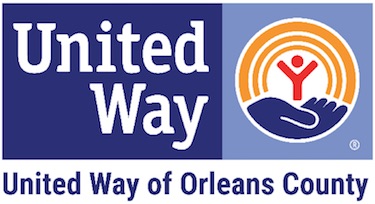 MEDINA – Despite the recent pandemic, during which fundraisers and workplace campaigns were curtailed, United Way of Orleans County has made strides toward meeting the needs of the community. They have continued to raise giving each of the last three years.
And yet, much more remains to be done, and to that end executive director Dean Bellack has embarked on an ambitious program to ensure the agency's sustainability far into the future.
This began two years ago with his vision to look outside Orleans County for funding. Currently, United Way of Orleans County provides funding to ARC of Genesee/Orleans (Camp Rainbow and Meals on Wheels), Community Action of Orleans and Genesee, Genesee Council on Alcoholism and Substance Abuse (GCASA), Genesee-Orleans Ministry of Concern, Supportive Care/Hospice, Orleans County Adult Learning Services (OCALS), Orleans Recovery-Hope Begins Here; Orleans County YMCA; P.Raising Kids Daycare, Project Stork, Care Net and VIA WNY 211. However, since United Way funding is so limited, there is not enough to fund these and other organizations adequately.
Bellack has outlined his quest for moving United Way forward with two documents – one of which is an Impact Report and will be hand delivered to 100 community leaders, and the other a mailing of 1,000 newsletters to residents of Orleans County.
These mailings detail the founding of the Community Chest in 1964, which eventually evolved into United Way of Orleans County. They describe current activities and how Bellack reached out to foundations in Buffalo and Rochester, which resulted in an initial awarding of $144,000 for community agencies.
Subsequent multi-year grant requests were funded, resulting in a $450,000 grant to hire grant writer Matt Holland and fundraiser/event planner Nyla Gaylord, and $364,000 to promote digital literacy in collaboration with Cornell Cooperative Extension. As a result of funding coming to Orleans County through the CARES Act, United Way is currently developing a program to deploy free internet equipment to more than 900 low- to moderate-income households. These are all programs and services that would not have come to Orleans County without the United Way.
The 100 letters introduce the United Way Impact Report to community leaders, asking them to read it, absorb it and truly think what Orleans County would be like with no United Way.
If there were no United Way, Bellack said programs would be forced to cut back on services; some organizations would go out of business; Orleans County would no longer have a free grant writer or digital literacy initiative; our United Way would no longer be an advocate fighting to bring in funding and services that will help improve the health, education and financial stability of every person in the community; United Way would not be there to serve as a trusted conduit for funding from major foundations; Orleans County would no longer have a central point of contact and vehicle for fostering community collaboration to address pressing needs.
The pandemic taught that the United Way plays a critical role in bringing resources to the community and that there are resources and partnerships outside of the county that are willing to help, Bellack said.
Recipients of the 1,000 newsletters will also read about the different ways to give to United Way. Bellack shared a question asked by board member and retired judge Jim Punch.
Why should I give to the United Way?
Bellack's answer was "Because United Way is all-encompassing. Every penny donated to United Way stays in Orleans County unless the donor designates otherwise. You get the personal satisfaction of knowing you are giving to the only charity which impacts the whole community by funding a network of partner agencies. Local funding produces results. Nobody does it better or more cost effectively."
He is referring to the fact that based on last year's income, including grants, administrative costs of United Way of Orleans County were less than seven percent. That means 93 cents of every $1 donated to the agency went to direct services.
"We have five staff members at the cost of one and a half," he said.
Bellack volunteers his time, while event coordinator/fundraiser Nyla Gaylord and grant writer Matt Holland are paid from a grant, as is digital divide coordinator Katie Leach at Cornell Cooperative Extension. The other position is part-time bookkeeper Dawn Winkler. To further cut costs, United Way has moved its office into space next to Dunkin' Donuts in Medina, donated by local car dealer George Bidleman.
The 1,000 newsletters share how several community leaders have attested to the help United Way has given them.
"As in all grant writing, it takes patience and perseverance," said Kathie Valley with P.Raising Kids, a child care center in Medina. "United Way, Dean, Nyla and Matt have stayed by our side in this long journey and blessed us profoundly."
"Matt Holland has been a huge asset to us on the initial phases of a community project," said Marc Shurtz, CEO of Orleans Community Health. "His involvement further shows the strong relationship Orleans Community Health has with United Way."
Lynne Johnson, chairwoman of the Orleans County Legislature, said across this county, United Way is stepping up and helping bridge the digital divide.
"They are our trusted partners on the ground, focusing on education, income and health," she said. "We are stronger together."
Roosevelt Bouie, a Kendall resident and Hall of Fame basketball player for Syracuse University, said he is excited to work with the United Way team to see his dream of rebuilding the basketball courts at Bullard Park in Albion.
"With their help, we are pulling together many different people and resources so that it is now a community project," Bouie said.
United Way sets $250,000 fundraising goal for annual campaign
Bellack stressed how important it is to be effective in our fundraising and to have widespread community support. United Way's campaign goal for 2022 is $250,000.
"We can't have the impact we need to have until we have resources comparable to urban United Ways," Bellack said.
He referenced United Way of Erie County and Buffalo, whose per capita revenue is $24.12, compared to Orleans County, where it is $3.62. Clearly, he said the United Way of Orleans County is underfunded.
The United Way board is playing an active role in developing new community-wide fundraising events. In September, the Orleans County Legislature has announced it will proclaim September as "United Way Month" in Orleans County.
Last year, Mark's Pizzeria in Medina designated a week in September in which they donated $2.00 for every pizza sold to United Way. That resulted in a check for $2,890, and Bellack will be asking other businesses to follow suit during United Way Month. Following United Way Month, United Way will sponsor its annual gala in October.
Another way United Way annually connects with the community is the Day of Caring, scheduled this year on April 22.
"It is the largest day of service in Orleans County and the perfect opportunity to help a non-profit in need of a few extra hands," Bellack said.
Day of Caring promotes the spirit of volunteerism, increases awareness of local human service organizations, and demonstrates how people working together for the common good can accomplish great things.
A major fundraiser for United Way is the annual golf outing, this year taking place June 3 at Shelridge Country Club in Medina.
Bellack's final project is the establishment of an endowment fund that will generate revenue to support United Way operations and new programs in perpetuity. Local contributions to the endowment are critical to helping leverage major donations from area foundations, Bellack said. He said a major foundation, when asked to contribute $1 million to the United Way endowment did not say "no."
"They said, 'Go back to Orleans County and see what funds you can raise there, and then come back to us,'" Bellack said. "Clearly, community support is critical to the long-term survival of United Way and the key to leveraging financial support from outside the county."
There are many ways to make a legacy gift to United Way. It can be as simple as designating United Way as beneficiary to an investment, insurance policy or bank account. Bellack urges everyone to remembering United Way in their will or to consider establishing a named fund to honor a loved one or support a specific service area. Major donors are encouraged to offer a challenge grant to a foundation.
"Together we can make a lasting difference in our community that will endure beyond our lifetime," Bellack said. "This is what motivates me to work so hard to ensure the long-term sustainability of United Way."
Bellack feels a great sense of urgency in establishing the endowment, he said.
"The generation I come from – the Baby Boomers – is retiring and many want to leave an enduring legacy to the community," he said. "United Way is how we can all make a lasting difference in our community."
Convenient ways to donate to United Way of Orleans County, besides a credit card, include Cash App, Text to Give and Venmo. Those who wish to write a check may make it payable to United Way of Orleans County, P.O. Box 188, Medina, NY, 14103
"The United Way is now playing a major role as a change agent in Orleans County," Bellack said. "Our work is advancing 'change thinking' – a new understanding of what is possible if we work together. We are uniting non-profit organizations, county government, local business, and service groups around the shared goal of making Orleans County a great place to live, work and learn for all residents.
Bellack's invitation is, "Join us."