United Way kicks off 'Neighbors Helping Neighbors' campaign
Bellavia gives keynote speech, praising Orleans as a caring community
LYNDONVILLE – The Orleans County United Way kicked off its annual fundraising campaign last week at the White Birch Golf Course in Lyndonville. There were 150 people at the event, which included a keynote speech by Lyndonville native David Bellavia, who was presented the Medal of Honor on June 25 by President Trump for acts of valor on Nov. 10, 2004 in Fallujah, Iraq.
He led an infantry squad clearing houses of insurgents, saving the lives of the members of his unit. He is the first living Iraq War veteran to receive the nation's highest honor for military service.
Bellavia praised his experience in the Army. He now travels the country encouraging people to enlist and serve. He said military service brings together people of varying backgrounds, beliefs and skin color, uniting them in a common goal.
"It could be Philadelphia or Colorado or Medina, no matter where you're from we are one team," he said.
Bellavia said Orleans County has a history of people who serve willingly in the military and in their local communities.
"I'm super proud to be part of this community," he told the crowd. "You raise patriots out here."
Bellavia said Orleans County has always valued veterans and put them "on a pedestal." He sees that pride in the country and for its veterans at the annual Fourth of July celebration in Lyndonville.
Bellavia said small-town Orleans County has hard-working people who strive for a greater good, despite differences.
"There is a standard here," he said. "Democrats and Republicans we don't hate each other much in Orleans County. We're all neighbors."
The neighbors theme was focus of the United Way kickoff.
"It's neighbors helping neighbors, that's what the United Way does," said Dean Bellack, the United Way executive director.
"I want to add one more thing to that: It's neighbors helping neighbors because you never know. You never know when your neighbor will be in trouble. You never know when you'll be in trouble."
He shared from a personal experience how a United Way-funded agency, Hospice of Orleans's bereavement program, assisted his family with the recent loss of a loved one.
The United Way campaign directs funding to 14 agencies: 4-H, Arc of Orleans for Camp Rainbow and Meals on Wheels, Boy Scouts, the Community Kitchen at Christ Church in Albion, GCASA, the Genesee-Orleans Ministry of Concern, Hospice of Orleans, Orleans County Adult Learning Services, Orleans County YMCA, 2-1-1 WNY (which directs people in crisis to agencies), Senior Citizens of WNY, and the Town of Yates Recreation Program. (Other agencies can receive funding if the donor designates.)
Bellack used the kick-off celebration as a chance to recognize businesses for ongoing support, and some for recently running workplace campaigns for the first time.
Baxter Healthcare was recognized with the "Award of Excellence" for running ambitious campaigns for several years. Baxter employees have been the leading donors for United Way.
Baxter was also presented with a "Caring Company Award" for matching those employee contributions.
Roush CPA PC in Medina also received the Caring Company Award.
The following were recognized with "Welcome Awards" for starting new workplace campaigns:  Lake Ontario Fruit, a packing house on Route 104 in Gaines; Orleans Ford in Medina and Bidleman Chevrolet, Buick GMC in Albion; Hinspergers Poly Industries in Medina, Saint-Goblin Adfors in Albion; and Pride Pak in Medina.
The Albion school district was presented with a "Commitment Award" for the school employees' long-standing support of the United Way. Bullock said about 110 school employees give to the United Way.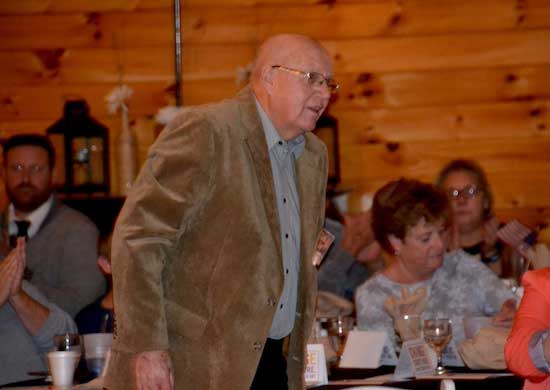 David Green, the retired Orleans County sheriff, received the volunteer of the year award for his efforts to raise money for the United Way with 50/50 raffles at the Classic Car Cruises in Medina. Green has been helping with those events for many years.
The United Way also recognized Chris Leavitt, 14, of Medina as a top volunteer. Chris helped Bellack prepare floats to be in local parades this past year.
For more on the United Way of Orleans County, click here.