Undersheriff injured in accident on 31 in Albion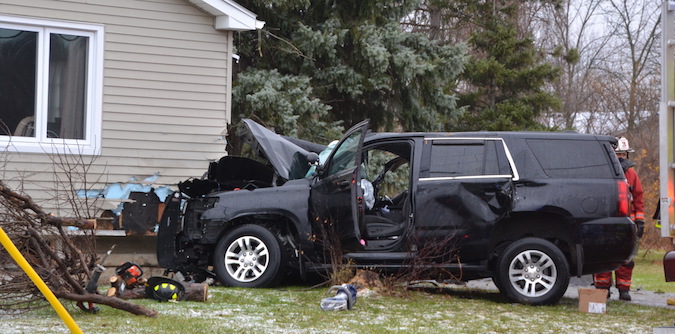 Photo by Tom Rivers
ALBION – Orleans County Undersheriff Mike Mele was injured and taken by ambulance to Strong Memorial Hospital today after he swerved to avoid a head-on collision and struck a house on Route 31.
Mele was driving westbound in a Chevy Tahoe at about 11:15 a.m. when another driver crossed into his lane. The roads were slippery with slush at the time, a state trooper said.
"The Undersheriff took evasive action, turning hard to the right to avoid a direct head-on collision," said Sheriff Chris Bourke. "The out-of-control vehicle reportedly struck the Undersheriff's vehicle as it left the north shoulder of the highway. The Undersheriff's vehicle continued through a lawn and struck a house."
Mele is being treated for a head and leg injury at Strong. The other driver wasn't injured, the sheriff said.
He credited Mele for likely saving the other driver from serious injuries and possibly death by avoiding the head-on crash.
Mele was out assisting the Public Health Department on quarantine and isolation checks. Bourke said several people have refused to cooperate with public health officials on compliance when they may have been exposed to Covid-19 or when they have tested positive.
The accident is being investigated by the State Police and the Orleans County Sheriff's Office.
"We at the Sheriff's Office are thankful for the quick response of the Albion Fire Department, COVA Ambulance, Sheriff's Deputies, Emergency Management and the State Police," Bourke said.