Big Army helicopter lands in Kendall field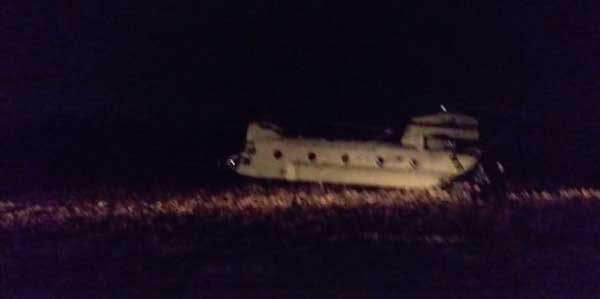 Photo courtesy of Phil Haight
KENDALL – A big Army tandem rotor helicopter landed in a field in Kendall tonight. The CH-47 "Chinook" didn't crash but onlookers suspected there was a problem with the aircraft. Another helicopter briefly stopped by to transport some of the men from the scene.
It is at a field off Kenmore Road just east of Norway Road. The above photo was taken at 9:42 p.m.
Phil Haight, who took the photo, said he spoke with one of the men in the helicopter who was from Kendall. He knew there was a field nearby where the helicopter could land. A crew is expected in the morning to fix it.
(UPDATE 8:42 a.m.: Undersheriff Chris Bourke confirms the helicopter had mechanical issues and needed to make an unplanned landed. Bourke said a crew will be working on the helicopter this morning.)