Trump, Collins are betraying American values, candidate says
ALBION – A candidate for Congress is asking voters to stand against Donald Trump in the next election by electing a Democrat to Congress against Chris Collins, who was the first member of Congress to endorse Trump for president and remains an outspoken supporter.
Nate McMurray said Trump has betrayed American values and alienated long-time allies. The separation of children from their families at the border not only was morally wrong, but has hurt the country's standing in the world, McMurray said Sunday at the Orleans County Democratic Party picnic.
"It's un-American what's happening to those kids and their families," McMurray told about 60 people at the Democratic picnic.
Trump also has befriended dictators in North Korea and Russia, while criticizing long-time friends, including Canada and members of NATO.
The president also has unnecessarily started trade wars with other countries that are harming agriculture and other U.S. industries, said McMurray.
Collins hasn't provided any pushback to the president.
"People want my opponent to stand up and say this isn't right," McMurray said.
Trump's rallies are also "vile" displays, with verbal attacks on immigrants and the press, McMurray said.
"How can you condone the things he's saying," McMurray said.
McMurray is the Grand Island town supervisor. Collins has criticized him for living outside of the 27th District.
McMurray grew up in North Tonawanda which is in the district. McMurray's campaign noted that Chris Collins lived outside the district when he challenged John LaFalce for Congress in 1998. LaFalce was re-elected.
McMurray said Collins has shown he looks out for his friends and the wealthy. Collins was investigated by the House ethics committee for potentially violating federal law and House rules regarding insider trading.
Collins as a board member of an Australian biotechnology company called Innate Immunotherapeutics discussed Innate at a meeting at the National Institutes of Health in November 2013 and requested that an NIH employee meet with Innate employees to discuss clinical trial designs, according to a House Ethics report.
McMurray said he would push for healthcare for everyone, which he said would ultimately be a big benefit to employers.
He would also push to better promote Western New York agriculture.
"Western New York is one of the most beautiful places on earth," he said, "and it's because of the farms. We have blessed land."
McMurray said his humble upbringing makes him sensitive to Americans struggling to survive. McMurray's father died of cancer when McMurray was 4, leaving behind seven children. McMurray praised the public school system for giving him a chance to eventually become a lawyer. He graduated from North Tonawanda Senior High, and then took night classes at Erie Community College. He graduated from SUNY Buffalo, and then Hastings College of Law in California, cleaning toilets to help pay his bills. A Fulbright Scholar, he earned a Master's Degree in Law from Tsinghua University in Beijing, China.
"Christopher Collins and I are about as different as it gets," McMurray said. "I'm certainly not in the Silver Spoon Group like Christopher Collins. We need someone to represent us who cares about us."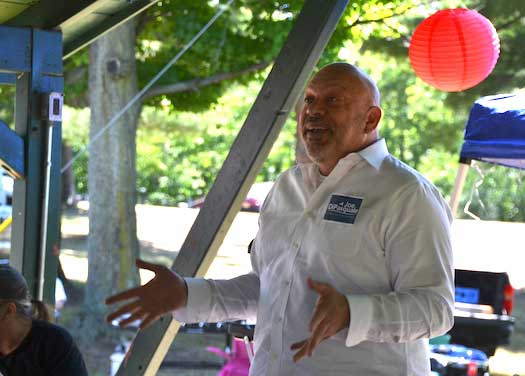 Joe DiPasquale of Lockport also addressed the Orleans Democrats on Sunday. DiPasquale is challenging Michael Norris in the 144th Assembly District, which includes Shelby in Orleans County and parts of Erie and Niagara counties.
DiPasquale said the State Assembly and local area needs new progressive leadership, especially with fighting for the environment and pushing for more resources in public education.
DiPasquale has been active in theater and television production, including more than a decade of work in Los Angeles.
He earned a Master of Arts and Doctorate from the State University of New York at Buffalo, and taught at the Buffalo Academy for the Visual and Performing Arts, Buffalo State College, Daemen College and the University at Buffalo where I helped to create the Film Studies program as well as the Buffalo Niagara Film Office. He continues to teach and work on television, film and stage projects.