Truck pulled from canal after painstaking search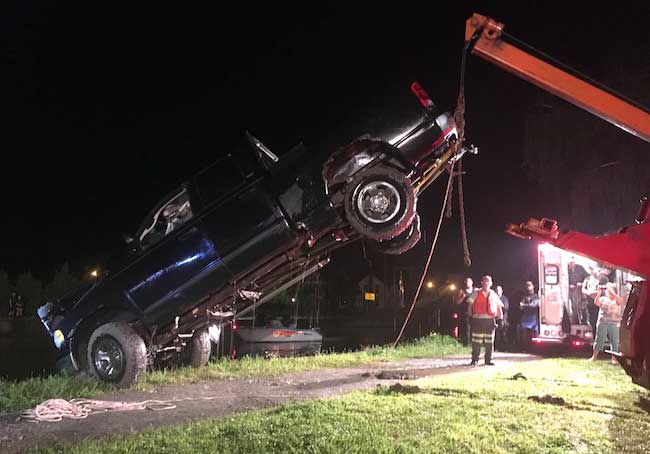 Photos by Tom Rivers
MEDINA – This Dodge 1500 Ram was pulled out of the Erie Canal at about 12:45 a.m., more than five hours after it plunged into the water, just east of the lift bridge on Route 63.
The driver of the vehicle has been charged with driving while intoxicated, Medina police said. The department didn't release the driver's name last night. The driver wasn't injured and declined medical treatment at the scene.
The driver was observed driving erratically on North Gravel Road (Route 63) from Ridge Road before driving into the canal. Rob Wagner, an Albion police officer, was off-duty and driving behind the pickup. He said the truck was in the opposite lane several times. He called the county dispatch to report the drunken driver.
Lyons Collision pulled the truck out of the water. There was a strong smell of gasoline when the vehicle was pulled to the edge of the canal and then out of the water.
Several beer cans, a tool box, a wallet and other items also floated out of the truck.
Jeff Lyons has worked with Lyons Collision for 32 years. He said this was the fourth time he helped retrieve a vehicle from the canal water.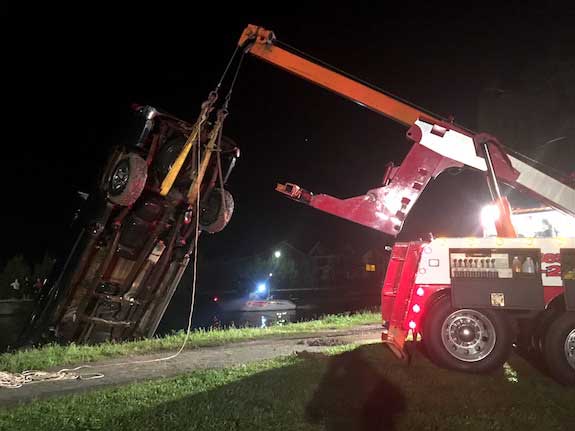 Lyons had to stop about every foot the truck was pulled higher to allow water to come out of the truck.
The Orleans County Sheriff's Office sent its marine patrol with a boat that was at Lake Alice in Carlton.
The truck proved hard to find in the dark water. The Medina Police Department called for the Niagara County dive team, but that group didn't come. Three volunteer scuba divers – Eric Watson, Laura Bentley and John Olinger – helped to search for the truck. They said they could only see about a foot in front of them in the dark water.
The marine patrol and the divers nearly called off the search at 10:45 p.m., following more than an hour of searching for the vehicle. Jeff Lyons went on the boat and used a magnet tied to a long string to finally find the truck about 75 yards east of the bridge, right in the middle of the canal. That was about 11:10 p.m.
It then took about an hour to hook a cable onto the truck to pull it close to shore.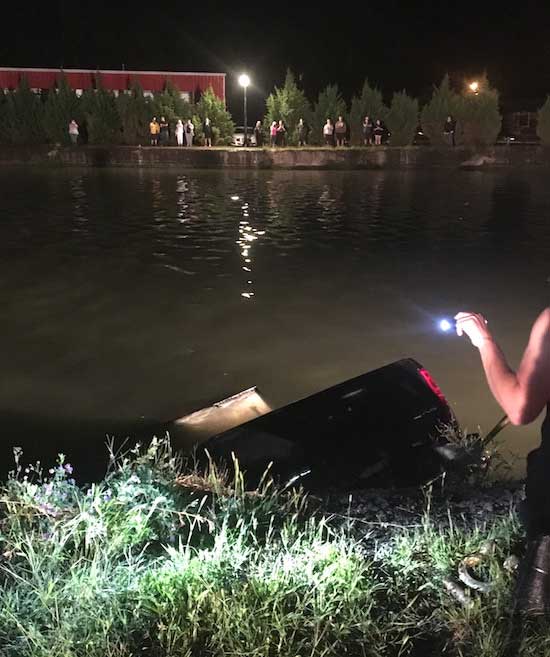 A crowd of people stood through a downpour, with some staying about five hours, to watch the recovery effort with the truck.