Troutburg was popular destination in Kendall in late 1800s
By Catherine Cooper, Orleans County Historian
Illuminating Orleans – Vol. 2, No. 23
KENDALL – The cooling breezes off Lake Ontario are refreshing on hot summer days. In the years after the Civil War, shoreline resorts sprang up to accommodate the "summer people." Constricted by layers of clothing and lacking air conditioning, it is not surprising that city and suburban residents sought relief from the heat.
Troutburg, on the eastern end of the Town of Kendall, was a popular destination for several decades after the Civil War. Named for its once abundant trout supply, this hamlet which straddles the Orleans/Monroe County line was the site of a fishing station in the 1840s, with a pier for fishing boats. Trout and sturgeon were packed in ice and shipped to New York City. Hiram Redmond ran a fishing station and built a hotel for fishermen.
Mrs. Sara J. Lee developed the first resort area in Troutburg in the 1860s. Originally known as The Lee House or "Mrs. Lee's Hotel" and later, the Ontario House, it comprised a large house, picnic grounds and a stable large enough for sixty horses. The following notice published in the Saturday, July 7, 1888, Rochester Democrat and Chronicle described its attractions: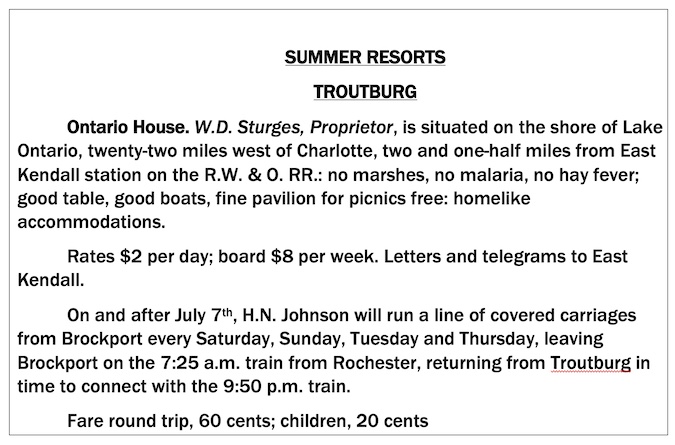 The Ontario House was destroyed by fire in November 1890. A much larger hotel of the same name, which included a dance pavilion, was ready to welcome guests by June 1891.
Crowds flocked to the area. The Cady House on the east side of County Line Road also catered to guests. Summer cottages were built in the vicinity. The Democrat and Chronicle of August 13, 1898, reported that the season at Troutburg was unusually lively. All the hotels and a score of the cottages were occupied, and the population had swelled to 2,000.
Troutburg guests were hearty eaters. In September 1895, members of the Ontario Gun Club attended a clam bake at the Ontario House, following a day of contests. Though the crowd was smaller than anticipated, they nevertheless consumed ten bushels of clams, ten bushels of corn, sweet potatoes, chicken and blue-fish "which were cooked in the big box with steam from a ten-horsepower threshing engine." (D&C, 9/20/1895)
Dance parties were popular in the 1920s but the effects of the Depression led to a decline in business. The Ontario House was again destroyed by fire on May 4, 1943, and the location of so much jollity is now well underwater due to lakeshore erosion.