Troll Diggers win 4th straight grease pole championship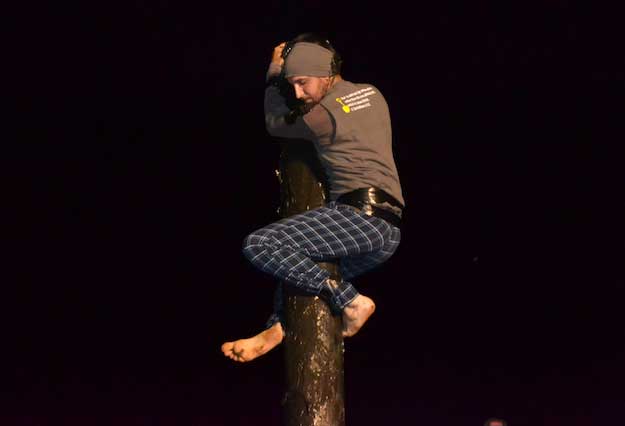 Photos by Tom Rivers
KNOWLESVILLE – Andrew Jones of Kent enjoys conquering the grease pole with the Troll Diggers. He lingered at top after the team climbed it in 34.96 seconds, which earned the team the fourth straight grease pole championship.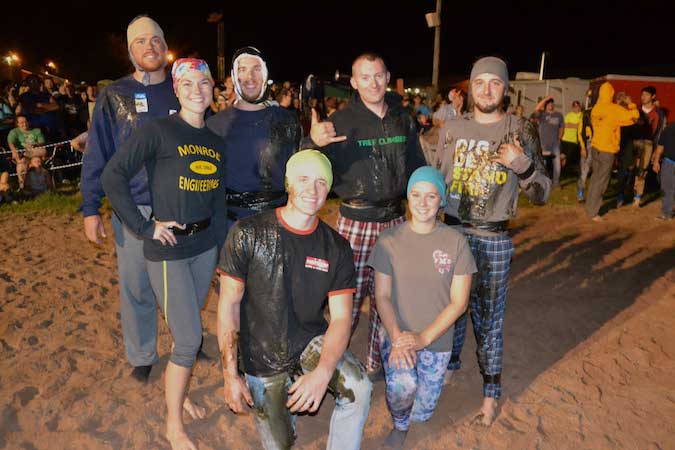 The Troll Diggers include, in front: team captain Jeff Ebel and Lyssa Jones. Standing: Nathaniel Jenks, Alyssa Ebel, Isaiah Jenks, Zach Kimmel and Andrew Jones.
The Troll Diggers typically win the title in less than 20 seconds but took more time this year. The team was missing some of its key players from the past.
Jeff Ebel, the team captain, said the group loves being part of the popular event at the fair.
"The people love it," he said. "You got to give them a show."
Most of the Troll Diggers are from the Hamlin area.
The grease pole has been a tradition at the fair for about 40 years. A 20-foot tall utility pole is slathered in grease. It proves a difficult challenge to reach the top. Only two teams could do it all week.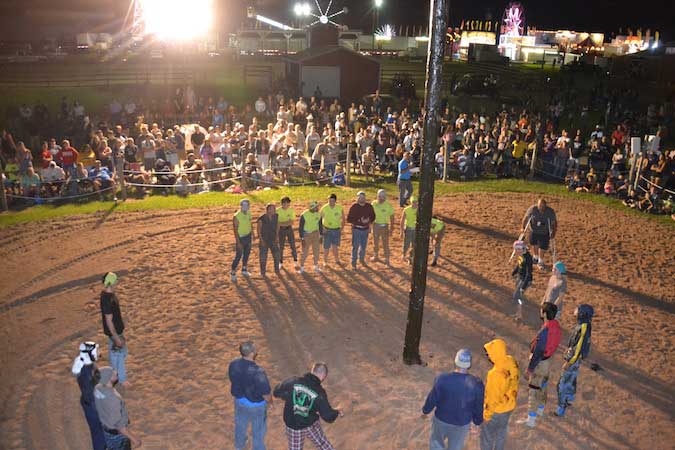 The Grease Monkeys are lined up and ready to climb the grease pole in front of several hundred people on Saturday night. The championship capped the week-long fair.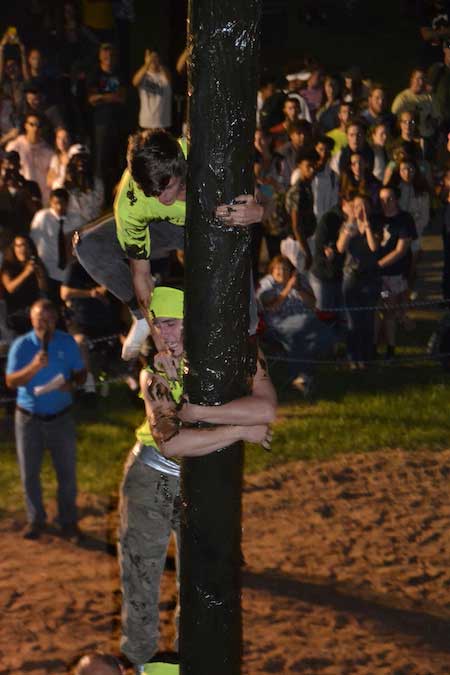 Jakob Hering of Albion is the last man up for the Grease Monkeys, which finished second in the grease pole championship with a time of 39.92 seconds. Jacob Golding is just below Hering.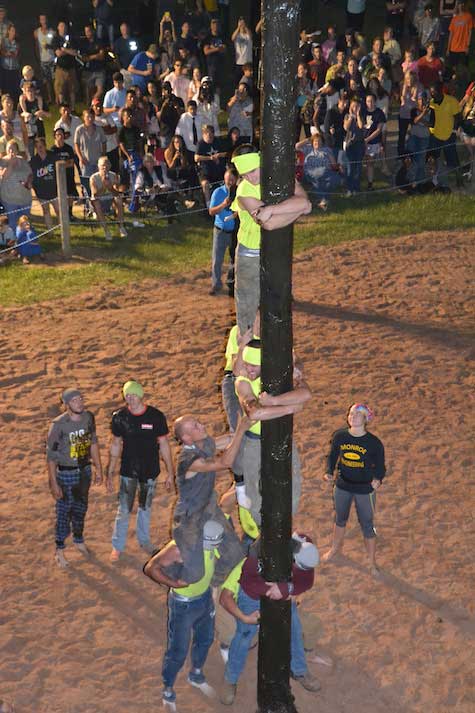 The Grease Monkeys competed in the grease pole climbing competition three days at the fair, getting better each time. The first night on Wednesday they didn't get to the top. Friday they qualified for the finals. Brian Smith is the base for the team, followed by Colton Chappius, Jacob Golding and Jakob Hering. Some members of the Troll Diggers are spotters.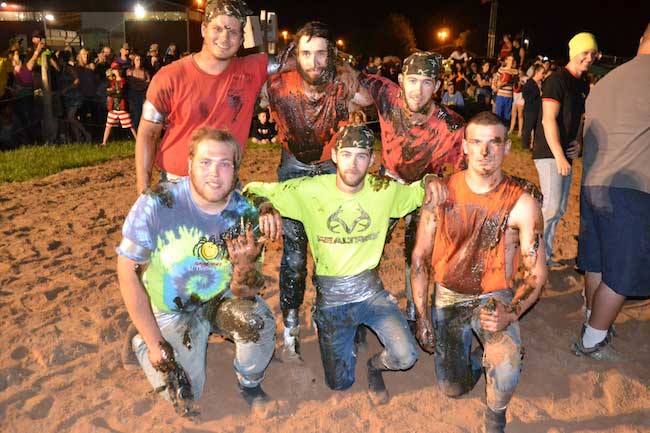 A new team called Phill's Mom gave the grease pole a try on Saturday. The team includes front, from left: Dylan Moore, Levi Sugar and Matthias Swendsen. Back row: Donamic Farley, Tyler Conner and Simeon Sugar.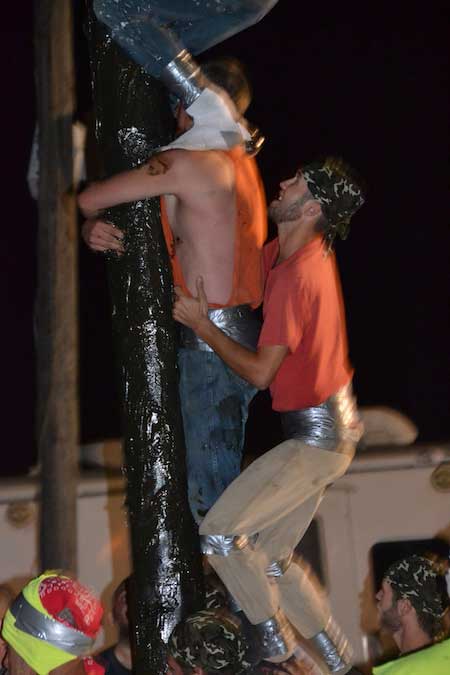 Simeon Sugar makes a move up for Phill's Mom which was nearly at the top before they came sliding off the pole. Team members said the name of the team is an inside joke.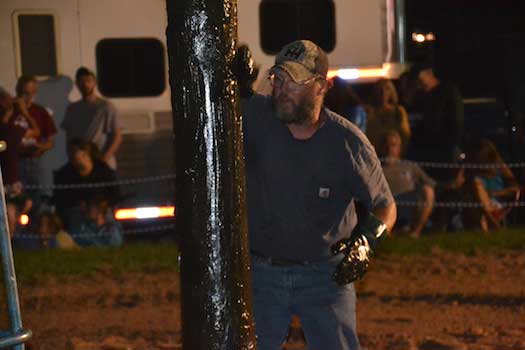 Adam Swan, one of the grease pole volunteers, makes sure the pole is coated in grease. State Assemblyman Steve Hawley also stopped by and took a turn applying the grease on the pole.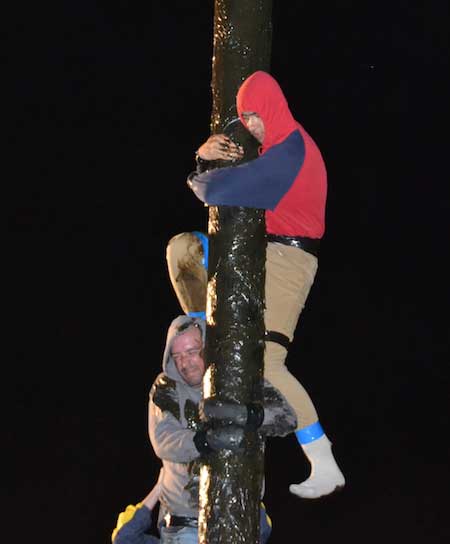 Matt Chen of Colorado climbs over Geoff Christian of Clarendon for the Udder Suckers, which competed in the grease pole for the seventh straight year. The team wasn't able to get to the top on Saturday. Other team members include AJ Muszak of Florida, Brian Bidell of Pennsylvania and Theo Irwin of Medina. Most of the team members are cousins.