Tree cutters make their way to Albion, leveling limbs by towpath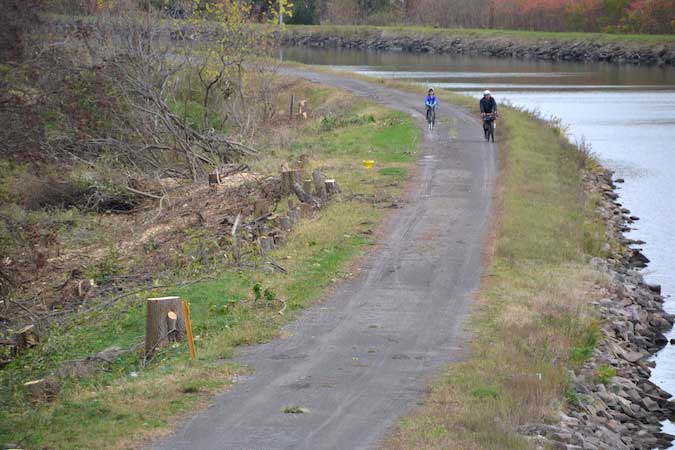 ALBION – Many Albion residents reacted with shock on social media today as trees along the Erie Canal were cut down. The top photo shows a section of the canal by the Bowman's bridge, west of Main Street, where trees were taken down.
The New York State Canal Corp. has hired Mohawk Valley Materials from Utica to remove vegetation on the Canal Corp. right of way.
The company started in Medina last month and is working its way east with a goal to make it to Fairport in December.
Flint Zigler and his daughter Scarlett are the two cyclists in the photo. They are from York, Pa. Mr. Zigler home schools his daughter. They have been studying the Erie Canal. They wanted to see it in person.
They started riding their bikes from Lockport today and were disappointed to see so many big trees cut down along the towpath.
"It's kind of sad," Mr. Zigler said this afternoon. "These are massive trees they are taking out."
The Canal Corp. discussed the tree-clearing plan on Sept. 25 during a meeting in Medina at Lee-Whedon Memorial Library. The Canal Corp. will be taking down trees on 140 acres between Medina and Fairport. The contractor hired for the job won't be touching any trees on privately owned land.
The trees have roots that can burrow into the soil, going under the towpath and reaching the canal walls. That can make the canal vulnerable to leaks and weaken the walls, Canal Corp. officials said.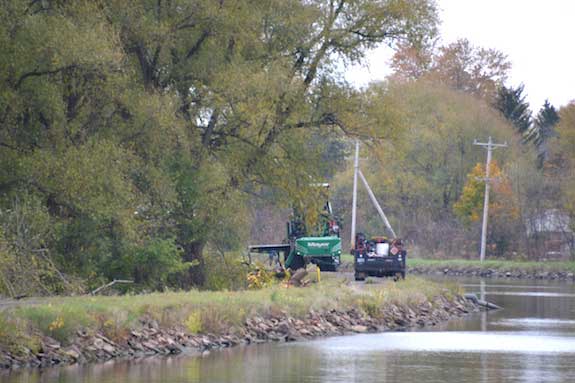 Orleans Hub has received two letters to the editor about the tree-clearing.
"Tearing down trees along the towpath of the Erie Canal is an absolute disgrace and should have been the last option, not the first option because it's the cheapest!" Stephanie Thurston of Albion write today. "We live right on the canal and the beauty of the trees across from our house is now gone. Devastated!"
Elizabeth and Michael Leone sent in a letter on Oct. 25, after seeing numerous trees cut down in Medina.
"The Erie Canal towpath has always been a place of beauty and tranquility," they wrote. "It is a place to escape, walk, ride bicycles and enjoy nature. We have lost something with the rapid execution of the tree line and foliage along the towpath, which gave home to wildlife, and a break from the harsh winds of fall and winter."
The couple said they understood the rationale for removing the trees. However, "the ruthless nature that the Canal Corp. has used in clearing this scenic walkway is unforgivable. It has been particularly harsh for residents living on the north side of the canal, where all privacy is lost."