Travel Thoughts By Kim
Let's go on an adventure together….to Scotland!
I just spend an amazing week in Scotland with a group of old and new friends! We were planning to go in 2020, but it got canceled due to Covid……we hoped it would get rescheduled in 2021, but Covid prevented that from happening, too! So, finally, we got there! This was a Busy Buddies trip – the group I belong to that does frequent day trips, overnighters, and some longer trips – all expertly arranged by our fearless leader, Mitzy Peglow of Orleans Travel. There were 19 of us that went. When we got there, we joined 20 others from all over the US and one from Australia to make 40 on the bus….42 counting our tour guide and driver. It was a great bunch of people and we had an awesome time touring the stunning country of Scotland!
We took a tour called "Scottish Outland Adventure" that was hosted by the Cosmos tour company. It was a seven day tour by motor coach and we pretty much saw the entire country! We arrived in Glasgow on Sunday morning and spent our first night there. Then we spent two nights in Edinburgh, two nights in Strathpeffer, and our last night back in Glasgow with photos stops, tours, and adventures throughout the seven days across the beautiful countryside of Scotland. Cosmos did an excellent job on the tour – the hotels, planned stops – and a couple bonus unplanned stops, optional evening excursions, and meals. Their tour guide – Michael – and driver – Tam – were awesome. All made for some wonderful memories and fun had by all. I would recommend Cosmos if looking for a guided tour vacation like this. I've also taken tours put on by Caravan that were pretty amazing, too. It is a great way to see a lot in a relatively short period of time.
Our first full day was spent seeing a bit of Glasgow and driving to Edinburgh. We spent some time looking around Stirling Castle, made an unplanned stop to see the Kelpies sculpture – Kelpies are water spirits of Scottish folklore, typically taking the form of a horse and reputed to delight in the drowning of travelers and casting spells. The Loch Ness Monster is a Kelpie. We loved that we got to see these huge metal sculptures…..so beautiful!!! Then, we stopped at Linlithgow Palace – the birthplace of Mary Queen of Scots and James V. This was a really interesting place – great architecture. But, what made the "Outlander" Fans on the coach squeal with delight was that it is the building used for the filming of scenes at the Wentworth Prison on the TV show "Outlander". Another "Outlander" sight was a stop at the village of Culross, which is featured in the series. 
After a few more stops and breathtaking views of the countryside, we ended the day with a night of traditional entertainment and dinner. Highland dancers, singers, and bagpipers delighted us. We also enjoyed the "Ceremony of the Haggis" – a rich Scottish tradition which includes getting to taste the Scottish delicacy….hhhmmm….I draw a hard line at eating any kind of organ meat, but my mother always made me try at least two bites of anything new…I was brave and ate ONE bite – check out the link to "I Tried It!" to find out what I thought of it. LOL
Other highlights of the trip included a local tour guide joining us to tell us all about Edinburgh as we drove through Scotland's capital city and time at the beautiful Edinburgh Castle. We spent some time at St. Andrews Royal and Ancient Golf Club and saw the beach where the opening scene of "Chariots of Fire" was filmed. We stopped in the lovely resort town of Pitlochry for lunch and shopping and visited the famous battlefield of Culloden Moor. I especially liked our lunch stop at Ullapool – a remote fishing village on Loch Broom. We also took that big coach onto a ferry to cross the Sound of Sleat after spending some time in the Isle of Skye. "Harry Potter" fans were excited to get to see the train and viaduct made famous by the movie and actually got to see the train cross the viaduct…timing is everything! We stopped at Fort William beneath Ben Nevis – the tallest mountain in Britain, the Kyle of Sutherland, the Falls of Shin, and Glen Coe – aka The Three Sisters Mountain where the MacDonald Clan was massacred in 1692. I was also especially happy to get to stop for a bit at the "Bonnie Banks" of Loch Lomond – so beautiful!
Other optional evening events included a tour of Holyrood Distillery and tastings of the "spirits" they produce there and dinner after at a local pub that is said to be haunted with spirits of a different kind. We also took a cruise on Loch Ness in search of "Nessie" – no sightings of the famous beast, but it was a lovely boat ride and time at a museum that taught us all about the legend and investigations about "Nessie" with dinner after.
The food was amazing! I tried to get traditional dishes of Scotland whenever I could. I had Fish 'n Chips in the pub, a Steak Pie, Bangers 'n Mash (that was awesome, BTW), traditional Scottish breakfast food items from the morning buffets, and, of course, that one bite of Haggis! The food at the planned dinners were delicious, too – we sure ate good while we were there with desserts at every meal….I was shocked that I actually lost 3 pounds while I was away – must have been all that walking!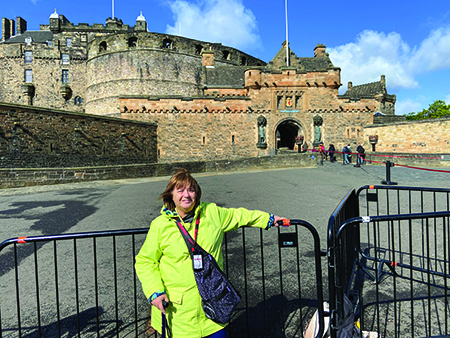 Scotland was simply stunning….the group I went with was amazing…..the tour was awesome…..it was a wonderful trip. I highly recommend it, if you're looking for something like this. See Mitzy at Orleans Travel or google "Cosmos Tours" to find it and other tours that company puts on. 
If you want to read more and see LOTS of photos about this adventure, check out these blog posts I wrote about all about our adventures in Scotland:
Happy Adventuring!