Travel Thoughts By Kim
Let's go on an adventure together …. to The Garden of the Gods!
In 2019, I visited the last two states to complete my goal of visiting all 50 states – Colorado and New Mexico. It was an amazing trip that took a little over two weeks and left me with so many wonderful memories. I promise I'll write more about both states in future articles, but I want to focus this article on one specific area of Colorado – The Garden of the Gods. It is indescribably awe inspiring and one of the highlights of the trip, for me.
I flew into Denver, got a rental car, and stayed in Colorado Springs. I don't remember the name of the hotel I stayed at – it was one of the standards, like Comfort Inn or something, but it was perfectly located. If you're planning a trip to Colorado and don't have a specific goal in mind, consider staying in Colorado Springs. There is a lot of great things to do within just a few miles. If you want to venture out a bit more, there is some really cool stuff within an hour's drive in any direction. And, the best part – my hotel was one mile from the entrance to the Garden of the Gods, so I was able to include at least a quick drive through it every day I was there.
My first ride through the Garden of the Gods was on a Jeep Tour with a cowboy guide. I'm glad I did that before venturing through on my own, because – first, it was really a blast – but, also, the guide gave us a ton of great information and history that I wouldn't have gotten if I had just drove through on my own. Then, the next day, I went back on my own and spent a lot of time going through and making more leisurely stops with the self-guided tour book I purchased at the Trading Post.
By the way – before I get too far into this, I do want to circle back and talk about the Jeep Tour. It was a bit pricey, but so worth it. There were just 7 of us and the guide, who was dressed as a cowboy named "Prairie Dog", in an open air Jeep that took us all over the country side and off road locations. Very cool! Look for unusual tours, like this in your travels. They really add something special to the trip. I'll talk about this and another Jeep Tour I took in more detail when I write about Colorado, again.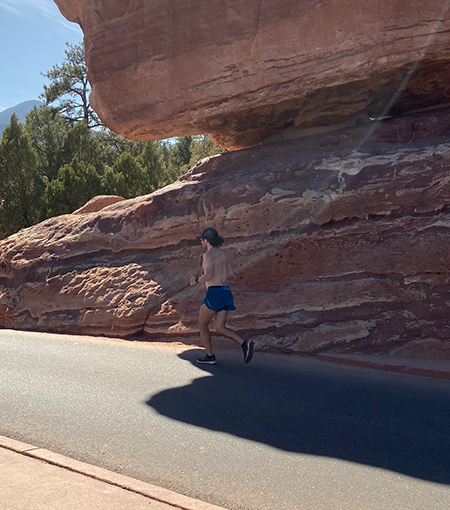 The story we heard on the tour was that in August 1859, two surveyors from Denver City set out to formally locate Colorado City, which is now known as Old Colorado City (another awesome place to spend some quality time that I will write about in that future Colorado post). While exploring, they came upon an area of sandstone rock formations. One of the surveyors suggested it might be a good place for a "beer garden" – the other one countered that it is more fitting as a place for the Gods to assemble and declared it to be called "Garden of the Gods". I don't know if that is true or urban legend, but it sounds about right. From the minute you enter the area, you know that the Gods do, indeed, assemble there and call it their own personal garden.
The area is all natural rock formations – no human intervention has altered the formations in any way. In 1879, Charles Perkins, president of the Chicago Burlington Quincy Railroad, purchased much of the land – 240 total acres. After his death, his family gave the land to the city of Colorado Springs at his request to be used as a park. The stipulation was that it be known as Garden of the Gods and that it remain free forever to all visitors. So, there are no gates, entrance fees, or restrictions for visitation to this day.
In 1909, it was dedicated as a free city park and is registered as a national natural landmark. The formations are sandstone and tower 300 feet in the air. In the early 1900s, a Trading Post was added that is still there and is still being operated as a trading post with lots of pretty awesome stuff in it to look at and purchase. There is also a Visitor's Center on site.
Like I said, I at least did a quick drive through every day I was in Colorado Springs. I did the Jeep Tour and spent several hours exploring on my own. I also made sure to go back at dusk to see the sun set over the formations. I cannot tell you how emotional the entire experience was for me. It was a perfect end to every day during my time there – peaceful, beautiful, and spiritual.
No photos or written word can possibly describe or do justice to the incredible beauty you experience going through the Garden of the Gods – you have to experience it in person and I highly recommend that you do!
One last anecdote, before I close out: On almost every trip, I end up meeting interesting people and having nice conversations. On this trip, one such conversation happened in the elevator at my hotel. I entered the elevator and there was already a man that appeared to be a little bit older than me inside. We exchanged hellos and he asked me where I was from. I was vague and said, "Western New York". He lit up and said he lived in Batavia for a time when he was a teen and young man and asked if I knew where that was. Of course, I said yes and that I lived in Albion. He went on to tell me how he knew Albion, well, and that he fondly remembers driving there to go to the theater on Main Street and the drive-in. The elevator reached the lobby floor and we exchanged our wishes for a great day and went on our way. But, I am still struck by that conversation as further proof that it is, indeed, a very small world.
Visit my blog post dedicated to the Garden of the Gods to find lots more photos that fail in justifying the beauty, but are still pretty amazing, if I do say so myself:  https://thoughtsbykim.com/2019/12/12/2019-colorado-adventure-garden-of-the-gods/
Happy Adventuring!