Travel Thoughts By Kim
Let's go on an adventure together….across the big pond!
I can't believe I've been writing these articles once-twice a month for a year, now! When I was first approached about doing them beginning in January, I was sure I'd run out of things to write about pretty quickly. But, here I am in my twelfth month and I am just as excited about what I might write about next as I was that first month.
I'd like to finish off 2020 with an adventure that was really special to me in many ways. I've said many times – I don't have "favorite" adventures or places or experiences because I find something to love and to say "this is the best thing ever" everywhere I go. But, I can honestly say this one was pretty darned special. So, let me take you across the pond as I write about my 2019 Transatlantic Cruise.
I've always wanted to sail across the Atlantic Ocean….or even the Pacific. Other big items on my Bucket List were visiting Ireland and seeing where it all started for the Beatles. So, when I found a great deal on a cruise that checked all three items off my list, I jumped at it! The cruise sailed from Fort Lauderdale, Florida, across the ocean with stops in the Azores, Cork Ireland, Liverpool England, and ended in Dublin Ireland, taking fifteen days.
I had a lot of friends ask me what I would do to keep from being bored trapped on a boat for seven days. First – I love being on the water, so it was never a question of whether or not it would bother me to be out in the middle of the ocean for so long. But, the real answer to their question was – everything or nothing at all! You have to remember that a cruise ship is a floating resort with tons of activities and entertainment and food going on all day and night – if you can't find something to keep yourself occupied, you're not looking. Also, the beauty of being on a cruise ship is the ability to just do nothing at all and sit back and enjoy the sun, read a book, take a nap…..whatever. I loved that I had seven days to take full advantage of all the ship had to offer. Usually, there are only one or two full "sea days" on a cruise, so that really was a luxury, this time.
This transatlantic cruise was on the Celebrity Reflection April 22 – May 7, 2019. The weather was amazing and the ocean was smooth. Once we got further north in our cruise, it did get chilly, but it was still great weather for the trip. It took seven days to sail across the ocean and then we spent another week in ports before flying back home from Dublin through Lisbon and JFK in NYC.
First stop was two days in Ponta Delgada, Azores off the coast of Portugal, where I went whale watching, enjoyed a Portuguese dinner and traditional folk song/dance show at a local venue, and took a bus tour around the island that included a botanical garden, a pineapple plantation, and twin crater lakes inside an inactive volcano. It was fantastic. The Azores are so beautiful and peaceful.
Then, we spent another two days at sea before stopping in Cork, Ireland. What a thrill! It was even more beautiful than I ever imagined it to be. We spent two days there – the first day I took a tour of County Cork and the Tipperary areas. I saw a lot of the stunning country side, several castles, and had a wonderful lunch that included a pint of Guinness with our meal. The second day, I went to Blarney Village. We were docked at Cohb, which was the last port of the Titanic before it began its journey to America. I loved Cork / Cobh – it was simply incredible, rich in history, and exactly what you think of when you imagine Ireland.
Our next stop was the highlight of the trip, for me – Liverpool, England. It was very emotional for me to visit all the places that told the story of the Beatles – Penny Lane, Strawberry Fields, The Cavern Club, Mathew Street, the childhood homes of John and Paul, and so much more. I still want to go to London, someday, and see even more of their story.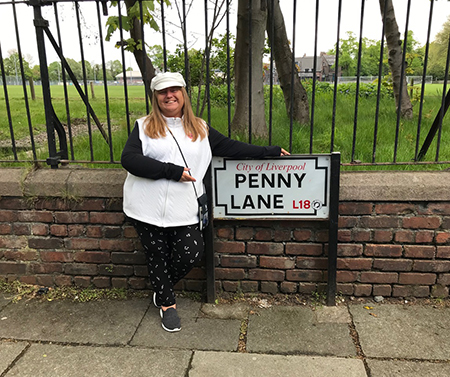 That's me standing by one of several signs around the Penny Lane district in Liverpool, England.
The cruise ended in Dublin. I had a reservation at the lovely Castle Hotel so that I could spend another day exploring Dublin and see as much of that city as I could. I took a bus tour and then explored on my own a bit. I saw a lot of wonderful historic sites, including St. Patrick's Cathedral that dates back to 890 AD – WOW! I would so love to go back to Ireland and see more of the country. Cork and Dublin were so different and I'm curious as to how the rest of the country compares.
I left for home the next day, flying from Dublin to Lisbon to JFK to Buffalo. It was a long trip home and I was so tired and happy to be home. But, it was so worth it for the trip of a lifetime. I really want to do another Transatlantic Cruise and maybe even a Transpacific Cruise. I thought it would be a once-in-a-lifetime thing, but I enjoyed it so much I would do it, again, in a heartbeat if I got the right deal for the right combination of stops.
Visit these blog posts for more stories and photos from my amazing Transatlantic Cruise – including each port I visited:
The Cruise: https://thoughtsbykim.com/2019/06/06/2019-transatlantic-cruise-tac-1-overview/
The Azores: https://thoughtsbykim.com/2019/06/07/2019-transatlantic-cruise-tac-2-azores/
Cork, Ireland: https://thoughtsbykim.com/2019/06/07/2019-transatlantic-cruise-tac-3-cork-ireland/
Liverpool, England: https://thoughtsbykim.com/2019/06/10/2019-transatlantic-cruise-tac-4-liverpool-england/
Dublin, Ireland: https://thoughtsbykim.com/2019/06/11/2019-transatlantic-cruise-tac-5-dublin-ireland/
Happy Adventuring!